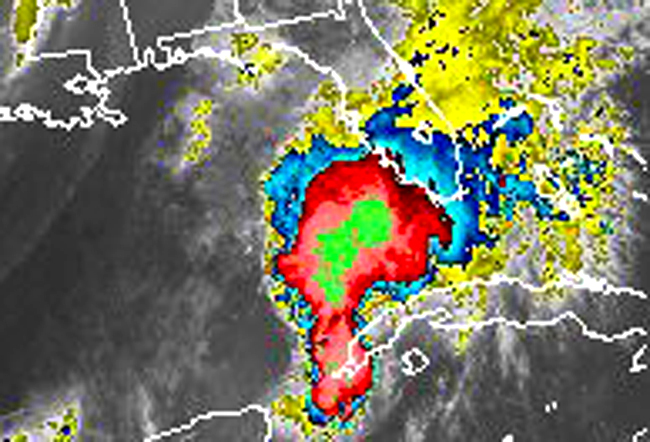 Last Updated: 11:40 a.m.
Get those weather radios, flashlights and emergency kits checked. Heavy, drenching, noisy storms with tropical postmarks are on their way to Flagler County.
A warm frontal boundary is heading north-northeast across Florida, colliding with a cold front from the north and kicking off storms, especially along the coastal areas. The rain and thunderstorms will begin after 3 p.m, intensifying into the evening and letting up after 11 p.m. Keep your ear to your weather radio: rogue tornadoes are possible.
But Troy Harper, Flagler County's emergency operations chief, cautions against over-hyping the storm. It's good to be on alert, and it's important to be fully informed about what's coming–and ready to react–but this particular storm does not appear to be as severe or lasting as the one that preceded it two weeks ago, Harper says: it'll be relatively fast-moving, with 1-2 inches of rain in the area, with local spots seeing up to 4 inches. "It's going to be blustery, is probably the best term," Harper said.
The National Weather Service in Jacksonville's prediction for the whole area goes like this: "This afternoon and evening, an intensifying low pressure center will track from the northeast Gulf of Mexico, across the Suwanee River valley and southeast Georgia. Widespread showers with locally heavy rainfall can be expected, with rainfall total in the 2 to 4 inch range area-wide. Scattered strong to severe thunderstorms with damaging winds and isolated tornadoes will be possible areawide, but mainly along and south of the low track." The probability of severe thunderstorms is at 15 percent.
Southeast winds will increase to 15 to 20 miles per hour, with a gale warning in effect for coastal waters, where south winds will increase to 25 to 35 knots. The Weather Service has also issued a flood warning for areas along the St. Johns River. That's because just two weeks ago, another tropical system dumped up to a foot of rain in parts of the state, saturating the ground and swelling the river. Communities from Sanford to Volusia County may be affected by high waters.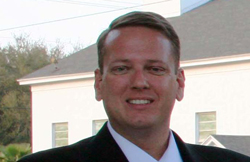 Flooding is not expected to be an issue in Flagler, Harper said, because while recent rains have been heavy, the county is still–despite green grass and wetter conditions–in drought conditions. "We're still in a multi-year drought," Harper said, with the area's rainfall some 70 inches below normal over the last two years.
Late tonight the low pressure will be moving northeast, with a cold front trailing behind it. Windy conditions are expected Wednesday afternoon, with gusts of up to 35 miles per hour in the afternoon. But Wednesday night, temperatures will plummet, likely to their lowest level since last spring, with some areas of northern Florida seeing the 40s.
Civilized weather returns over the next 10 days, with high temperatures in the 70s, lows in the 50s or low 60s.