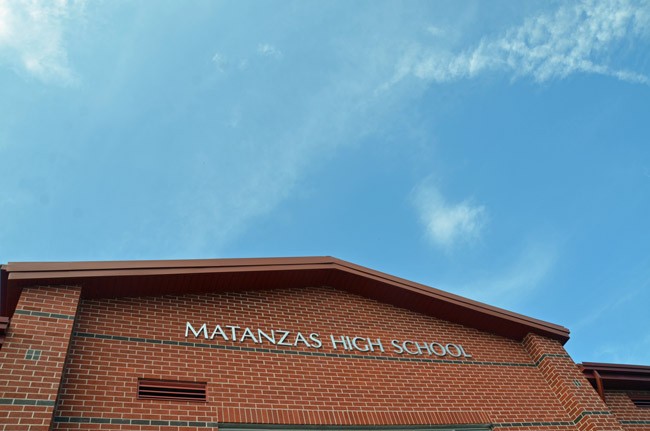 Matanzas High School officials got wind of a threatening posting on social media Thursday, targeting Matanzas students. The posting was an image of a scrawly, black-inked message on a bathroom wall. The message read: "I am going To shoot up the School Tomorrow Happy Friday," with an attempt at an ironic smiley face as a signature. Parents were reporting that their children were coming home with a different image of an alleged message as well. (See the images below.)
But after taking security precautions Thursday and putting additional such precautions in place for Friday, school officials are urging parents and students to treat Friday as a normal school day.
The image appeared to have been taken in a Matanzas High School bathroom. But the black lettering also appeared out of kilter with the perspective of the image and the angle of the white wall, strongly suggesting that the lettering was superimposed onto the image to make it look like a scrawl on a Matanzas bathroom wall. And school officials all but determined that it was a hoax similar to others made to look as if they were targeting schools elsewhere in the country.
For example, at close to 5 p.m. Thursday, KUSA-TV, a station in Colorado, posted the following story: "Adams 12 School District officials said a threatening message found written on a bathroom wall at Legacy High School is not being considered credible. The message was discovered inside a girl's restroom around 11 a.m. Thursday. The message read: "I am going to shoot up the school tomorrow, Happy Friday." The difference, in that case, at least based on how the story was reported, was that the writing was discovered on a bathroom wall.
No such writing was discovered at Matanzas High School, Superintendent Jacob Oliva said. "There's no evidence, nothing to be found," he said Thursday evening. "We don't believe there's any merit behind the claim." He stressed: "There is no evidence of this being written anywhere in that school."
Chris Pryor, the principal at Matanzas, early Friday morning said the search included every student and faculty bathroom. "We saw nothing." He said extra administrators will join the additional officer for the day.
Sheriff Jim Manfre said deputies helped the school investigate the matter. Two deputies instead of one will be posted at Matanzas Friday.
"We take any of these kinds of threats seriously so we'll have additional deputies at Matanzas tomorrow and we'll have additional stepped up patrols in the area," Manfre said. "These kinds of things tend to happen at the end of a school year." But, he added, they tend to be hoaxes.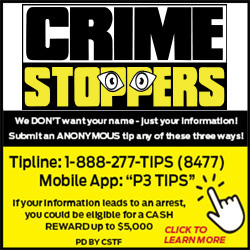 Winnie Oden, the district's safety director, informed school board members with this message: "There was a posting on Twitter that presented a photo of a wall at MHS that warned students not to come to school tomorrow. Chris and his team checked every location and found nothing." She was referring to Chris Pryor. "Upon further investigation, it appears this is a hoax that has been used at other schools across the country. Chris will be doing a call out to his parents to advise them of his findings. We will have additional law enforcement presence [2 deputies ] on his campus tomorrow to show a heightened security."
A quick scan of similarly-themed stories on the web reveals nearly identical scenarios elsewhere, including a high school in Puyallup, Washington in late February. That alleged threat prompted a school of the same name in Alabama to take precautions as well, thinking the threat was directed against it. Similar threats are detected at least as far back as 2010.
But late Thursday evening, soon after the Colorado incident was revealed, Williamson County, Tenn., police announced they'd arrested a middle school student for allegedly writing threatening messages at his school after four schools in the district had been evacuated this week following similar alleged threats. The superintendent there told local media he did not believe the four incidents were connected, though in each case, the incidents stemmed from supposed writings on each school's bathroom walls. Those incidents were reported by a Brentwood, Tenn., website. It is likely that further scanning of the web would reveal many more such instances.
Pryor, the Matanzas High School principal, disseminated a recorded message to Matanzas parents and households, and school officials are calling on all students to come to school on Friday. "We plan to have a normal day of school, keep focused on learning, keep the same routines," Oliva said.
The different message being reported appears below.