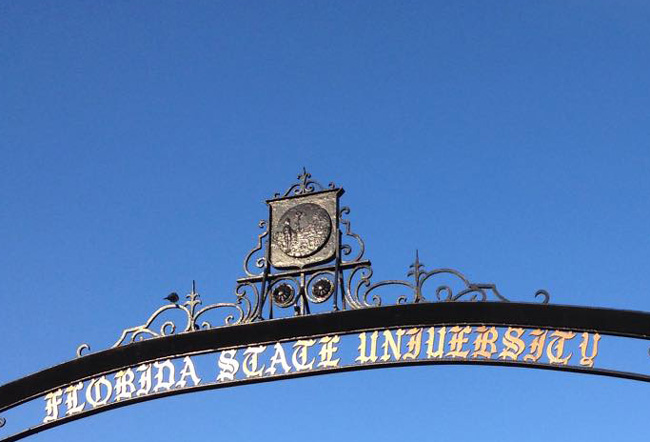 Florida State University President John Thrasher didn't ease into his new office on Monday.
The 70-year-old former state senator from St. Augustine spent the first hour in his new position engaging with a group of about 25 confrontational students that had vocally opposed his recent appointment and now refuse to recognize him as the school's new president.
Thrasher listened as they rolled out a list of nine demands, including ensuring that grants and agreements involving the school and FSU Foundation were open to public review, and ending a 2008 contract the school has with the Charles Koch Foundation to help fund the economics department.
Rather than agreeing to or rejecting each item, Thrasher said he would need time to research the demands.
"As long as they want to have a productive dialogue, I'm more than willing to do it," Thrasher said after the meeting. "This is a great opportunity. I love Florida State University. This university, by the way, has 42,000 students, and I'm interested in all of their interests and making sure the university thrives."
The students, who also listed in their demands that Thrasher admit he "lied" to the students about campaign funding received from the politically influential Koch bothers, called his refusal to accept their demands "insulting" and "disappointing."
The students, who claimed that the school is nationally known for "football, rape culture and Charles Koch," said they were being "more than fair" to the new president.
"We're going to keep pushing the administration to protect the university from violations of academic freedom," said Ralph Wilson, a seventh-year graduate student who is among the leaders of the student group. "It's a story older than time. We have to harness the power that students have, and thanks to people like John Thrasher and politicians, it's a decreasing amount of power that students have."
Thrasher, the former House speaker who for a time was Gov. Rick Scott's re-election campaign chairman, submitted his resignation from the Senate on Friday. The resignation came a day after he was confirmed by the state university system's Board of Governors as president at his alma mater.
His five-year contract pays $430,000 annually, offers an annual performance bonus of $100,000 for meeting pre-set goals, and comes with residency in the fully staffed, university-owned President's House.
The contract also grants him a tenured faculty appointment as a professor in the College of Law.
Thrasher's meeting with the students was held in a ground-floor theatre rehearsal hall of the historic Westcott Building, which houses the school's administrative offices. The meeting came before he had a chance to sit down with his own staff.
During interviews this summer with a presidential search committee and the university's Board of Trustees, Thrasher said he would be willing to meet with students and faculty groups. He also laid out priorities that included increasing faculty pay, completing the school's ongoing $1 billion capital campaign, and further expanding the National High Magnetic Field Laboratory, known as the MagLab.
He reiterated his priorities to reporters Monday.
–Jim Turner, News Service of Florida