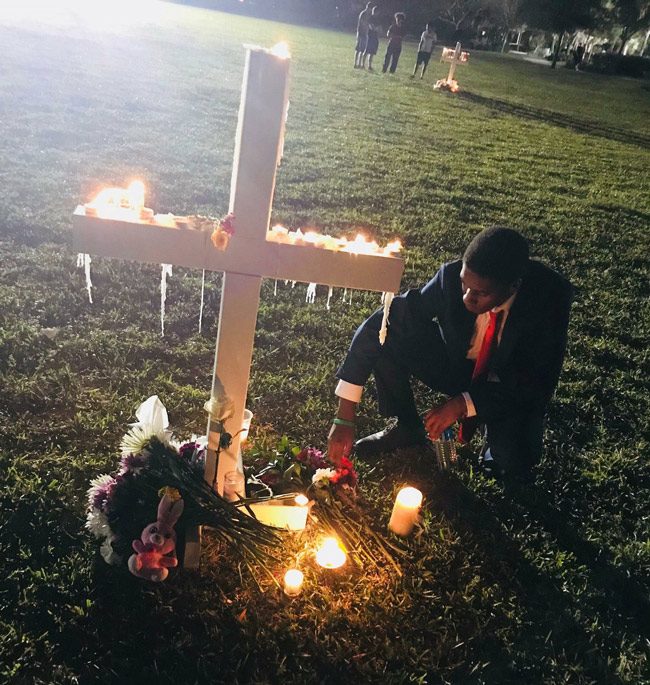 I'd like to be outraged by the latest massacre-by-gun in our schools. I'd like to be outraged by the fact that it's the 239th school shooting since the Sandy Hook massacre-by-gun in 2012, that 438 people have been shot since, that 138 of them have been murdered. Just in schools. We'd need exactly 10 Vietnam Memorials to start enumerating the dead and injured from gunshots beyond schools since then.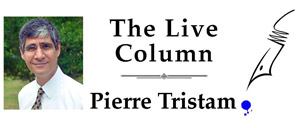 I'd like to be outraged as much by the word "ongoing" as by the substance of these lines, that "An ongoing Washington Post analysis has found that more than 150,000 students attending at least 170 primary or secondary schools have experienced a shooting on campus since the Columbine High School massacre in 1999. That figure, which comes from a review of online archives, state and federal enrollment figures and news stories, is a conservative calculation and does not include dozens of suicides, accidents and after-school assaults that have also exposed youths to gunfire."
I'd like to be outraged by the way students at Marjory Stoneman Douglas High School, like students at any of those schools that become a proving ground to this nation's gun mania, are made to march out to safety arms raised like suspects before cops in military gear.
I'd like to be outraged at how "active shooter" training, like the evolving language of our cavalier mass-murder culture, has become a fad and a necessity, as gross and probably as useless as those ridiculous 1950s drills to prepare for a nuclear attack–as if huddling, locking doors or keeping quiet has ever been more effective than crouching under a desk would be if a nuke detonated: in Broward, the killer triggered a fire drill to better trap victims.
I'd like to be outraged by the violence captured in those viral videos in what's supposed to be students' safest haven, their classrooms turned into bloodbaths and the rest of their lives, for those who survive, marked by trauma they cannot erase.
I'd like to be outraged by how a 19 year old who'd signaled his pathological propensities for violence clearly enough to school officials and students that he was explicitly referred to as the guy who'd shoot up a school, if anyone would, a guy who'd been flagged to the FBI as a likely mass shooter at a school as recently as a few weeks ago, a guy who reveled in pictures of dead animals and gun porn of his own making online for all to see, how this 19 year old could have ready access to an assault rifle and ammunition enough for his own private civil war.
---
We're assuming that we're still civilized. We're assuming too much.
---
I'd like to be outraged by the mass of grief parents and students are suffering, and by the way these massacres-by-gun re-trigger memories of other massacres either too close to home or too recent to be forgotten as history, whether it's the Pulse massacre in Orlando, the Fort Lauderdale airport killings, or the Las Vegas massacre.
I'd like to be outraged that a comprehensive and recent study found the United States to be "the most dangerous of wealthy nations for a child to be born into," not least because it's so easy for children to get shot here, as it isn't in any other civilized nation: children between 15 and 19 are 82 times more likely to die from a gunshot here. But then, we're assuming that we're still civilized.
We're assuming too much.
Because for all the outrage I do feel over all that, I am even more outraged at the routine of it all, at the fact that the outrage has itself become a pose, as meaningless as those prayers and thoughts dished out as the default Hallmark cards of a nation too cowardly to do better. "'No Way to Prevent This,' Says Only Nation Where This Regularly Happens," The Onion had blared in 2014, a headline of sarcasm and truth in equal measure that demolishes any suggestion that the perversion is not preventable. Or that nations with fewer guns have fewer liberties: whatever factor you choose (electoral, press, economic or individual freedoms), we are well below the liberty coefficient of many of those nations anymore. But we can celebrate topping them in homicide, incarceration and infant and adolescent mortality rates.
I'm more outraged that the deadliest active shooters aren't the ones running around our schools or shooting from hotel windows. They're their enablers, their protectors and arms dealers, the gun freaks who think firearms are like motorcycles and double-D cups, to be posed with and lusted after, to be pranced with as untouchable sacred objects enshrined in the bogus guise of patriotic duty or homage to the Bill of Rights, as if the Second Amendment alone, the only amendment with the words "well regulated" explicitly plastered at its core, were immune to the balanced of reason and pragmatism, to regulation.
I'm more outraged at the public roles parents, families and friends of the dead will be forced to play as the murdered children become the latest pawns in America's grimmest theater, when so-called dignitaries descend to offer a few words and find every possible way, as our own Dear Leader did Thursday, to blame anything but guns, a word he never mentioned when he finally spoke of the massacre, as if guns have nothing to do with it.
I'm more outraged by those gun freaks who, to take one example of their sleazy priorities, themselves are outraged that an AR-15, the assault rifle used in Wednesday's massacre, would be referred to as an assault rifle–as it very much is, the NRA's morbid sophistry aside–but couldn't muster an iota of that energy to more constructive ends, like arguing with their lawmakers for more sensible gun-safety measures.
But those freaks are the very reason we have no sensible gun measures, why the ultimate, most pointless outrage is at our lawmakers, who stand in pools of blood as they tell us our gun epidemic has nothing to do with it. These freaks, these lawmakers, one and the same, are the reason gun porn wins, gun safety loses, and another massacre is not a matter of abstract time, but of days, and more usually hours.

Pierre Tristam is FlaglerLive's editor. Reach him by email here or follow him @PierreTristam. A version of this piece aired on WNZF.