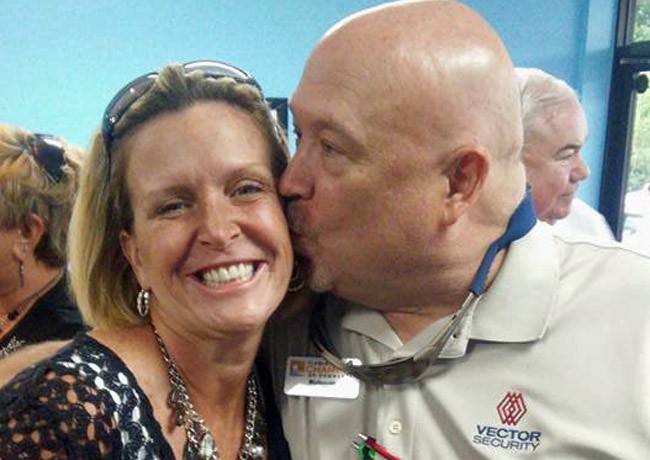 Around noon Tuesday, Heather Thompson, the membership director at the Flagler County Chamber of Commerce for the past two years, was called into the office of Chamber President Rebecca DeLorenzo, who had hired Thompson. Thompson was fired. DeLorenzo won't say why, citing human resource privacy matters.
The firing wasn't unusual. There's always been turnover at the chamber, especially in that position, and the president has full authority to hire and fire. What followed the firing, however, was very unusual, and it opened a small window into the dynamics of an organization that likes its operations kept as tidy and positive as possible, at least in public. Some of its members disagree, and in this case made their opinions known immediately, helped by Luis Garcia, the chamber member who instigated what amounted to a 24-hour insurrection that resulted in an unusual outpouring of support for Thompson, a web page and a Facebook page created on her behalf, and those web pages being taken down barely a day after they'd gone up. (See the testimonies below the story.)
The insurrection and the fate of those pages caused the sort of collateral ripples that radiate from most insurrections: rumors, assumptions, exaggerated claims and unsubstantiated theories—with Thompson herself instigating none of it: she did not contact reporters and indeed avoided answering calls or texts until she agreed to a brief interview. "I don't want to put any negative light on the chamber," she said, though she also spoke of worries of finding work anew: "I'm scared. It's a small town."
Interviews with most of those involved reveal that no overt strong-arming took place to silence the web support on Thompson's behalf, though DeLorenzo and other key members of the chamber's hierarchy—Howard Holley, a chamber board director, and Lea Stokes, a former chair of the chamber—did not sit idly by as the issue quickly and publicly unfolded. And Thompson aside, the insurrection appears to have opened a rift within the membership that Garcia is not certain can be mended as readily as the chamber board would like.
Luis Garcia's Campaign
"They've lost it, they've lost that this is a member-driven organization, going forward," Garcia said today. "So now going forward, either we quit and crawl our tails up our ass and just go status quo, or do we seriously make a change. That's where I guess we're at right now."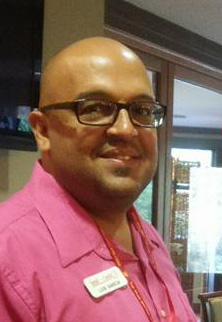 "It's important that the other side of it is heard as well," DeLorenzo said. "I know there's a core group of people that are very upset. I spoke to somebody last night and he said when he first heard the news he was actually distraught, and I understand that, but the chamber itself has been around for 50 years, it'll be around for 50 more and there isn't one individual that is the face of the organization, it's all of us working collectively to make our business community successful."
Garcia has been with the chamber 18 months. He chairs a lead group within the chamber that meets weekly, on Wednesdays, called the Chamber Business Connectors, which numbers some 40 members. "We help each other, we grow one another and we support the chamber," he said. He is also on the membership committee and a diplomat for the chamber. In short, he's the sort of hyper-involved chamber member the chamber craves.
"Heather Thompson has been an influential part of a lot of people," he said. "I would say this: she makes everyone feel that they're special, including myself. I actually thought she really, really liked me, not on a personal level. That's how she made me feel. Come to find out she likes everyone the same way, she treats everybody the same, and gives referrals, and she helps so many people. That means we really like Heather a lot."
Members found out "out of the blue" when the firing happened, Garcia said, describing how Thompson read her termination letter, which she was required to sign. (She hasn't done so yet.) "Some of the members, I'm not going to name them, but some of the members, including some of the board members, said what do we do? I'm a marketing guy. I know what I can do. I said we should get testimonies for Heather." He had a colleague secure the domain name wewantheatherback.com. He put up a page, and testimonies started coming in.
Within two hours, with Garcia texting and soliciting members, more than three dozen testimonies came in, most of them in the sort of glowing tone East Coast Premier Properties' Julie Mathis projected: "Heather was the reason I decided to become a Benefactor member during the 2014/2015 year. She is dynamic and very qualified to mentor new members of the Chamber.  Heather completed everything she said she would do for me as a new member and always stayed in touch with any new and updated functions to get involved in.  I have visited both the St. Augustine and the Daytona Chamber of Commerce.  Both Chambers were very envious that our Chamber has Heather…."
The campaign asked contributors to check yes or no boxes below the line: "I want her back."
Not What But How It Was Done
As the testimonies are pouring in, Garcia gets a call from DeLorenzo who invites him to speak with her Wednesday morning before his 8 a.m. meeting with the connectors. Meanwhile he sends some of the testimonies to Sal Passalaqua, the funeral director at Craig-Flagler Palms who currently chairs the chamber board. The next day Passalaqua joins DeLorenzo for the meeting with Garcia.
---
An outpouring of support for a fired staff member exposes a rift within the membership she built.
---
"I said Rebecca, you can do whatever you want to do, it's how you do those things that matter," Garcia said. He was concerned that the firing took place without any consultation with board members or someone like him, as the head of the connectors group, though he was told that board members were in fact informed. DeLorenzo said she'd put him on the agenda to address the chamber's executive board. Hours later, however, Garcia is informed that he would not be given that opportunity, the board having judged the matter a personnel issue within DeLorenzo's purview, not its own.
"As far as being heard, we are a membership-based organization, there's a process for members to be elected to the board of directors, it happens every fall," DeLorenzo said. "We'll be sending out nominations in the next month or two." No one is stopping Garcia from reaching out to members, she said. At the same time, the board is not involved in day-to-day operations, "which is ultimately why they didn't feel it was necessary to meet on a personnel matter."
Garcia felt shut out nevertheless. But the issue then took on a different twist when he heard that DeLorenzo was calling companies "to get them to recant" their testimonies. Word of that had spread by Wednesday afternoon and Thursday morning, when another chamber member, Jeannette Parker, was livid over what she was hearing—though Parker conceded she was hearing it second-hand: that the chamber "went on a campaign of terrorizing their members, essentially saying we will black list you, how dare you say anything derogatory about the chamber."
Calling Companies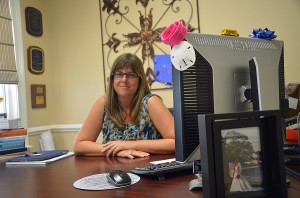 DeLorenzo was calling companies whose names were appearing in the testimonies. But her critics were overstating the case. Numerous companies were listed in the online testimonies, DeLorenzo said. "Except in one instance, it didn't have an individual's names, it just had a list of company names," she said. In some cases, single individuals pay for their membership. In others, individuals are members of larger organizations that pay for the membership. "So I contacted a couple of those companies to verify if it was the company that had signed this petition or if it was an individual. I did that with four companies, and again it's because the memberships are paid at a higher level than the person that was signing the petition, and the person that was signing the petition on behalf of the company's name wasn't authorized to do so. So that's what I was just verifying. There were personal attacks and personal threats that went along with the comment section or were attached to the petition, so I was just trying to verify everything and make sure who was signing the petition, who was authorized to sign the petition." In three cases, the companies said the individual did not have that authorization, nor was it the company's opinion to be on the petition.
As in the case of Mike Richards of Vector Security, Garcia removed the name of the company from the testimony, but the company did not object to having Richards' name remain, which it did—until the page was taken down.
That was another story.
Garcia recalls: "Heather calls me up and says this lady, Lea Stokes, is calling her up now, she's on the executive board of the chamber, and Heather is like, I don't know what to say. So I said Heather, you didn't do any of this, I did this." He then amended that to "we did, as members." Thompson then had a conversation with Stokes, following which she asked Garcia to take down the page. Stokes had alluded in a voice mail to "repercussions" if the page stayed up.
We're in a Quandary About Heather
---
I joined the Chamber at the time
Doug Baxter was president
He said it would be good for me
As a brand new resident

But years later when he left
Another would supersede
The Chamber chose Rebecca
From within to fill their need

But she was no newcomer
And followed every rule
So if there was a problem
She knew how to keep her cool

Rebecca had the power
To lead but not betray
To hire and fire anyone
At any time of day

Heather was hired two years ago
Perhaps an unknown fact
With much responsibility
In her two-year contract

But then Heather was fired
Without even a clue
And websites with messages
Told Heather she should sue

I never heard one complaint
'Bout Heather and her job
So it's understandable
For that Facebook mob

Heather is a heroine
Who knows how to assist
But if she's not rehired
She sorely will be missed
--Stan Drescher
---
Stanley Drescher is Flagler Beach's poet laureate. He contributed this poem after this article posted.
"I called her as a colleague and I called her as what I said to her, as a friend," Stokes said, "because I like Heather and I respect her, and I felt this was going to be not only negative for the chamber but negative for Heather, because it appeared to a lot of people, not me, but to a lot of people, that she was instrumental in this campaign against the chamber and against Rebecca." Stokes elaborated: "All I said to Heather was the perception as that she was complicit in doing this and I felt it would have negative repercussions on her and I wouldn't want that to happen. I never told her there would be repercussions. If anything, quite frankly, the threats were made from the other side. There were comments made like, 'just wait until phase two.'"
Garcia doesn't dispute the terms. In his meeting with DeLorenzo and Passalaqua, Garcia had said: "We were going to go on to phase two, and that was like a low gut blow, to put them on notice. They didn't like that. They didn't like the phase two part." He didn't explain what the phase two means, other than that it was related to a form of protest.
The Page Goes Down
"Heather made the decision to pull it," Garcia said of the web page. "That morning they didn't like it. They didn't strong-arm me in the morning, but then Heather was saying maybe we should freeze at 50 right now and regroup. So I did." In early afternoon, Garcia gets a call from Howard Holley, the former county commission candidate who, beside being a chamber board member, works with the chamber on its marketing and advertising ventures.
Holley brought up the testimonies, saying they weren't a good way to handle the matter and wouldn't be good for Garcia's business. "He wasn't being pushy, he was being more mentory," Garcia said. "I said Howard, this has to do with how they handle the problem, not why they did it. It's how they did it that I'm pissed off about." But by then the page had come down. In a subsequent text, Garcia said to Holley: "It's obvious the board isn't going to listen to us. That being said, do you think it's right for Rebecca to call the corporate offices of these members to get them to recant their testimonies?"
"No, I don't. It is done and over. Let's move on," Holley texted back. But Holley, in an interview, underscored the nuance: "I'm not challenging her calling them. I'd challenge her calling them to recant their testimonies," he said. "That would be inappropriate."
DeLorenzo herself stressed that she never applied pressure either on Garcia to take down the page or on members' freedom to speak. Asked if she was uncomfortable with the page being up, she said: "It's just, it's odd, it's misleading. I believe the terminology that we've used on the wewantheatherback.com page was something to the effect of Heather was told that the chamber is going in a new direction and that she doesn't fit, so there was certainly some language that was misleading and taken out of context. But these are chamber members that have been recruited by Heather, Heather was employed by the chamber for two years and it was her responsibility to bring in chamber members and to help their businesses grow. So I understand that they have a strong support system, a strong rapport, a strong friendship with Heather, and I think that's a wonderful thing. That's what the chamber is all about. It's about building relationships. I also understand that this may have come as a surprise to many people. But there's also confidential HR issues that can't be discussed." DeLorenzo said she told Thompson she'd provide her a reference and would be "more than happy to talk about her positive attributes."
As for Garcia and the chamber, that future, as with the future of many of the members who expressed themselves in testimonies, is uncertain. "I renewed my membership because of Heather," he'd written in his own testimony. "The only reason I'm there is because of her leadership."

Note: the testimonies about Heather Thompson appeared on a web page called wewantheatherback.com, which was up briefly this week. A screen shot of the page appears below, along with the testimonies as provided by Luis Garcia, who created the page.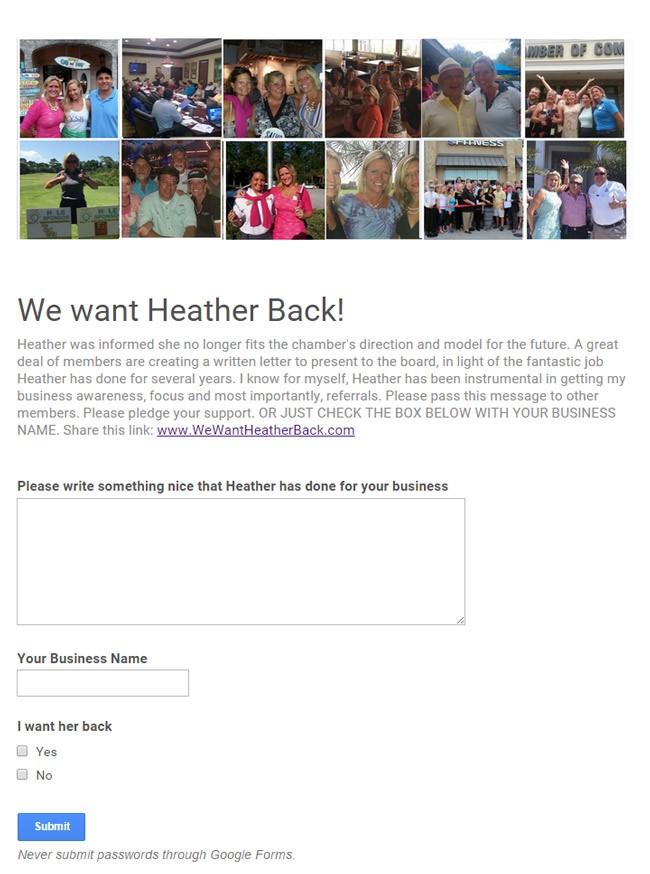 "I have worked closely with her on several projects and she has always
come thru. Because of her, and her alone I am a Diplomat, Trustee and
my retail store is a member of the Chamber. She has always worked well
with Chamber members and guests, and I am saddened that someone who
has worked as hard should be excused so easily.
GREG FELDMAN" Fun Coast Vapors Yes
Heather has been a driving force for my business success. It's because
of her dedication to our community and passion to help businesses
succeed that I joined the Flagler County Chamber of Commerce. She is a
Flagler County treasure. I am deeply saddened by the Chambers decision
as she has been the only representative to consistently and personally
reach out to me making sure I never miss an opportunity to grow my
business. Heathers professional organizational and relationship
development skills are what get things done. She has fearlessly taken
the lead and developed successful events and programs using forward
and outside the box thinking. She is the face if the Flagler Chamber
and I do believe she will be horribly missed! Engaging Social Media
"To whom this may concern,
I am truly disappointed that Heather Thompson has been removed of her
position with the Flagler Chamber of Commerce. Since join the chamber
Heather has helped me expand my wings and meet over a hundred plus
businesses. To me the chamber is Heather. Heather is the only employee
that ever came to me during Ribbon Cuttings and asked me to join. I
cannot speak for anyone else but if Heather is removed from the
chamber, I will not be renewing my two memberships." Armando Gomez Yes
"Heather was instrumental in introducing me to the community. I have
been in FL for 8 months I knew no one and she helped me to make many
important relations that have cultivate not only a successful business
but a great relationship with my community. Heather is an asset to the
community and to the business within our community. In addition, she
is driven, committed, giving and a great leader. The Chamber is
committing a great disjustice by not allowing Heather to grow our
community.
Richard Macedo" Entrepreneur Yes
"Fantastic Public Relations Bussiness and diligent active networking.
" INCA CLEANING Yes
Heather has an incredible outgoing personality that speaks volumes for
our Flagler Chamber of commerce why would she not fit the direction
the chamber is going,,,?? She has promoted our business and many many
others every chance she gets! Gaylee Tillotson Yes
Heather has been amazing. The Monday group had five people when I
joined, now we are up over 20. Ribbon cuttings were not well attended
at all and now are a huge success because of Heather. Block parties,
Networking 9s and so much more. She's been the leader in the huge
changes the chamber has made in attendance and membership. Sensible
Water Solutions Yes
I renewed my membership because of Heather. The only reason I'm there
is because of her leadership. Luis Garcia Yes
Heather welcomed me to the Chamber when I started my new job at Pillar
Mortgage just over a month ago. I feel that she is a driving force at
the Chamber. I hope that they will rethink their decision before
someone else offers Her a new position elsewhere. Yes
Wow, Wow, Wow Wow! Really? Heather has been one of the hardest working
individuals at the Flagler County Chamber. She was ALWAYS talking to
potential new businesses and new customers about what the chamber
could do for them and how great this chamber is, EVEN ON HER OWN TIME!
You cannot ask any more of a membership person or even question her
loyalty. Frankly, I am shocked, appalled and disappointed in the
decision that "my chamber" has made. Yes, we want Heather back! GabRy,
Inc. Yes
We want Heather back. American Pride Overhead door Yes
Heather has been the ultimate reason why I join the chamber in the
first place. Her dedication and hard work is second to none; can't be
unmatched. Pure energy! VGOD Productions Yes
"Heather has helped me connect with other Chamber members and to
present myself at functions and social events in order to gain more
exposure and contacts.
She is in a constantly envisioning the next great exposure for the
Chamber and I have always found her to put the Chamber first. Thanks "
Kevin Quinn, The Experience Yes
Heather has been instrumental in uniting many businesses. Her positive
attitude, endless energy and sense of humor is so welcoming when
visiting and doing business at the Chamber. I sincerely hope you will
reconsider your position and reinstate her to the position she has
fulfilled in such competent way. Christmas Come True Yes
Heather has been in charge of numerous successful Chamber events that
have helped shape the well-being of so many businesses. I have been at
those events and have met several business owners that were very
pleased with her overall performance. She has amazing leadership
skills to help all businesses succeed that come into contact with her.
Kristen Yes
I feel that Heather helped the business I work for have one of the
most successful ribbon cuttings in the chamber's history of ribbon
cuttings. She has always been professional and well prepared during
every meeting and event that I have attended with her. She has helped
me to grow as a business as I know she has helped others. I feel it
will be a great loss not to have her there. Patty Yes
Heather is very instrumental in getting more and more people to know
who we are and what we do! Creating strategic business alliances is
what Heather does! Top notch by a wide margin to anyone in or near 2nd
place! Heather knows what business needs and she has provided real
business solutions tirelessly! Heather stands alone in leadership with
a tool box full of knowledge and solutions to successful business
exposure. This will be an unmeasureable loss for the chamber, local
businesses and the community! Eagle Eye Inspection Services, LLC Yes
Heather has always made me feel appreciated and for the time I've been
here has been the always-friendly face of the Chamber. She's reached
out more than anyone else. Honestly I can barely name anyone else in
the Chamber offices, but Heather is a constant. Vincent Lyon Yes
What is this new direction?????? Gaylee Yes
Heather was the reason I decided to become a Benefactor member during
the 2014/2015 year. She is dynamic and very qualified to mentor new
members of the Chamber. Heather completed everything she said she
would do for me as a new member and always stayed in touch with any
new and updated functions to get involved in. I have visited both the
St. Augustine and the Daytona Chamber of Commerce. Both Chambers were
very envious that our Chamber has Heather. She is a serious asset to
all who know her. Her natural talents combined with her "can do"
attitude makes a powerful combination. Will the Chamber of Commerce
of Palm Coast be the same without her? Absolutely not………Julie
Mathis East Coast Premier Properties Yes
Heather was very instrumental in my decision to become a member of the
chamber. Lake State Mortgage Yes
Heather works 24/7 pushing the advantage of being part of the chamber! Yes
Heather was instrumental is bringing us back to the Chamber after a
long absence. Her enthusiasm, interest in our business, caring and
inclusive nature made us feel welcomed and more than that, friends!
She made every Chamber event special and never missed a chance to say
hello, talk about our business, offer us chances to promote ourselves
and stay in touch to offer us options. Without all that, we would not
have time to source out opportunities nor sometimes, the enthusiasm
that she exudes, infectiously to motivate us to participate. Running a
business can be tiring and you don't always feel like going somewhere,
but she made it fun and worthwhile. Things will be very different
without her. Sun Leisure Products, Inc. LLC Yes
Heather has been one of the most supportive chamber representatives
I've dealt with. She's SO willing to help all chamber members and
really is irreplaceable. Sad to see her not a part of a wonderful
organization. Nicole Yes
Heather is the only reason I joined the chamber she is a great person
so warm and welcoming she took ribbon cuttings from an embarrassment
to an event that other chambers of commerce wish to duplicate I
personally love heather and now I feel If sal doesn't fix this error
there is going to be a backlash the person who should be let go is
Rebecca help us tell Rebecca that in fact it's her services that are
no longer needed first we need to find out what worth Rebecca has
brought to us the members I've been with the chamber over a year and I
saw her at her first ribbon cutting last week Travis Kaufman Yes
We want Heather back. R & K Roofing Yes
Heathers energy and enthusiasm have been a terrific asset to our
County. The Farrell Grp Yes
Heather has been nothing but a go getter in her role at the chamber.
She motivates everyone around her and as a business professional I am
extremely disappointed in losing her as a role model in profession
that she knew so well. I vote that they reconsider. You will lose a
lot of business without a women with a contagious personality like
Hearher has been. We love you Heather!!!!! Kim Moore Yes
Heather has been the ONLY Chamber staff member to do anything for my
business during my membership time. This is horrible and another
indication of the dismal direction this Chamber is headed. Windsor of
Palm Coast Yes
We want Heather back. Re/Max Select Professionals Yes
She's always looking out for me and I appreciate her! Marty Yes
We want Heather back. Alani's Creations Yes
Well first off she has always shown me a warm welcome with big smiles!
Secondly she has introduced me to more people and helped me find new
clients and connections than ANY other chamber member! She is what the
chamber is all about. ESP Yes
"The only Face of the Chamber I cant believe the Board will stand by
this decision how many members have to complain before someone
listens.
Who on the Board is seeing this… who made this decision…? " Mike Yes
Heather has been the most dynamic, helpful and productive Chamber
member we have ever had the pleasure of working with. She has stirred
up so much involvement with business owners, cheerfully coordinated
networking 9's, encouraged membership of chamber leads groups and
really has been a lead generating factory. She was always quick to
lend a hand. I am truly disappointed at this news. Her energetic and
positive personality made her so good at what she did. I have always
truly appreciated all of her efforts and hard work. Accord insurance
Yes
Heather (over the years I have known her through the chamber) has
taught me many valuable professional lessons. When I started a new job
last year (with a business that is a chamber member) Heather helped
mentor me to fit my role as a marketing/PR director. I had been in the
same customer service/food and beverage industry job for 8 years so
beginning something new on my own terms was a huge step. Not having
much experience in marketing other than great word of mouth PR, I was
very nervous about how to speak with other business professionals in
the county as I now had to build more professional relationships
instead of just personal relationships. Heather spent her own time
running through senerios and helping me to be more confident and
organized as a business professional in the community. I truly believe
Heather is a great asset to the county. She makes people feel warm and
welcome and confident in their professional roles. I hope that with
everyone's support you reconsider your decision to let her go. Rebecca
Flanders Yes
Heathers was one of the first business contacts we had when we open
our doors. She helped us get connected with key people to make our
business successful. She was the only Chamber member we knew for a
long time before we started meeting other members in the office. How
can you let go the face of the chamber? She was a great asset to the
Flagler business community. Dr. Paint LLC Yes
I've never seen turn outs and the enthusiasm until Heather became the
Membership director and I'm shocked to see success rewarded this
way… Is there perhaps some jealousy in the top seat of the chamber
Yes
Heather is the main reason that I am in the Chamber. Cruise Planners Yes
If it wasn't for Heather we would not be a part of the chamber of
commerce. We didn't feel that it would be beneficial to our company
until Heather came and explained in detail what the chamber could
bring to help the success of our business and her personality and
straight amazing business ethic is what eventually made us decide to
join. Since joining we have promoted the chamber to other local
businesses that were not members and we only refer them to Heather as
she in our opinion is one of the most hard working and down to earth
people in the company. She is an asset to the chamber and I feel you
are making a huge mistake by letting her go. Thank you Heather for
everything you have done for us here that The Fog Room Vapor Co we
support you 100%! The Fog Room Vapor Co. Yes
We want Heather back. Hammock wine and cheese Yes
"I was a member before Heather was working for the Chamber. The person
before her made the members do all her work. When Heather came in, she
actually did her own job and then some. She always goes out of her way
to help members, to bring in new members and to set up amazing events.
Many years ago, all of the staff at the Chamber had to participate in
all of the events. Now Heather is the only one always present.
Occasionally I will see a few other staff, but not the norm. However I
know Heather will be at every Chamber Event and greet everyone by name
and with a great big real smile.
I do not like the direction the Chamber is going. Too many good people
have left or been made to leave. And with each one it takes away from
the once family the Chamber used to be to us. Maybe someone should ask
themselves why members are leaving or going to other Chambers? Is it
really just the money, or is it the lack of community and family it
once was?
Heidi Tassone" J & H Junk Removal, LLC Yes
Heather has always been the go to gal for all of my chamber related
needs. If nobody else could answer my questions she always could. And
if she didn't know the answer right away I can count on her getting
back with me in a very timely fashion. Heather has been a reliable and
professional player on the chamber team for a very long time. Please
reconsider your decisions. Crossroads Development Solutions Yes
We want Heather back. Flagler Health and RehabilitationCenter Yes
Heather has been a light at the Chamber. Always a warm, welcoming,
amazing force that made me feel someone cared about the Chamber
members, my staff, me & the growth of our business. Edible
Arrangements Yes
Heather has been a tireless advocate for Flagler County businesses big
and small. My business launch was smooth and successful as a direct
result of her knowledge, guidance and relationship building
expertise! It's hard to imagine a "thriving " future for Chamber
members without Heather Thompson. Staged Assets Yes
Heather is the friendliest face of the Chamber! Her energy and
initiative has brought in many new members. As a member who just
renewed I'm concerned about the "direction" of the organization if her
enthusiasm and positive attitude is not part of it! Flagler County Art
League Yes
"What?
Heather has done a great job for us at Anytime Fitness since we
recently joined the Chamber.
Please consider keeping her on as she will be greatly missed by many
as the true professional that she is.
Nina Paolucci" Anytime Fitness Yes
My business was a member of the Chamber during 2007-2009 and recently
re-joined the Chamber about 3 months ago. During the first tenure with
the Chamber there was no person to be a liaison between the Chamber
and the business owners, or if there was one they were not doing their
job. Since re-joining the Chamber I have noticed some improvements for
the better, one being the fact that they incorporated leads groups and
the other was having someone named Heather as an awesome contact. I
have never met anyone affiliated with the Chamber that was so
dedicated and devoted to her job. She not only was always at every
event but she engaged with the people at the events to make sure
people were OK as well as provided contacts for the new people so they
did not feel like a wallflower. I do not know what the politics are
here with her being dismissed but I believe the Chamber is doing a
great disservice by letting her go and believe that this may cause
some business's to not rejoin the Chamber in the future. There are
higher ups in the Chamber that I still have never met, received a
phone call from them but personally they have never reached out to
just shake my hand and say "Thanks for joining the Chamber". That to
me is impersonal for what we as business's are paying for. Heather was
that person and I know personally that I will miss seeing her face at
the Chamber. Peak Fitness & Rehab Yes
Heather is a huge reason we joined the chamber!! Bring her back!! Big
Wave Loyalty Yes
When my wife and I, moved here a year and a half ago, Heather made me
and Dee feel very welcome at the ribbon cutting events. She will be
missed. Don Walker Primerica Yes