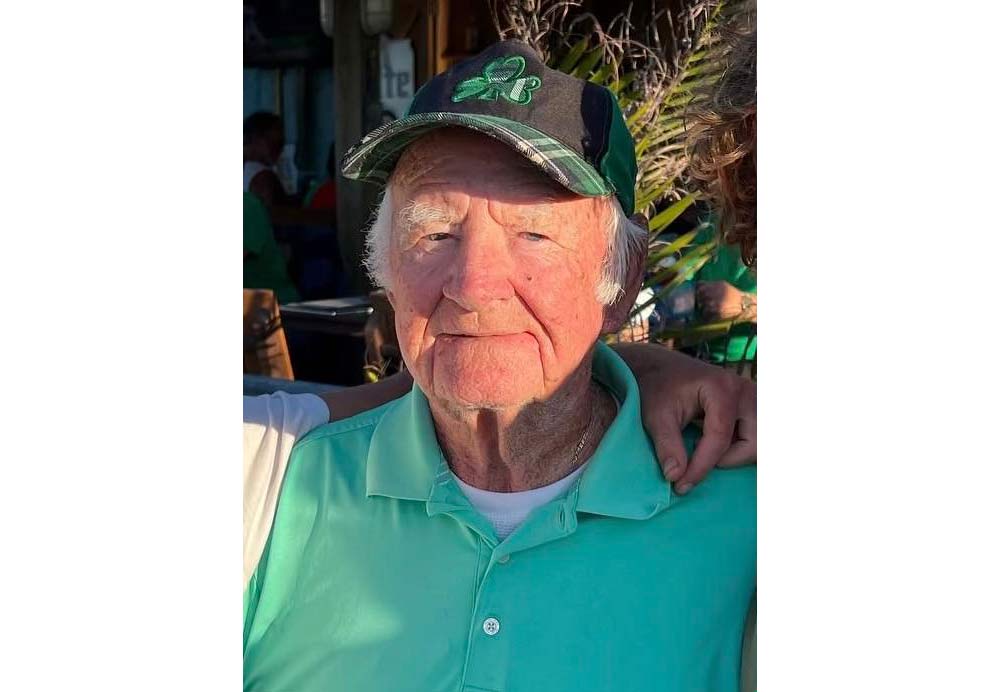 Thomas Patrick Walsh passed away on Wednesday, October 4, 2023 at his home in Flagler Beach, surrounded by those who loved him dearly. He was 91.
He was born in Belfast, Northern Ireland, the son of James and Kathleen Gillen Walsh. In Ireland he grew up boxing in his youth and was an ALL Ireland Champion known as the Belfast Belter. Immigrating to the United States, he pursued his boxing passion, becoming a Golden Gloves Champion and fighting at Madison Square Garden in New York.
A true Irishman at heart, it was always his desire to see his homeland as a united Ireland and ensure his children and grandchildren were familiar with the Irish Catholic struggles for independence. He owned Emerald Trucking Company in New York City, along with several restaurants and bars throughout his working career. He loved and enjoyed spending time with family and friends.
Golf became his passion. He also enjoyed singing, especially Irish Tunes, carpentry, and a good cold Irish Beer. He never missed an opportunity to celebrate life, laughing and singing. He was truly a great man with brilliant craic, and could bring a smile to all who met him.
Preceding him in death in 2021 was his beloved wife, Brigid Walsh. He is survived by his son, Thomas P. Walsh Jr. of Mahopac N.Y., his daughters, Roisin Baird of Poughquag N.Y., Patricia Barton of Palm Coast, and Colleen Conklin, of Flagler Beach, by his son-in-law, Chris Conklin, 10 grandchildren and one great grandchild, and a host of friends and family in the United States and Ireland.
For the last 27 years, he has lived next door to his daughter Colleen, son-in-law Chris and grandchildren Patrick and Ryan, spending the last several years living with his daughter Colleen, a Flagler County School Board member. He adored Mary and Stanley Drescher, the in-laws who lived on the other side of the family home. Alzheimer's won in the end, but his soul will rejoice in heaven.
He will be greatly missed by all.
A brief service followed a Celebration of Life on Saturday, October 7, in the chapel of Craig-Flagler Palms Funeral Home. Mr. Walsh's remains will be returned to his beloved Belfast in Northern Ireland for interment, along with his wife, Bridgid's ashes.
In memory of Thomas Patrick Walsh, donations are suggested to the Flagler County Education Foundation. Arrangements are in the care and trust of Craig-Flagler Palms Funeral Home.