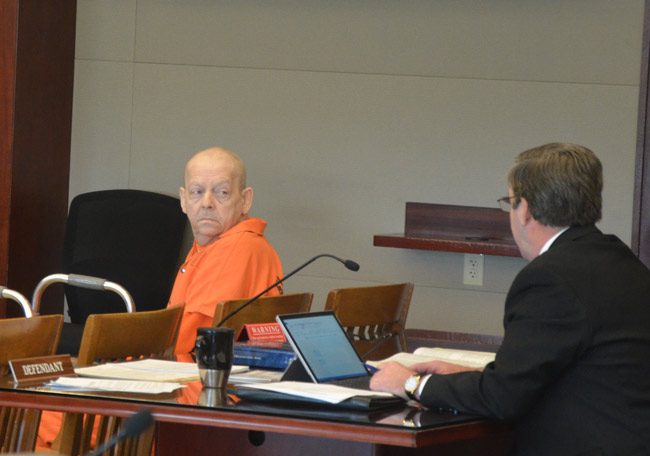 A jury took a matter of minutes in late January to find Thomas Binkley, the 62-year-old former Bunnell resident, guilty of molesting two sisters, ages 6 and 8. Binkley was homeless and ailing at the time. The girls' parents took him in. "Unfortunately for the family they assumed he was a harmless old man," Assistant State Attorney Melissa Clark said.
He was not.
"These girls were 5 and 8 years old, he stole their childhood from them, they will never be the same again," Clark told Circuit Judge Terence Perkins this morning at Binkley's sentencing hearing. "He groomed those girls, he befriended those girls, and he stole their innocence, and if you do that, you don't deserve to walk our streets."
Perkins sentenced Binkley to 50 years in prison.
Binkley had faced anywhere from a minimum mandatory sentence of 25 years on each of the two counts of lewd and lascivious molestation, to life in prison on each. Assistant Public Defender Bill Bookhammer asked the judge for the minimum sentence: 25 years on each count, served concurrently. He argued that Binkley had molested the girls by touching them over their clothing. "Obviously it's a serious crime and he's going to face serious punishment," Bookhammer said, but it should not be life in prison.
Bookhammer appealed to "the human side of it," saying Binkley is 62, suffering from rapidly deteriorating health, with half a foot amputated, and with stage three lung cancer, for which he just started treatment. Doctors discovered the cancer after Binkley suffered a heart attack while at the Flagler County jail, and getting treatment for that. "Twenty-five year sentence is likely a life sentence, your honor, that means he would be age 87" at the time of his release, assuming he makes it that far. "We're asking for the 25 years because it's the least we can ask for."
Clark ridiculed the argument, saying Binkley had assaulted the girls when he was already an invalid–and would do so again were he to be released in his old age. "To stand here and say, this is somehow not as egregious as it could have been, it was egregious to those little girls," Clark said. To say "it could have been worse is just offensive, frankly."
No one spoke on Binkley's behalf, though sentencing hearings often feature family and friends of the convicted person taking the stand and testifying in attempts to mitigate the sentence. The girls' mother and a victim's advocate alone were in the courtroom. The victims' mother chose not to speak.
The judge asked Binkley whether he wanted to say something. "Just sorry everything's happened," Binkley said, sitting behind his walker.
"I remember vividly the testimony of the little girls and the facts and circumstances of the charges," Perkins said, before imposing sentence. He declared Binkley a sexual predator, adjudicated him guilty on the two counts, then imposed 25 years for one count and 25 years for the other before saying words rarely heard in such sentences: "to be served consecutively." Even a 25-year sentence would have amounted to a life sentence for Binkley, given his current age and health. The consecutive sentences now make it a certainty.