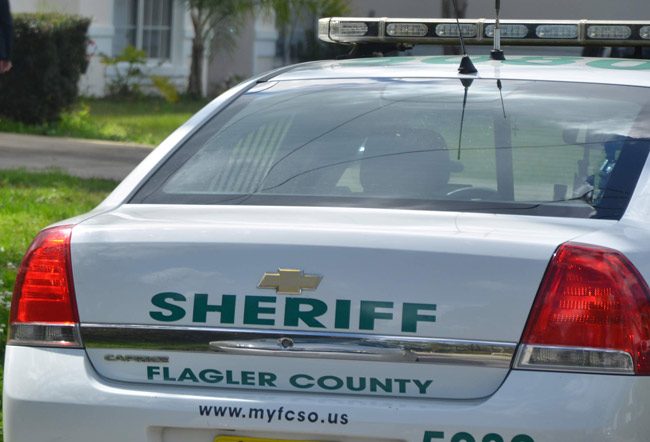 A Flagler County Sheriff's patrol vehicle assigned to deputy Daniel LaVerne was broken into overnight Saturday as it was parked in front of LaVerne's house in the area of Beachway Drive in Palm Coast. The thief or thieves stole a handgun and a rifle.
"The vehicle was locked and it was broken into,"  and damaged, a sheriff's spokesperson said. LaVerne, a six-year veteran of the agency, noticed the theft this morning and reported it at 9:47 a.m. Detectives and the Crime Scene Investigations unit have been at the deputy's property since then, investigating the burglary. The Sheriff's Office is obviously concerned, not only about the theft of agency weapons, but with what may have gone wrong to enable the burglary–whether human error or technical failure.
Sheriff's patrol vehicles are equipped with firearm locks with built-in security features and a vehicle security system, an agency release issued this afternoon states. The spokesperson would not elaborate about the security features so as not to reveal them.
"Everything that's part of the investigation is to find out if the firearms were properly secured and if so, did the security systems that are in place fail, and if so, which ones and why, so there are still a lot of unknowns on what exactly happened," the spokesperson said, adding, about the security features: "It's a several-step security process for them to be able to secure their firearms inside their vehicles." The stolen weapons are assumed to be loaded.
"We are working diligently to determine why the security systems failed and following all leads to identify the suspect," Sheriff Rick Staly is quoted as saying in the release. "This was a bold crime and to the thief I say this – we are coming after you."
Deputies are allowed to take their patrol vehicles home. The vehicles in neighborhoods usually act as crime deterrents. But deputies must follow rules in the use of the vehicles (they can't be used on personal errands when the deputy is off, for example) and strict rules in the securing of weaponry that isn't brought into their residence. Failing to follow policies and regulations, especially with regards to one's own weaponry, may incur severe discipline. "It will have to depend on the outcome of the investigation for them to decide if he was at any kind of fault or not, so that's still ongoing," the spokesperson said of LaVerne. 
The Sheriff's Domestic Homeland Security Section was notified and is also conducting a follow-up investigation and coordinating with state and federal authorities, the agency said in its release. It is sheriff's policy under General Order 025 that all weapons and ammunition approved for use by employees will be secured at all times both on-duty and off-duty. This incident will be reviewed by the Sheriff's Loss Control Review Board for compliance with agency policy.
The agency is seeking the public's help: if anyone lives in the area of Beachway Drive in Palm Coast has surveillance video covering the time span from Saturday evening to Sunday morning, the agency would like to see it. Deputies have been going door-to-door to seek out information.
Anyone with information on this case or potential surveillance in the area is asked to contact the Sheriff's Office at 386-313-4911 and mention Case Number 2019-26064. Tips can be sent to [email protected] or, to remain anonymous, call Crime Stoppers at 1-888-277-TIPS (8477). You could be eligible for a reward up to $5,000.00.