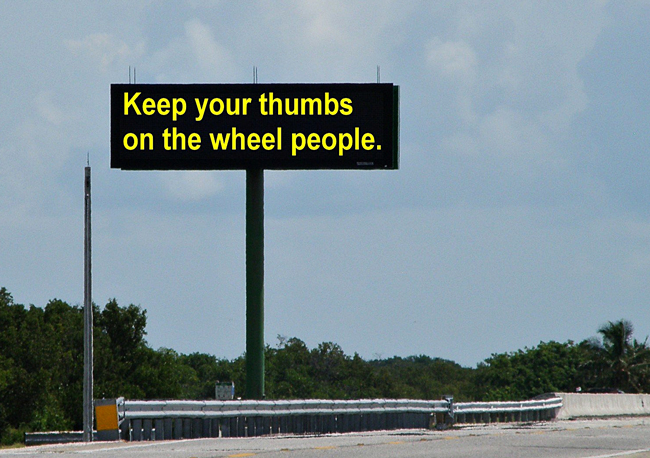 In a room full of people texting updates to and otherwise using electronic devices, a long sought measure to ban such behavior while driving was given a green light to the House floor on Wednesday.
The measure (HB 13) was approved with just one "no" vote in the House Economic Affairs Committee, it's last preliminary hearing before heading to the full House.
"It's the beginning of the change that is necessary in our culture that people learning a new activity, whether it be driving or whether it be texting, that certain activities are appropriate and certain activities are inappropriate, and texting is inappropriate while behind the wheel of an automobile," said Rep. Doug Holder, R-Sarasota, the sponsor of the House legislation.
Legislators have struggled to advance the proposal in past sessions, particularly in the House, where concerns have aired over imposing new rules that infringe on personal liberties.
Committee Chairman Jimmy Patronis, R-Panama City, who voted against the bill, said he wanted to remain consistent in resisting measures perceived as expanding government intrusion. He has previously opposed allowing stepped up enforcement of seat belt requirements, and the use of red light cameras.
"Where do you cross the line of digging in your bag and getting a French fry and driving?" Patronis asked.
The bill would make texting while driving a secondary offense, meaning drivers would have to be pulled over for something else before they could get a secondary ticket for texting.
The fine would be $30 plus court costs, which could be as much as $129. A second ticket within five years would be marked as a "moving violation" against one's license and come with a $60 ticket, before court costs are added that could run up to $179.
Holder, claiming that polls indicate that up to 95 percent of Floridians support the ban, said police may track records to determine if an individual was texting while driving, but he would expect that to occur typically only when there had been a crash or during a death investigation.
"One of the most important parts of this bill is to empower parents and drivers ed teachers to be able to tell their children and students that texting while driving is illegal in the state of Florida," Holder said. Florida is in the minority, most states have at least some restrictions on texting while behind the wheel.
The bill has exceptions, such as allowing the use of "talk-to-text" technology, reporting emergencies, and allowing texting while a vehicle is stopped, such as at a red light.
The bill had been previously unanimously approved by the Transportation & Highway Safety and Civil Justice subcommittees.
The Senate version (SB 52) has also cleared two committees and awaits a hearing before the Judiciary Committee.
–Jim Turner, News Service of Florida
See Cell Phone and Texting While Driving: Laws in the 50 States, DC and Territories