Reports that Rick Perry may be pondering another race for the White House reminded me of one of his bolder proposals—that Texas might secede from the Union. Back in 2009, the governor, responding to a crowd chanting, "Secede, secede!" said that if Washington "continues to thumb their nose at the American people, you know, who knows what might come out of that."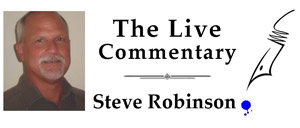 Reliable polls indicate that only about one out of five Texans actually supports secession, and these periodic spasms of provincialism are usually followed by a lot of sober reflection on just how polarized our nation has become.
But I say, when it comes to Texas, let's not be too eager to dismiss this secession talk. Let's take a closer look at this thing. At the very least it would mean jobs for seamstresses and flag makers, altering Old Glory to represent the remaining 49.
Texas's tourism slogan is "It's like a whole other country," so why not just drop the word "like" and make it official?
A sovereign nation of Texas would go a long way toward solving our Mexican border issues, as there would remain less than 700 miles of border for the U.S. to monitor, in Arizona, California and New Mexico. Texas would have 1,250 miles to patrol all by itself, so the border would become the new nation's headache. For the ol' 49, Texas would be a comfortable buffer between Mexico and much of our southern flank.
The notion of Texas as a foreign country is really not that far-fetched. On its own, Texas is the world's 14th largest economy, bigger than South Korea and the Netherlands, according to a 2009 article in The International Business Times. And, like a lot of other countries we have to deal with, Texas's principal export—other than IQ-challenged governors—is oil. Compared to leviathans like Saudi Arabia and Iraq, Texas's reserves of crude are paltry, but lately Texas has been making a case for independence by assuming a lot of the characteristics of those countries.
For starters, Texas and its presumed head of state are muscling into the United Nations Big Leagues when it comes to the humiliation and subjugation of women.  In the finest tradition of a sultan or an emir, Perry enlisted a powerless surrogate, Lt. Gov. David Dewhurst, to condemn a vocal group of pro-choice demonstrators as "an unruly mob." And Perry himself launched an ugly personal attack on State Senator Wendy Davis, the single-mother-turned-Harvard Law grad, who is fighting to preserve Constitutionally-protected abortion rights in the state.
And a Republic of Texas would have lots of company in its corner of the world stage when it comes to the disenfranchisement of voters. In the wake of the U.S. Supreme Court decision that gutted a key provision of the Voting Rights Act, Texas officials were already hard at work trying to reinstate discriminatory redistricting and voter ID laws that U.S. Attorney General Eric Holder has likened to "a poll tax."
An independent Texas could do whatever it pleases to make sure that elections turn out just so. Of course, it might be necessary to send in Jimmy Carter to observe the new country's elections, just as he has done with other bastions of democracy like Congo, Paraguay and Guyana.
Given its enthusiasm for capital punishment, Texas diplomats could comfortably break bread with the leaders of similarly enlightened nations like Iran, North Korea and Pakistan. Demonstrating that timing is not Perry's forte, he reminded his anti-abortion supporters that "all life matters" one day after the state carried out its 500th execution since 1976.
But let's get back to what is always our most pressing foreign policy consideration: oil. Texas produces more crude than any other state, refines more than a quarter of all our gasoline and is by far the biggest producer of natural gas.
Suppose an independent Texas were to reduce or even cut off the flow? Texas need only recall our invasion of Iraq for the answer to that question. We wouldn't even need to bother with a cover story about WMDs—a seceding Texas would have taken with it the Pantex plant in Amarillo, where all of our nukes are assembled and refurbished.
On second thought, leaving Rick Perry with his own nuclear arsenal might not be such a good idea. Better to have him playing the fool again in presidential debates, where at least we can all keep an eye on him.

Steve Robinson moved to Flagler County after a 30-year career in New York and Atlanta in print, TV and the Web. Reach him by email here.