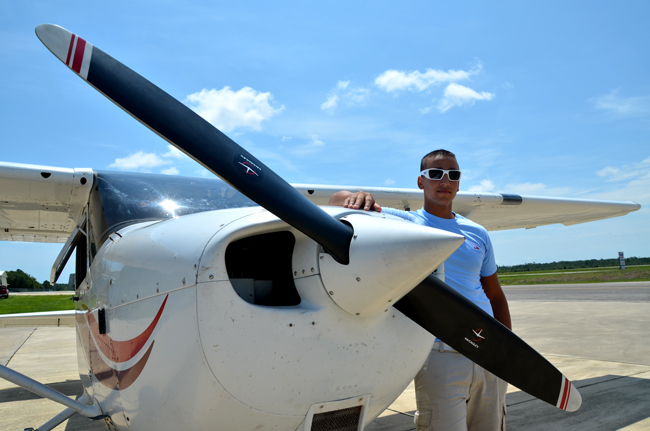 Jack Howell started Teens-in-Flight at the Flagler County Airport in the fall of 2008 to give young students from military families who may have lost a parent in recent wars (or from poorer families) a chance to learn to fly without paying a dime. Last week, Juan Rodriguez became the first Teens-in-Flight graduate to earn his pilot's license: he can fly solo, he can take whoever he wants aboard any plane 1,200 pounds or lighter.
"The first time I really had passion for flying is when I went to the airport for the first time in San Juan, Puerto Rico," Rodriguez says. "I just sat right next to the tarmac, right next to the approach and departures. There's a road they built straight to the airport, we parked the car there and saw airplanes take off and land and I just decided that's what I want to do. I was around 8."
He's now 19. He left Puerto Rico in 2001 to settle in Palm Coast, joined Junior ROTC in high school and was introduced to Howell, who interviewed him and got him into the program. He made it through, graduating high school last year and going on to Embry Riddle on an Air Force scholarship. He'd have had his pilot's license last year had it not been for a bureaucratic snag he didn't have much to do with.
"When he came to me, like many of the kids here, they don't necessarily have a clue what college they want to go to, so I mentor them and get them to focus and hit the timelines that are required so they can get the scholarships so they can get the appointments to the academies, etc.," Howell said this week. "I had one that just graduate d from the Naval Academy, and one of the students from here, Victoria Emerson, is going into her third year at West Point. So these things happen in their senior year, they need somebody to ride herd on them, so that they don't get lost in the shuffle and find out that they were too late to apply for this or too late to apply for that."
There are 11 students enrolled in Teens-In-Flight at the moment. Several made it through to their FAA ground school requirements. A pilot's license can be achieved in 40 hours of flying, but few students manage that, and few instructors will grant it. Typically, it takes 60 to 80 hours to master all sorts of things beyond take-offs and landings. "A bunch of things can go a lot more wrong up there than in a car," Rodriguez says. "You can't simply just pull over if your engine quits up there. So you need to be fast-minded, think first, act."
Six months ago he bought himself a Yamaha motorcycle to exult in his love of speed when he's grounded. He started his flying in the Cessna 150 that belongs to Teens-in-Flight. When it came time for him to solo, he was transferred to Four Star Aero Services, the private firm based at the Flagler County Airport and partnering with Teens in Flight. His instructor was Josh Jackson, son of Four Star owner Wayne Jackson. The training took place in a Cessna 172.
Now he's ready to fly entirely on his own, though some members of his family may not be as ready to join him. His younger brother Lewis refuses outright, not because of his brother, but because of a generalized fear of flying.
"I'm looking forward to it," his father, also called Juan, says. "He has invited me, when he's ready, he has invited his mother too."
"They haven't said yes, yet," the younger Rodriguez says.
"We haven't set a date yet," his father specifies.
Rodriguez's aim: to be an Air Force pilot in anything that flies. And to keep flying. "It's another world," he says. "You have to see it to believe it. A picture is worth a thousand words. I can't really describe what you're feeling, can't really describe what you see. It's a lot better to just take a person up with you." He's waiting for that person.