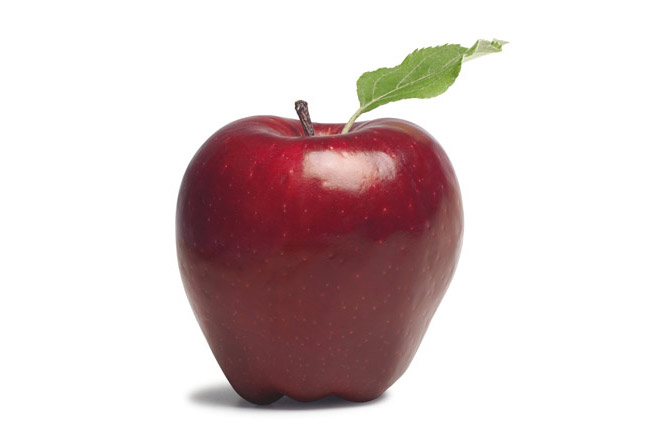 About this time every year, I give my students a brief respite from their daily routine of grammar, vocabulary, literature and essays. For 48 minutes, we regress to elementary school days, and crack out the crayons, markers, glitter-glue, scissors and construction paper. During   "Teacher Appreciation Week" (May 7-11), I ask students to write a letter or make a card to send to any teacher at Matanzas High School.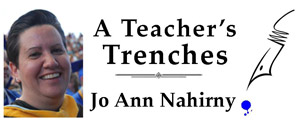 They stare at me incredulously, not quite believing I'm going so easy on them for once. But when I turn on some light rock to play in the background while they work, they realize this one task is all they need to accomplish today. They  get down to business, chattering with their friends as they sketch butterflies, flowers and  cartoon characters,  and strive to come up with  just the right words to express their feelings. (In anticipation of those skeptics who'll protest, "And exactly what are these students learning by making cards and writing letters to teachers?" They  learn about diction [effective word choice] while working toward meeting Florida English Language Art Sunshine State Standards/ Objectives  LA.910.4.1.2 "to incorporate figurative language, gestures, rhythm, dialogue, etc. into writing";   LA.910.5.1.1 "to use fluent and legible handwriting skills"; and LA.910.3.4.1-5 "to edit for the correct use of spelling… capitalization… punctuation…possessives… subject/verb agreement etc." )
This year, as in prior years, a few students created cards for me, surreptitiously putting them on my desk while I did hall duty during change of class.   I've kept every single one I've ever received.  I put them into what I call my "don't quit" file.  It's not a file per se, as I've stowed portions in the bottom drawer of my nightstand and relegated the significant overflow to a bin in the closet. Over the years, I've amassed a motley collection of cards, letters, e-mails, artwork and other mementos which, thus far, have helped convince me to stick with the teaching profession and not throw in the towel as have so many others.
Schools in the United States hire more than 200,000 teachers every year. By the end of each year, 22,000 of them have quit, even in the midst of the tumultuous economy of the last several years.  Teacher attrition has grown by 50 percent over the past 15 years, to the point where more than 45 percent of new teachers nationwide leave the profession within five years. At the school where I teach, for example, not even half the teachers who came aboard with me when the school first opened back in 2005 are still there; some have retired, while others have resigned, left the profession, or moved to other schools or districts.
Since I'm well into my second decade in the classroom, I guess I'm somewhat of an anomaly.  I've beaten the odds, I suppose, just as I did when I survived a rare form of cancer, having lived now for more than six years since my initial diagnosis. Somebody, somewhere, it seems, wants me in the classroom –which brings me back to the "don't quit" file.
When I receive such missives from students, I usually read them, smile, and file them. Over the past couple of years though, as acrimonious verbal and political  assaults on teachers have proliferated,  I've found myself perusing this file with more urgent frequency.  I re-read the heartfelt words of students from two, four, and even ten or more years ago, to feel anew an affirmation of what I do, and perhaps just  to hear an occasional thank-you:  those two words which  all-too-rarely greet most teachers' ears.
"Dear Mrs. Nahirny, I know I have given you a hard time this year. I apologize. I really want thank you for continuously pushing me and staying on top of me to get my work done. I thank you for helping me change my attitude about school and English class in general. I really appreciate you. Sincerely, JR."
"Dear Mrs. Nahirny, Thank you for taking care of me all this year, and for putting up with my asinine vocabulary sentences. There is no other teacher like you since other teachers would have sent me to the Dean's office for some of the things I wrote.  Please keep watching over the other students like you did for me. From, GL"
"Dear Mrs. Nahirny, There are so many things I am grateful for in terms of taking your AP English class. Please don't think I am being obsequious (I probably am, but everyone loves flattery, right? And yes, I believe I just used hyperbole.) Your persistent encouragement brought out the best in me that I never would have realized without your support. I remember the first week of school when you informed your students of how rigorous the class would be. I doubted myself, but I stayed with it after getting positive remarks on my first essay. Your consistent feedback only pushed me to try harder. Thank you for helping me be the best I could be. EP"
"Dear Mrs. Nahirny, Thank you for giving me a second chance on the poetry project and the essays. I had a lot of fun in your class this semester. You are a really great teacher. When my brother gets into high school, I hope he has you as an English teacher. Thank you again. Sincerely, AB"
"Dear Mrs. Nahirny: I have been reading your articles on Flagler Live. I really appreciate what you are doing. I am currently a senior at Florida State University. I want to be a high school teacher. So many times I'm told, 'Don't do it. Change your major!' Thank you for loving what you do. Your articles have really inspired me to stay in the major and become the best teacher I can possibly be." MH
"Dear Miss Nahirny, I am starting off by saying thank you for just being a well rounded super duper most awsome teacher! In the world! thank you for being there when I needed you the most thank you for believing in me more than I believe in myself thank you for helpinmg me too see that no matter what ive been through never to give up on my dreams. thank you for costintly harangueing me when i lose focuse and tend to wanna give up.  thank you for making me laugh when I felt like crying or had a crapy day. thank you for leting me get extra time on assingments. thank you for teaching everyone to the best of your knowlage. But most of all I would like to thank you for being shopmore teacher because if it wasn't for u I would probley said forget this…"  (sic.)  Sincerely, Z
Thank a teacher this week.
If it wasn't for you, many more of us probably would have said "forget this."

Jo Ann C. Nahirny, a 1985 graduate of Columbia University and a National Board Certified Teacher, teaches English at Matanzas High School in Palm Coast. Reach her by email here.