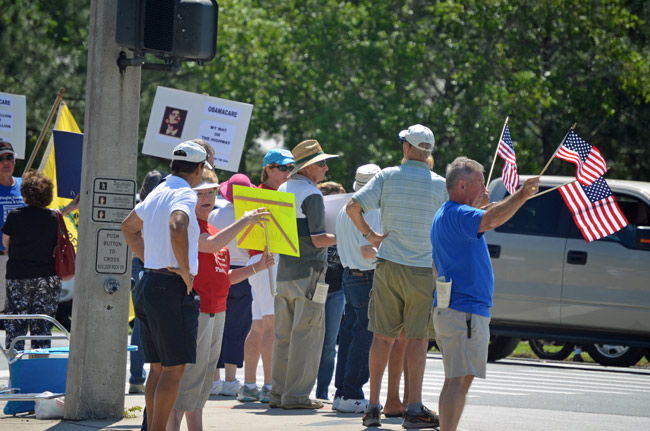 By Henry Kelley
I've been asked why there is no grass roots representation of the Tea Party at the Republican National Convention.
My response is fairly simple. Despite three years of media onslaught and cluelessness by liberals and Democrats, those outside the movement still don't grasp a simple truth: people like me are the absolute last folks — probably even below gaffe-a-minute Vice President Joe Biden — who would be invited to the RNC.
We in the Tea Party believe in Republican principles of limited government, free(er) markets and limited foreign military adventures. It's elected Republicans who represent the problem – they just don't follow their own principles.
We watched in disbelief as a Republican-controlled government passed the Patriot Act and Medicare Part D, growing government and racking up even more debt. Our response? We stayed home in 2006 and the Democrats took control of the U.S. House.

In 2008 we had two choices for president. One spoke very well, wanted to greatly increase the size of government, and supported TARP — the Troubled Asset Relief Program that purchased the failed assets of banks. One spoke less well, wanted to greatly increase the size of government and also supported TARP. The result was total Democrat control of the federal government, because we decided silently that the Republicans had blown it.
We gave the Democrats a chance to, as Nancy Pelosi said, "drain the swamp." The door was wide open. But it turns out the only ones worse in handling our economic crisis than the Republicans was the Democrats.
As a result, we have given the government complete control over our health care, and thus our bodies, regardless of whether that body is male or female. I challenge anyone on the left, who had legitimate complaints about the policies of President George W. Bush, to offer a rational defense for voting for President Obama a second time. Obama's policies are almost universally expansions of President Bush's policies.
Not only did the swamp not get drained, it got filled with huge amounts of cash to special interest groups, even more debt and, worst of all, a sense of hopelessness in our form of government.
So the Tea Party went out and did, without violence, what needed to be done. We found candidates and supported them to vote our way. The result was the absolute smack down of Democrats in 2010. Fortunately, the "intellectual superiority" of the left prevented them from realizing the mood of the nation, an attitude that has put Republicans in a position to sweep back to power now.
Yet, the Republican party has shown no interest in following their principles, even with the nation in serious peril.
The tea party was formed because there was a group awareness that our nation is on the precipice of the famed economic cliff.
Since Democrats have made no effort to reach out, understand or even acknowledge that the tea party has an economic point, we are stuck with Republicans for one more cycle because we simply cannot leave our government in the hands of President Obamabush. He's proven to be a failure as a leader, and we will swap him out for someone we don't quite trust, either.
You see, the tea party long ago realized that We the People had to rise up and transcend our government and parties, or the nation will never be the same.
After this election, the future of the tea party is unclear. We may finally break off and work to be truly independent. Many members may join a third party. What is certain is that the Republicans have pushed us away as much as the Democrats, and we'll work together to elect a guy we don't fully trust.
And therein oddly, lies a glimmer of hope. We may elect someone who no one quite believes in and we will look to ourselves for solutions, not D.C. And that, my friends on the right and left, is what makes America great. We are a nation of individuals, and we need to find that strength again.

Henry Kelley, a Fort Walton Beach business owner, is a leader of the Florida tea party movement.