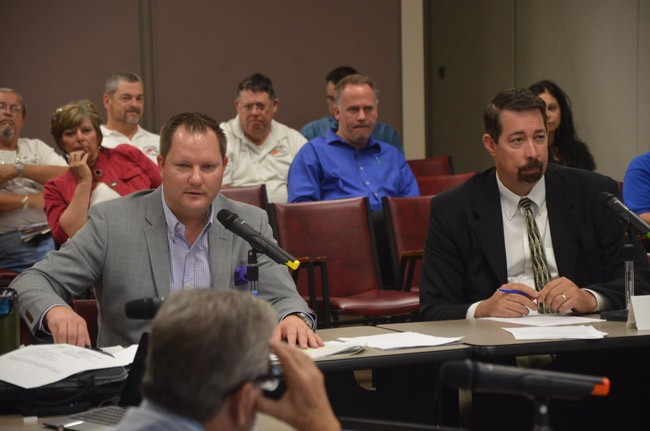 It is as if county government's absorption of the tourism office last fall included a drunken-sailor provision in the fine print: the Flagler County Commission certainly spent money like one on its tourism office Tuesday. The office was previously housed under the umbrella of the county chamber of commerce.
In one of those now-routine, quick-action special meetings immediately following a workshop on the subject (thus depriving the public any chance to mull over proposals or mobilize an opposition at a meeting scheduled with more notice, and shading the meeting from television viewers but not live audio) the commission voted to expand the staff of the tourism office from five to six full-timers, buy nearly $300,000 worth of stadium-like equipment such as floodlights, a stage and bleachers that have little to do with promoting the county, and suggested that they may want to raise the local tourism sales tax from 4 to 5 percent to generate more money for more spending.
County Commission Chairman Barbara Revels signaled that she would be opposed to that last proposal, which was not before commissioners today.
The tax, a sales tax supplement that applies to all short-term rentals, motel and hotel room bookings and the like, was last raised in December 2010 and has generated record revenue every year since. But Matt Dunn, the director of the tourism office, is a proponent of the higher tax as it would further expand the office's revenue. Much of that revenue has been shifted to so-called "discretionary" spending in the form of direct subsidies to private organizations, many of them for profit, that bring sports tournaments or conferences to local venues and resorts.
The stepped-up spending started last fall when Dunn was awarded a $12,000 raise, a 17 percent bump that brought his salary to to $82,000 a year (his predecessors, both women, were kept at $65,000), while three other staffers at the tourism office shared raises of a combined $11,000 between them.
The $300,000 binge on sports-field and stage equipment is another form of subsidy to organizations holding such events. It's not yet clear how the equipment would be available for use by local organizations—or any organization. On occasion, the tourism office has had to rent lighting "towers," though not bleachers.
"We have to develop more detailed policies on some of that," County Administrator Craig Coffey said, though he added that some rental structure will be in place. "There's going to be a cost to maintain some of that equipment, there's going to be a cost to set up some of that equipment, to move some of that equipment." He added: "We do not want amateur hour setting it up or blowing the fuses. We want people properly setting it up and taking it down, and we want it properly maintained." It will be the responsibility of county employees.
"The equipment would be available to our various municipalities for the cost of covering expenses, the staff time to move it around, gasoline, wear and tear, etc.," Dunn said, offering events such as Rock 'n Ribfest and Flagler Beach's First Fridays as examples.
This morning's special-meeting actions aside, the commission is going slower on proposed policy changes that affect the tourism office's various money pots. By law, the commission can only approve such policy changes after holding public hearings.
Dunn and Coffey had presented the money requests and some proposed policy changes at last month's meeting of the Tourist Development Council, the volunteer board made up of local tourism business representatives—many of whom benefit directly from the TDC subsidies—and representatives from Palm Coast and Flagler Beach. The TDC is chaired by Revels. The panel approved the Dunn-Coffey proposals with little to no opposition.
One set of proposals got more resistance today from commissioners, especially from Nate McLaughlin: Dunn's proposal to tighten restrictions on smaller community groups requesting grants, and to cap their ability to seek those grants at three years. McLaughlin was opposed both to the cap and to some of the more restrictive requirements. "You're closing a door that you don't want to close," McLaughlin said of the cap. "There's other ways to adjust that."
By morning's end, the cap was gone, and the restrictions applied, but not as much as Dunn wanted.
For example, Dunn—who has publicly spoken of his impatience with what he calls "pushing paper"—wanted to eliminate the $2,500 annual grants or subsidies to organizations that in exchange pledge to fill 25 to 74 local hotel room nights. Dunn wanted to eliminate all grants for any event with fewer than 100 such nights. McLaughlin was not willing to go along, but he agreed to a floor of 50 room nights. Dunn also wanted to lower the amounts of so-called quality-of-life grants that go to small, local organizations, most of them cultural or non-profit organizations form whom hundreds of dollars make a difference. The minimum current award is $1,500. Dunn wanted it lowered to $1,000. McLaughlin was opposed, even if it meant—as was Dunn's argument—making more such grants available.
"Then bump the budget," McLaughlin said. "There's money in that fund, in that tax fund. If you want to hit that many people, then bump the budget." McLaughlin eventually agreed to a middle ground on the quality of life grant: $1,250.
The discussion on raising the tourism sales tax, also known as the bed tax, was part of two tangents on the subject. In the first, Dunn said the county will seek to "self-collect" the revenue, rather than the current arrangement, which has the state collect the revenue then redistribute it to the county. Dunn claims that based on a locally policed system, revenue could rise by 20 percent if it were self-collected. Of course, self-collection also means a likely further expansion of the local bureaucracy to administer and police the system.
In the second tangent, prompted by Commissioner George Hanns, the higher tax is "something as we struggle for funds for these programs and even struggle for advertising dollars," Coffey said, "it's something we want to consider in the future, but it takes a supermajority to pass, so it takes four out of five of this board." (Where the county's tourism office has been "struggling" to fund its programs, even as its staff is expanding and its revenue increasing, was left unclear.)
Hanns said a supermajority would not be difficult for the commission to muster.
"There are different opinions on raisjng the rate," Revels corrected him.
"You would be opposed to that?" Hanns asked.
"Maybe. I voted against the last one," revels said. "We just got an award in Flagler Beach for being one of the most affordable destinations, by Trip Advisor, and affordable means that people, their total outlay of expenses, is what they consider. It's not in front of us right now, we're not discussing that right now, but I think that needs a lot of consideration.