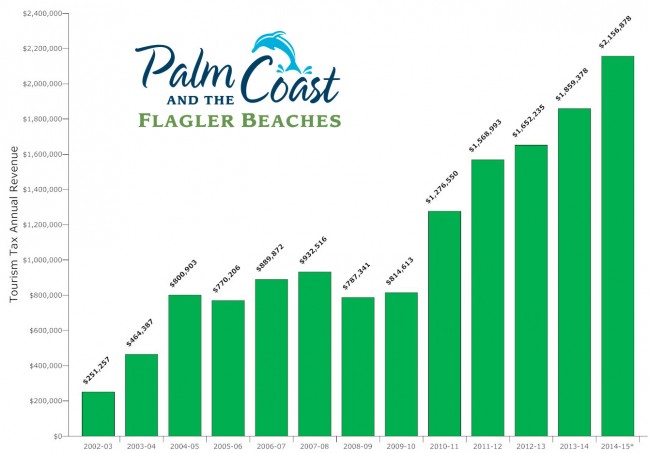 Big changes have happened, and if Flagler County government has its way, will continue to happen with tourism financing and taxes in the county. Those changes include the second increase in the bed tax in four years—from 4 to 5 percent—, significant salary increases for tourism's administrative arm at the chamber of commerce, and planned legislation to counter a court decision that keeps allowing booking companies not to pay a tourism tax to Flagler and Florida's 66 other counties.
For the public and local tourism, the most significant change is the county administration's effort to bump up the sales surtax on short-term rentals, including hotel and motel stays, to 5 percent, a plan the administration will present to the county commission in early July. The administration is looking to increase the tax even though county revenue from the bed tax had increased almost ten-fold since 2003, and has more than doubled in the last five years, from under $1 million a year to around $2 million projected for this year.
Tourist-tax revenue is split three ways. Two-thirds of the money is spent on promoting the county through advertising, special events grants and salaries for the four-person tourism office, which is actually a contract with the Flagler County Chamber of Commerce. Just under a quarter of the money is spent on capital projects designed to lift the county's tourism profile, such as renovations to the Flagler Beach pier or the Flagler Auditorium. The rest of the money is earmarked for beach preservation.
All but five counties have a tourism tax, but most are at 4 percent or below. About 18 counties have a 5 percent tax, and five counties—Volusia, Orange, Duval, Osceola and Miami-Dade—have a 6 percent surtax, according to the Florida Department of Revenue. St. Johns is at 4 percent.
A "Critical Issue"
"we think it's a critical issue for us," County Administrator Craig Coffey said of raising the bed tax. "We're leaving a lot of money on the table that we could be expanding our tourism efforts" with.
"Half a million dollars, roughly, sitting on the floor," Commissioner Nate McLaughlin, who chairs the Tourist Development Council, said. "I've talked to hoteliers, how does this impact you, should the board make a movement on this, and they say it won't impact us at all." In late 2010, when the TDC approved the last increase in the tax, the council's vote was split, 4-3. The county commission, which must approve the increase, followed suit with a 4-1 vote. Two votes are necessary, with the second vote following a public hearing. If the tax is increased, the new rate would go into effect on Jan. 1.
The county administration wants to increase the tax for several reasons, not necessarily in the following order.
An Unfriendly Court Decision
First, the county was at the losing end of a long court battle to compel online booking companies to pay the full bed tax. Currently, companies such as Travelocity and Orbitz do not do so. They buy up rooms, and pay tax only on what they pay for those rooms—not what the customer ends up paying for the room. The difference is significant, especially as it aggregates, and in the way it affects actual hotels and motels. When the local Hilton charges for a room, for example, it must pay the full tax on what the customer pays for that room. If online companies don't do so, it gives them a competitive advantage against hotels and motels, and it denies local governments a share of their tax revenue.
---
Warning of lost revenue ahead while downplaying increased spending, and rising salaries.
---
On June 11, the Florida Supreme Court ruled 5-2 in favor of online booking companies.  It did so by interpreting state law in their favor. State law can change and compel the booking companies to pay the full tax. But that'll be up to the Legislature—an initiative Flagler intends to lead. Counties worry that not only are they missing out on local tax revenue, but the online booking system is growing, and hotels and motels may end up creating their own parallel online booking systems, further diluting amounts that end up in local governments' treasuries. The estimated annual loss to counties across Florida, annually, is $25 million to $30 million.
"The decision is particularly disappointing in that for several years we and others successfully defeated the tax exemption bills sought by the OTCs from the Legislature," County Attorney Al Hadeed wrote commissioners in a memo analyzing the decision last week. "Now by virtue of the Court's majority opinion that "tax exemption" has been granted, at least for now."
Hadeed continued: "The statutes we are talking about in this case were enacted in 1947 and 1977 before technology changed the way everyone did business in the lodging industry.  The Court basically said that when these technological changes occur, it is incumbent upon the Legislature to clarify how the taxes apply to the changes in the financial transaction.  Absent the Legislature's action, the Court said, the tax will not apply since the application of the taxing statutes is no longer clear in its view."
Counties now intend to take that opening.
Changing the Law
Coffey, who just returned from the state's association of counties conference, spoke to the county commission Monday about that prospect, and about what counties intend to do in response. "There were about 40 managers at this conference," Coffey said. "We talked to them, we talked to the legislative aid with the Florida Association of Counties. We're going to be pursuing actual legislation. We're going to try to get all the counties on board with this. It affects every county." Coffey said he told other county managers that if the court decision stands without a legislative correction, "you'll get impacted in a massive way."
The facts in Flagler, however, do not bear out the warning, at least not for now: even as online booking has surged in the last several years, so has bed tax revenue, suggesting that counties' fears of lost revenue may be overstated.
The second reason the county wants to increase funding for its tourism operations is that it has numerous projects planned, and it has revved up tourism as an economic engine. Promotion is drawing more dollars. The Tourist Development Council this month ran out of money in one of its funds devoted to special events grants, though curiously there are no planned increases in those funds. They will remain at $85,000 for events that draw overnight visitors, and at a relatively paltry $15,000 for "quality of life" events. The county itself is looking to dip into tourism dollars to build cottages at Princess Place Preserve.
Salary Increases
Third, the tourism office's budget is projecting a sizeable increase, including a big increase in salaries for its four staffers.
The tourism office's budget is proposing a 19 percent increase, or $230,000—from its current budget of $1.2 million to a proposed $1.43 million.
"That jumps out at me," County Commissioner Charlie Ericksen said of some of the increases, which were presented to commissioners in a Monday workshop in back-up materials that did not include detailed explanations. "If we're looking at line-items, whether they'd be ours or something else, we have to have an understanding because we get questions from the people that are going to pay the bills here."
Those explanations were provided by the chamber today.
Some $157,000 of that would be an increase in promotional activities. And $23,000 would be to increase salaries (not including benefits), led by a $12,000 salary bump for Dunn, the tourism director, what would amount to a 17 percent raise. Four years ago, when Peggy Heiser, the tourism director at the time, asked for an increase from $65,000 to $70,000, the TDC denied the request, and soon she was gone. She was replaced by Georgia Turner, who was kept on at the $65,000 salary.
Dunn was hired at $70,000.
Rebecca DeLorenzo, president of the chamber of commerce, who signs Dunn's checks, says it has nothing to do with gender. Rather, "that position changed a lot over the years," DeLorenzo said, shifting the focus from PR and efforts to give the county free publicity through such things as organized media tours to the more aggressive development of events that draw large crowds, with emphasis on sports events. "Under Matt's lead, it's definitely become more of a sales organization where they're actively pursuing sports groups and other organizations to come into the county."