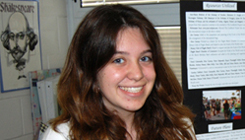 Taylor Tofal, Flagler Palm Coast High School's salutatorian, is part of Teacher Diane Tomko's squad representing the school and the county at the annual international competition of the Future Problem Solvers, held this year at the University of Wisconsin-Lacrosse from June 9-13. Taylor is contributing a journal of the competition as it unfolds. Read her first installment here.
Friday, June 11

Today has been another long day.  It seems like our teams have been here for a very long time, so much so that the dorms are even starting to feel a little bit familiar, the pillows slightly less hard, and the campus explored enough so that most of us (me, being directionally challenged, excluded) can walk a few blocks in any direction without becoming hopelessly lost in the greenery and fading brick of the University of Wisconsin.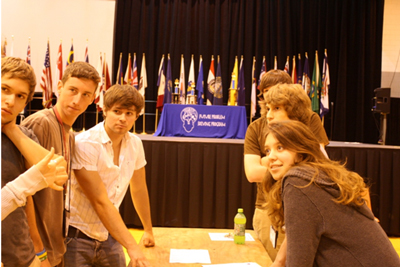 For me, the day began early, as I attempted to actually get out of bed when my alarm began buzzing at 6:30.  Eventually, I managed to ready myself enough to meet my Future Problem Solving booklet writing team for breakfast at 7:30.  Our four person team–Clay Hausen, Emerick Larkin, Vincent Scerbo, and myself–was the only booklet writing team from Flagler Palm Coast High to make it to Internationals; thus, we were mocked all day as being the group not to sleep in.  Two others, Brandon Smith and Ryan McDermott, participated in the alternate writing competition, and were up with us to share our laments of sleep deprivation over breakfast.  We wandered over to our competition room, the large gym in which opening ceremony took place, and found our table, which we proceeded to cover in an unnatural amount of pencil shavings and scattered papers over our two hour writing period, which ended at 10:41 a.m.
---
Click On:
Watch Taylor Explain Her Project on a Palm Coast TV Video (23 minutes in)
---
---
After writing, we made our way back to the dorms and broke off into different groups for lunch before our booklet writing team rejoined in the common room with Brandon and Ryan, our alternates, to prepare our skits, or the presentations of our action plans.  After quickly placing together some props of tin foil and colored paper, along with a series of rhyming songs created by Vincent and centered on robots and living green, I left to go to my first Community Problem Solving interview for my individual project, The Cookbook Project.
Half an hour later, I was running quickly back to our dorm room to change shirts for our next interview, with my team, Project BOOST, which immediately followed my solo interview.  After the interview ended, we again went sprinting across campus, this time to the presentation of our skits, which they had arranged so that our booklet writing team could go last, as I had been in the Project BOOST interview when skits were scheduled to begin.  We watched several skits, many involving some manner of talking polar bear — really a confused student wrapped in white paper and growling unconvincingly — before presenting our own, though we rapidly were informed that we did not make it to final rounds.
With a few spare minutes finally on hand, our group walked back to our dorms to relax for too short a while before our dining hall dinner.  Immediately afterward, we returned to our residence hall and relaxed a bit more before preparing for the Community Problem Solving fair.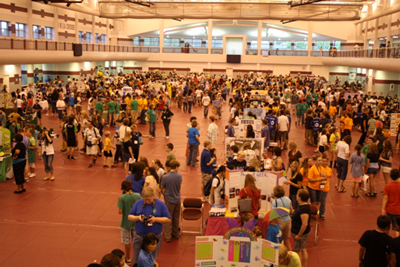 The fair is always a bright array of color, light, sounds, and music, all combined by the pushing of many bodies intent on moving through the crowd to glean free project handouts, a must-have for a Community Problem Solving display, and the roar of many passionate project members fighting to keep their explanations of project achievements heard over the noisy blur of everything else.  This being my first international fair, I was awed by the sheer number of people and projects filling another of the university's gym, a feeling which, by the end of the two hour fair, had faded to a determined but fatigued interest in everything going on around while I tried to ignore the fact that my shoes were digging thick crescents into the sides of my feet.
After resolving to never wear heels at a project presentation requiring long periods of standing upright and still, I was shocked with a realization: I never would.  This was, for most, our last Community Problem Solving competition, as the program does not continue into college.  A huge sense of relief, regret, and comprehension permeated my thoughts and was quickly replaced by my intense need to sit down and find a pair of flip-flops.
The Community Problem Solving element of the competition mostly completed–besides the breakdown of our presentation tables tomorrow–our group relaxed for the remainder of the night, meeting with several students from Arizona, Nebraska, Texas, and Australia before heading up to bed, which is where I hope to soon be going, dense pillows and good book, for now, aside.  Goodnight!
Photos courtesy of Diane Tomko and FPC's Future Problem Solvers.