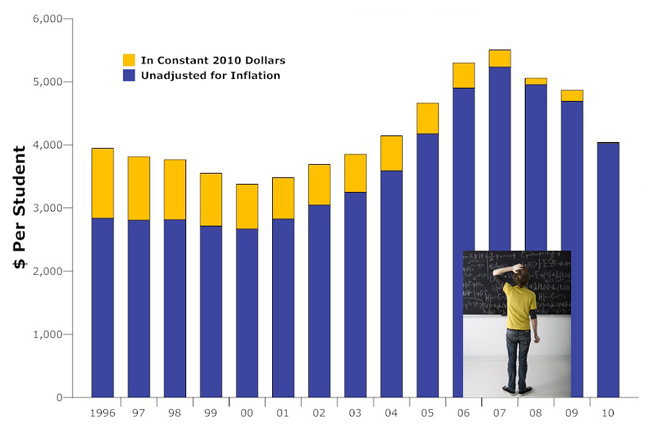 It doesn't get clearer than this. The Flagler County School Board will have as much to spend on each one of its students this year as it did in 1996, when inflation is taken into account: $4,031.
If you think that's good news, consider this. In the intervening 15 years, the student population has nearly tripled. Academic expectations such as the high-stakes Florida Comprehensive Assessment Test and several other lesser-known standardized tests educators have to contend with have multiplied. The demands of technological literacy have swelled IT budget requirements. A constitutional amendment has imposed strict and hugely expensive limits on student-teacher ratios, the strictest of which go in effect this fall.
Yet it's as if none of it has happened. The Flagler school district, restricted by taxpayers' aversion to higher taxes, is limited to spending no more money per student this year than it did 15 years ago, when classrooms could be bigger, schools were fewer, teachers were paid less, and the financial burdens and expectations of the No Child Left Behind law were non-existent.
The situation is worse than it sounds when you consider educators' pay. It's a given that teachers, principals, librarians, guidance counselors and the rest are granted at least cost-of-living raises, and in Flagler in the middle of the last decade, they were granted much more. But in the long view, if per-student spending is the same today as it was in 1996, it also means that there has been no overall, significant improvement, over and above inflation, in educators' pay. And what improvement has taken place has been carved out of other budgetary responsibilities. In other words in Flagler County as elsewhere, teachers, an emblematic pillar of the middle class, are either running in place economically or falling back.
When the Flagler County School Board meets at 3 p.m. this afternoon to discuss next year's budget, it'll wrestle with countless challenges it must face in the coming year, almost all of them related to decreasing revenue and added burdens. School board members will learn that one of the means of complying with the strict new student-teacher ratios (which, in core subjects, require elementary classrooms up top grade 3 to have no more than 18 students, 4th through 6th grade classrooms to have no more than 22 and high school classrooms to have no more than 25 students) will be the likely creation of a new class of teachers, called "associate teachers," whose starting pay will be considerably lower than established teachers ($26,000 a year instead of $38,000). Associate teachers will co-teach classes that are larger than the minimum allowed by the class-size amendment, thus cutting the ratio down.
Board members will also learn that local property tax values have taken another record tumble–declining 20 percent for the county, 18 percent for the school board–although the district's student population continues to increase. It grew by 1.8 percent this year. It is projected to grow, perhaps optimistically, by 2.3 percent by next fall, to 13,269 students, an increase of 300 students, according to calculations by the district's finance department. Increasing student population offsets lower property values through the complicated evening out of the state school funding formula, but only up to a point. Lower property values also enable slightly higher school property tax rates.
But none of those adjustments account for the largest financial burdens on the district at the moment: the class-size amendment requirements, and the replacement of federal stimulus funds, which run out next year. Those funds allowed the district to save 61 teachers and 78 para-professionals such as teacher aides. By the fall of 2011, if the district intends to hold on to those positions, it'll have to pay for them with its own money unless the state has an alternative. So far, the state has been, like taxpayers, stingy.
Taxpayers are not quite taxed out, and not just because Florida's overall tax burden, especially on property owners, remains among the lowest in the country. (Ranked nationally, Florida taxpayers' state and local burden ranks them 47th out of 50 states, according to the non-partisan, Washington-based Tax Foundation.) The school property tax rate on the books today (the rate that generates the district's contribution to the state that then gets redistributed in a share-the-wealth formula) is 14 percent lower than it was in 1996. That may not mean much to property owners whose values have gone up so much in the meantime that the taxes they pay have gone up, not down. But what the per-student funding total shows is that regardless of the differences in property values, up or down, the end result is of no benefit to students or the district today: they have to do far more with less.
One of the questions the School Board will wrestle with again today is whether to go to voters in a referendum this fall to ask for the equivalent of about $17 to $20 per year in taxes from a home assessed at $150,000. The district is getting that revenue now. It always has, by dint of a School Board vote. It's a small portion of the overall school tax that local districts have always been allowed to levy, in order to generate money strictly for the district to supplement local needs. But Gov. Charlie Crist and the Legislature a couple of years ago changed the law, and required school boards to ask voters' permission if they intended to continue the levy–and keep asking them every few years.
The mood of the electorate is such that the Flagler school board is worried about putting the levy out to referendum, especially in light of another such levy the Flagler County Chamber of Commerce is going after (to build commercial buildings at taxpayers' expense). The question the school board faces is how to keep funding what parents expect, with less, and with fewer options to make up in revenue what the state and local taxpayers are not willing to contribute.