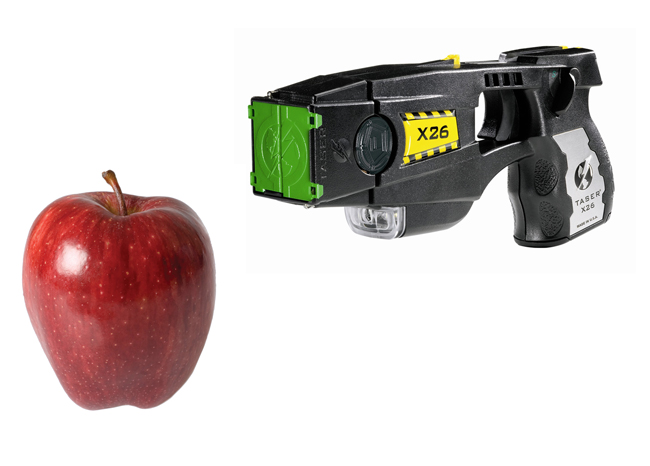 Flagler County Sheriff Don Fleming wants his School Resource Deputies (SROs) to be armed with Tasers again. He'll be making that request to the school board this evening by way of David O'Brien, the acting under-sheriff—and reopening a controversial debate dating back to 2005.
"I'm not going to make it a mandatory issue with the school board," Fleming said today, but he will recommend Tasers' return. "We've looked at other counties.  Putnam and St. Johns have Tasers in the schools, they don't have any issues with it, it's just another tool that deputies can use."
Fleming is likely to have more support from the board this time than he did in 2005.
"I've not yet heard all of the data I need to hear on it to make my final recommendation, but I do feel that I have a duty to ensure the safety of all the students," Superintendent Janet Valentine said, noting various discussions with SROs, the sherifff, school administrators and others leading to a consensus on allowing Tasers. "I do think there's some indication that it may be one of the safer things to have in case of an emergency."
The catalyst for the discussion this time is the Aug. 29 incident at Matanzas High School. Two students were fighting, including a big 16-year-old boy who, when Don Apperson, the SRO on duty, intervened, head-butted and injured him in the head. "Here again we come down to the fact that the young man the other day was bigger than the sergeant, he was a karate student, he overpowered the sergeant, and you had a couple of hundred kids standing around right in the hallway there."
That situation would have warranted the use of a Taser, Valentine said, because itt had risen to the level of an emergency. "An emergency to me is anything that puts other students and staff in danger, in extreme danger," Valentine said.
The return of Tasers is making parents nervous—particularly parents who have or have had special-needs children in the districts—students with autism, for example, or a variety of disabilities that entail unexpected behavior cops aren't necessarily trained to pick up, understand or distinguish from those of other students.
"If my son was in school, I would be terrified of it," Christina Pinto, whose son has since graduated, said. "I think it would just be a quick reaction instead of trying to sit down and reason with them. It would be a quick issue of let's just tase them. I understand that the deputies need to consider their safety and the safety of others. Me as a parent, I would say, we need to really think this through before we allow those Tasers back in there." Weaponry as a whole is a problem in schools, including pepper spray and guns, Pinto said, each with potentially severe consequences.
"We're all just scared because it's not an easy road for any of us on a good day," says Kate Settle, the parent of a student with special needs in the district, and a former member of the district's special education advisory group. Settle has been in contact with other district parents over the issue, many of whom are echoing the same unease and fear of situations being misinterpreted, leading to unintended consequences. "I just think it'd be a big mistake. I don't think the SROs are sensitive to special needs kids."
In 2005, Fleming, as a new sheriff, asked that Tasers be part of SROs' arsenal. The board strongly rejected the proposal after a public outcry that included formal opposition from the NAACP and tough words from board members. "I am not prepared to use a Taser on a student unless I can stand up and have one hit me," Evelyn Shellenberger, who served on the board until last year, said at the time. "I personally am not ready for that."
Fleming agreed to comply with the board's wishes, verbally. Yet two years later, Scott Vedder, a deputy assigned to Flagler Palm Coast High School, used a Taser on Laurence Gibson, then a 16-year-old special-education student who'd been having trouble doing his work, and who began acting out after his teacher corrected him. The room was empty but for Gibson: no other students were in danger. Gibson didn't follow commands from administrators. And he disobeyed Vedder's command to sprawl on the floor, at which point, after being warned that he would use the Taser, Vedder fired it into the student. Tasers fire a massive shock of electricity through the body, producing sudden, extreme and immobilizing pain. (See the accompanying video.)
It was never clear why the Taser was on campus to start with, since the sheriff had agreed not to arm his SROs with them, though deputies, then as now, always had the option of calling in additional deputies with any requested weaponry, including Tasers.
Then-Superintendent Bill Delbrugge subsequently and repeatedly referred to that incident with regret: it was mishandled by the deputy and by his administration—himself included, he said, when he tried to downplay the incident instead of recognizing it as an error from the start: the tasing had been unnecessary. Again, the sheriff pledged not to have Tasers on campus.
But the school board today has three members who weren't there in 2007: Andy Dance, Trevor Tucker and John Fischer. Colleen Conklin and Sue Dickinson were there then and still are. Dickinson was supportive of Tasers when first proposed in 2005. Conklin has been opposed all along.
"My greatest concern is you have a gun," she told a sheriff's Taser trainer in 2005, "you put in a whole lot of thought before you pull that gun. I am not sure how much thought process will take place before a Taser is pulled out."
Today, Conklin said: "I understand why this issue is being brought back to us now in response to the situation that happened at Matanzas High School, but my feelings on it really haven't changed very much. But in fairness I will be listening with an open mind. I personally feel that this is a reaction to a specific incident, and I don't want it to be a knee-jerk reaction to that incident." She noted the size of Flagler schools, where the sheer number of students makes it difficult for deputies to know one student from another, and therefore calibrate responses accordingly, when problems arise. "We should really be looking at and focusing on de-escalating tactics to use with students, and again, the question of what-if: what if a child has a health concern that's been undiagnosed? There's too many unknown what-ifs for me. But I'm really trying to go into this with an open mind and listen to the data that's going to be presented this evening."
Dance speaks of going into the discussion with an equally open mind, though he sees Tasers as the sheriff sees them—a deterrent that falls lower on the scale of violence than more lethal uses. "I guess there's a progression," Dance said. "The officers have and are trained on a variety of different tools, if you will, from the billy club, mace or pepper spray and firearms, so I think it falls within the mace and the firearms as a preventative or deterrent. I think they use them to prevent escalation of certain occurrences. I'm sure that's what they're going to talk about, protocol, and how they utilize each of those tools that's available to them."
Neither Dance nor Conklin have seen the video of the incident at Matanzas. Valentine said the video will not be released because "it is part of a student's discipline record," and as such, falls under exemptions to the state's open-records law.
Law enforcement portrays Tasers as a non-lethal deterrent to violence. The U.S. Department of Justice in May released the most authoritative study to date on the use of Tasers and other so-called "conducted energy devices" (CEDs). The report estimates that 11,500 law enforcement agencies have acquired and deployed some 260,000 such devices. The study found no conclusive evidence that Tasers are a direct cause of death, particularly no likelihood of death as a result of cardiac dysrythmia (or altered heart rates because of a Taser burst). But it found that Tasers do contribute to deaths indirectly–the result being the same for the person at the receiving end a Taser burst.
"There is no conclusive medical evidence in the current body of research literature that indicates a high risk of serious injury or death to humans from the direct or indirect cardiovascular or metabolic effects of short-term CED exposure in healthy, normal, nonstressed, nonintoxicated persons," the report concludes. "Field experience with CED use indicates that short-term exposure is safe in the vast majority of cases. The risk of death in a CED-related use-of-force incident is less than 0.25 percent, and it is reasonable to conclude that CEDs do not cause or contribute to death in the large majority of those cases.
The report also notes: "Caution is urged in using multiple or prolonged activations of CED as a means to accomplish subduing the individual. There may be circumstances where repeated or continuous exposure is required; law enforcement personnel should be aware that the associated risks are unknown and that most deaths associated with CED use involve multiple or prolonged discharges."
The full report is below.