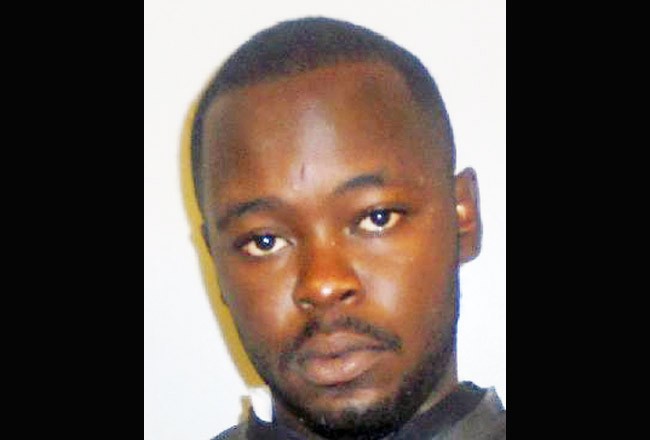 According to his live-in girlfriend, Fred Demesmin, a 21-year-old resident of Hardy Street in Bunnell, had been sleeping badly or not at all for several nights and acting strange. Early Monday morning he'd told his girlfriend that "demons were after him and that he needed to go out and kill someone," according to his arrest report.
He did go out before dawn. He didn't kill anyone. But he allegedly attacked at least two individuals who felt threatened by his behavior, and he attacked a cash register at the Sunoco station at the corner of State Road 100 and U.S. 1 in Bunnell. It took a police officer firing his Taser to subdue and arrest Demesmin after a brief chase up U.S. 1 Monday morning, and many shouts  from Demesmin along the lines of "I hate America" and "I love Haiti."
Police were first alerted to a problem in Bunnell when a witness and business owner in Bunnell reported to 911 that a black man wearing a white shirt and a white bandanna attacked his employee's vehicle as he drove by. The employee thought the man was armed with a gun. (No gun was subsequently found.)
Immediately after that incident, Demesmin had gone into the Sunoco station's convenience store, where Lee Molkentin, the 44-year-old store clerk, was working. While Molkentin was in back of the store he heard the front door open and a man's voice shout "hey." When Molkentin walked back to the front of the store he saw Demesmin—whom he described as a black man wearing a white shirt and a bandanna wrapped around his face—standing by the door. Molkentin said Demesmin was holding a metal bar in his hand. When Demesmin noticed the clerk, he becgan screaming, "I hate America" and swinging and pointing the metal bar at him.
Molkentin feared for his life, he told police, so he quickly ran behind the counter to push the alarm button. Demesmin then began striking the counter with the metal bar, breaking the cash register display and allegedly trying to break the credit card machine. The clerk then called 911, at which point Demesmin left the store and started walking north on State Street.
A Bunnell police officer and several Flagler County Sheriff's Office deputies were converging on the business when they saw a man matching the description of the suspect provided to 911. The man was carrying an unknown object in his hand, wearing the bandana matching the earlier description, and walking north on U.S. 1, also known as State Street in downtown Bunnell.
Two deputies made contact with the man, who turned out to be Demesmin, and ordered him to stop several times. Demesmin, according to his arrest report, dropped the object he was carrying but started running north, away from the deputies. The two deputies set chase after him. Meanwhile, Austin Chewning, the Bunnell police officer who'd gotten the original call, tried to intercept Demesmin with his patrol car, pulling the vehicle directly in Demesmin's way. Demesmin stopped running and started walking, his hands in the air, but still not stopping. At that point Chewning took out his Taser and fired, striking Demesmin in the center of the back. The arrest report does not make clear why the Taser prongs struck Demesmin in the back, when the officer had positioned his car in front of Demesmin initially.
The use of the Taser subdued Demesmin, who was arrested and charged with aggravated assault with a deadly weapon, criminal mischief and resisting arrest without violence, and carrying a concealed weapon. Tuesday afternoon he remained at the Flagler County jail on $1,500 bond on the latter three charges, and no bond yet set on the aggravated assault charge.
Demesmin three years ago was charged with contributing to the delinquency of a child and holding a house party. He successfully completed a deferred prosecution agreement, so the charges were dropped.