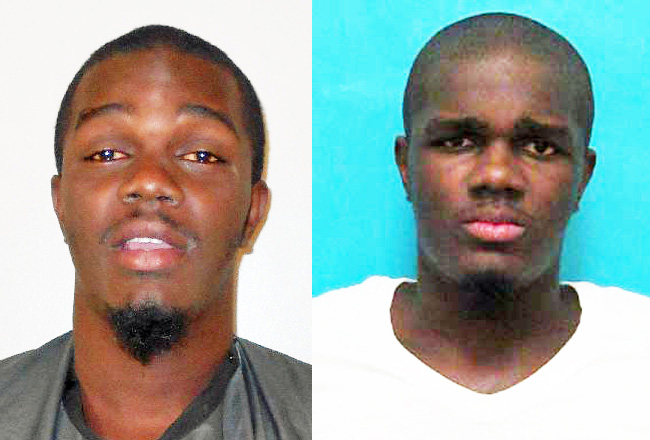 Henry Brock held a broken bottle in one hand and a knife in the other and, after fighting with his brother, Ben Brock, told police, who had surrounded him, to shoot him. He threatened to kill himself with the broken bottle. A Bunnell police officer had his gun pointed at Henry Brock, Flagler County Sheriff's deputies had their Tasers pointed at him.
Eventually, two deputies fired their Tasers, subduing Brock enough to kick the bottle away and arrest him. The confrontation took place on South Anderson Street in Bunnell Nerw Year morning.
Brock, 25, has a long arrest record in Flagler—10 arrests since 2008 for probation violation, burglary, assaulting police, assault, burglary, battery, felony battery and violation of an injunction. He was sentenced in August to two years' probation on the felony battery charge after committing the offense in April.
Ben Brock had allowed Henry to stay at his place for the night. Then Henry, according to Ben, started acting "crazy." Ben armed himself with a knife, so did Henry, and the two were arguing and fighting outside Ben's house on S. Anderson when a Bunnell police officer followed by Sheriff's deputies arrived at the scene.
The police officer drew his gun and ordered both men to drop their weapons and get on the ground. Ben complied. Henry did not. After several commands to drop his weapons, Henry eventually dropped the knife but held on to the bottle, when walked behind the house at 406 South Anderson until a fence blocked his way. By then two deputies were pointing their Tasers at him and verbally tried to calm him down.
Brock, according to his arrest report, "continually stated he wanted to die, that he wanted to be shot, and to just shoot him." He then broke the glass bottle against the fence post and alternately pointed it at the cops and at his throat, threatening to kill himself. After several commands to drop the bottle, he pointed it at the Bunnell officer and took two steps toward him. After the officer ordered him to stop and Brock appeared to go back to the fence line, the two deputies fired their Tasers.
That incapacitated Brock enough to have him drop the bottle, which the officer kicked away, though Brock continued to struggle, kicking and thrashing, as the cops tried to handcuff him. A Flagler County Fire Rescue unit's personnel responded and removed the Taser probes from Brock, who was then placed in leg irons even as he struggled, and taken to Halifax hospital to be cleared.
There, Brock spat at the Bunnell officer through the car's cage as the officer was addressing him. He was eventually cleared by staff at the hospital and driven to the Flagler County jail. Ben Brock did not want to file charges. But Henry Brock was charged with violating probation, battery on a law enforcement officer, aggravated assault on a law enforcement officer and resisting arrest with violence. He remains at the jail on $12,000 bond. No bond has been set on the probation violation charge.