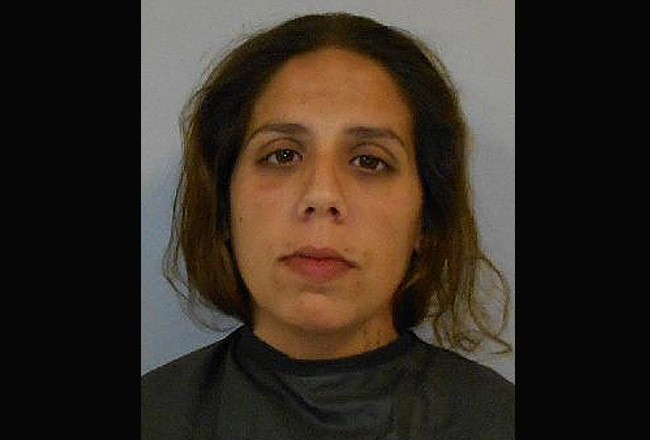 When a deputy arrived at Pamela Berdebes's home Tuesday afternoon, the 67-year-old woman was holding an ice pack to her left eye, she was bleeding from her left forearm, she had clearly just been in some kind of fight, and she was declining the medical attention paramedics at the scene were offering.
Later that night, Tara Lynn Davis, a 27-year-old resident of Espanola Road in Bunnell, was booked at the Flagler County jail on three felony charges: robbery, battery on a person 65 or older, and grand theft.
Berdebes described the incident to Flagler County Sheriff's deputies. She had been home alone, packing, in early afternoon Tuesday when Davis showed up at the door. She knew Davis. She said she'd recently lent her $350. But she wasn't expecting her. She thought maybe Davis was coming to return the money, but she would not open the door until Davis showed her the cash, because Berdebes said she'd had a previous issue with Davis, who had allegedly lied about the money. But Davis showed her the money. So Berdebes let her in and took the cash.
Once inside, Davis thanked Berdebes and started helping her with the packing, but soon asked her if she had any oxycodone pills, the narcotic pain-reliever. Davis knew that Berdebes had been prescribed the pills. Berdebes claimed she had none. But as Berdebes was on a small ladder in her utility room, retrieving things from a shelf, Davis–according to Berdebes–came into the room, grabbed the money from Berdebes's pocket, and also grabbed a bottle of oxycodone, with 84 pills inside.
Davis then allegedly knocked the older woman off her ladder and punched her in the face and throat with a closed first, according to Davis's arrest report. So Berdebes grabbed her hair (she says she did not aim for her body because she knows Davis is pregnant), but ended up falling. Once on the ground, she says Davis kicked her and hit her in the face with a cell phone, then ran out of the house.
Berdebes says she was able to get up, lock her doors and call a friend to come over because she was "scared to death," according to the police report, that Davis would return with her boyfriend and further harm her. She was "also worried that law enforcement would think she was a drug dealer," so she did not herself call police. Her friend did.
"I observed Ms. Berdebes to have a swollen left jaw, a swollen and irritated left eye, red and irritated throat, and a red left ear," a deputy wrote in Davis's arrest report. She was also bleeding from her left forearm and had "obvious bruising on both of her arms." As the deputy spoke with her, she complained of additional pains on many parts of her body.
Running Davis's name through various databases, the investigative deputy found her at 164 Espanola Road, and she was taken into custody. Davis told the deputy that she was unaware of money she'd borrowed from Berdebes at any point, other than her buying milk for Berdebes about a week earlier. But she denied having any knowledge of pills. Th deputy observed various red marks on Davis's right cheek, chest and right arm, and reddened knuckles, with Davis unable to explain the marks, according to the report.
Davis remained at the Flagler County jail Wednesday on $11,000 bond.