Sylvia Brady, the long-time and popular chemistry teacher at Flagler Palm Coast High School and 1984 Teacher of the Year, died on Friday, age 73. Inna Hardison, former editor of Palm Coast Lifestyles Magazine and current co-owner of Ha Media in Palm Coast, wrote the following profile of Brady in 2009, when Brady was on the verge of retirement. 

By Inna Hardison
Life, these last few years, has been a blur… Days and weeks flew by leaving behind uneven tracks of a car going too fast around a serpentine curve. The necessity of moving from New York post 9.11, forcing both me and my husband into the stormy seas of self-employment, left us crippled as parents to our two boys, with nary a bedtime story for the little one and only an occasional word of encouragement for the oldest. Kids get used to things, and a goodnight kiss eventually suffices to let them know they are loved, or so we hope.
The kids learned that we only had time for emergencies and things of utmost importance, and those were shared during dinner conversations. Last year, almost all things of utmost importance to our 16-year-old son revolved around his chemistry teacher, Sylvia Brady. Every joke she shared in class, every cute nickname she gifted one of her students, every anecdote were excitedly passed around the dinner table, along with the inevitable request for us to meet with her. The year ended with a rushed Christmas break, and the kiddo was through with chemistry. We had not met Ms. Brady. There was simply no time.
A few weeks ago our son was helping Ms. Brady fix some computer related issues in her classroom. He came home that day with somewhat of a concern that we may not get to meet her after all, as she could retire. "She is pretty old, you know, and she may not be at the school much longer…"
Looking back on my own childhood and struggling to recall any teachers but one who were more than dictators (upon whose good graces depended the all-important numbers on my transcript), I caved. The one teacher I had who made all the difference for me also taught chemistry, a subject I loathed so deeply I was not above cheating if it spared me the embarrassment of always getting it wrong. With her, I couldn't cheat. It was a relationship she had with each student. We were not inferior little people in her eyes. We were treated as equals, as adults, capable of our own thoughts and conclusions, even if we were wrong. That was a great year.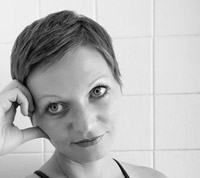 I finally went to see my son's old chemistry teacher at FPC, Ms. Sylvia Brady. I had to shake her hand at the very least, and tell her something about the difference she made for my son, and the fact that the kids are all raving about her, and that it was probably a bad idea for her to retire, because let's face it, chemistry is no fun unless kids can blow stuff up, which they can't for safety reasons, and formulas are just boring. She made kids love coming to class. She had a gift.
Sylvia Brady is 67 years old, so she tells me almost casually, as she towers over me and we shake hands. She has a slight limp, a result of a recent trip and fall incident in her classroom. She points to a scar on her forehead as forensic evidence of that fall. I tell her that my son talks about her incessantly, trying to explain my reason for being there without appearing insane. She nods. We sit in a large empty classroom. She graciously apologizes for the mess, pointing to a few stacks of paper lacking in symmetry on her desk, but the room is clean, and surprising devoid of any odors I recall from my days of chemistry classes.
I ask her why she chose to teach chemistry, or something to that effect.
We are interrupted by a knock on the door and an unannounced appearance of a teenage girl. In short order I learn that Ms. Brady's classroom is home to any kid who has an extra five minutes to kill before the next class, or while waiting for a ride home. Throughout the next 45 minutes I spend in this room, the kids wander in an out, and I get used to being interrupted. They come, give Ms. Brady a hug, and talk to her and each other. Some have not been her students for years, but still they come. My son it turns out is one of those kids, a Ms. Brady groupie.
"If I won umpteen million dollars in a Florida Lottery – I would still teach this class," she tells me. "This is my passion, corny as it sounds, and I love my kids."
---
Sylvia Brady's classroom was home to her groupies, who, beyond chemistry, learned decency and idealism.
---
It is corny I concede, but the way she greets each of the kids wandering through her classroom tells me it's genuine. She listens to each with intense curiosity. She knows what classes they take and how they are doing in them. Sometimes someone asks something or other chemistry related. Then the kids make themselves comfortable, and listen.
I am puzzled now why someone who is so obviously happy would want to retire, but I keep it to myself for now, dreading learning the answer to the nagging question. Part of me already knows the obvious answer: "The schools are downsizing everywhere. I know that, I've been reading the papers for years. At least our district is not closing any schools. They may simply not have the money to hold on to teachers who are of retirement age, or, to put it bluntly, more likely to get sick…."
Ms. Brady has been teaching chemistry for 32 years, most of them at our local school district. She had won numerous awards and accolades, none of which are displayed in her classroom – they don't matter in the grand scheme of things. She picks up a smart board from her desk and tells me that the school's been very good to her by giving her all this new technology.
Rebecca, one of the girls hanging out in the classroom at the moment, tells me that Ms. Brady had to rely on using a microphone after having thyroid surgery last year: "That's the kind of technology that makes her happy, the kind that allows her to continue teaching the subject she loves – a $30 microphone when her voice couldn't carry… Everything else, she can live without, gladly, as would the kids, so long as they have Ms. Brady."
There is no glimmer of understanding of economic woes facing the nation and the school district in the eyes of the teens in this classroom. It's not subject to a mathematical formula, or an issue of a grade on some piece of paper. To these kids and all the others Ms. Brady taught over the years, it's a simple matter of decency, and they are simply too young to understand that the good does not always triumph. It's just part of the idealism they picked up from their mentor, Ms. Sylvia Brady.
I hope you get to stay, Ms. Brady. And thank you, from the bottom of my heart, for being there for all these kids. Thank you, for being there for mine – he is a better person for having known you.

A memorial service celebrating the life of Sylvia Brady is scheduled for Wednesday, Jan. 7, at 4:30 p.m. in the chapel of Craig-Flagler Palms Funeral Home, 511 Old Kings Road S. The family will receive friends stating at 3:30 p.m. until the time of services.