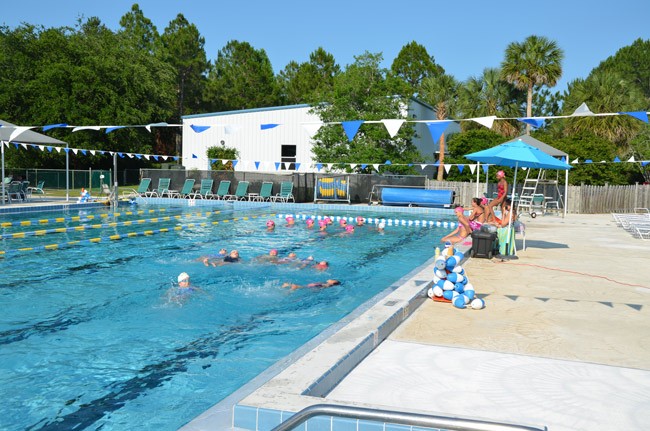 Palm Coast's Belle Terre Swim and Racquet Club's days as a public facility are likely over. The Flagler County School Board, which runs the facility, is recommending closing it to the public as early as September because it's been losing money for years, increasingly so: this year's $137,000 loss is double the January projection.
The district has been negotiating with the Volusia Flagler YMCA to take over the facility and run it as a YMCA, with membership access, much as the YMCA operated in Flagler when it occupied space for almost a decade at Florida Hospital Flagler until 2011. There has been no YMCA in Flagler since.  But negotiations between the district and the Y, originally thought to result in a proposal in spring or early summer, have run into some snags. It's no longer clear whether the two sides will agree to a deal. The Y was not even mentioned in a discussion of Belle Terre Swim and Racquet Club's future in a brief school board workshop on the matter Tuesday evening, though the negotiations were obliquely mentioned.
The two sides "continue negotiations and discussions are taking place," School Board Chair Colleen Conklin said, "they just haven't reached a place where something can be brought to the board for any kind of recommendation of approval. There may be something that comes out of that that will allow the public to use that facility."
But until then, Tom Tant, the district's finance director, said it would not be wise to keep the place open, financially.
"Our administration that runs the Belle Terre Swim and Racquet Club does an excellent job. They work very hard at what they do and they do a very good job," Tant said. "What we have is a change in the way the community reacts to the facility, and they have other facilities to go to."
Palm Coast now offers numerous fitness options through private businesses that offer low rates and late-night hours, making the school-district run facility an anachronism.
"Therefore what we would propose is that we realign the facility to service our K-12 students' population," Tant said. "What that means is we use the facility for our highs school swim teams and maybe we do a rental of facilities for the Synchro Belles, and we close the facility for public use, because public use is very small at this time."
The "realignment" would be financially necessary, if the school district intends to keep spending money on the facility, as it will have to: it is not allowed to spend money from its general fund, but must rather use money from the district's adult and community education department, which has run the facility for many years. That department has had its own financial difficulties, though they're mending. But it cannot keep supporting the club. So by re-categorizing the facility for use by K-12 students, the district would theoretically be able to spend money from the general fund to keep it going—assuming K-12 students use it. "And because it is applying to the swim teams and the K-12 program, then we wouldn't have a problem with the auditors supporting that facility with K-12 funds," Tant said.
Currently, there are no K-12 programs that require swimming pools. There are 9-12, or high school, swimming teams that do. But the swimming teams at Matanzas and Flagler Palm Coast High School have used facilities at Palm Coast's Frieda Zamba pool and in Volusia County.
Tant says the facility will cost $30,000 to keep running as a K-12 swimming pool. But the numbers he submitted to the board Tuesday show that even without personnel, the bill for water and sewage alone was $21,800, electricity came to $36,000, and bottled gas to $3,000, while repairs and maintenance came in at just under $5,000. Those costs alone add up to $65,800. (The overall cost of running the facility in 2015 was $283,000.)
With a September shut-down planned, the district will also have to reimburse Belle Terre Swim and Racquet Club memberships that run through December. But there aren't many, totaling just over $1,000, with most of them expiring in September.
"As you can tell the memberships have declined. They were declining last year and they've declined even further," Tant said. "We wanted to look at a target date when the summer memberships are over, which would be Sept. 7."
The school board will decide in two weeks whether to go with the superintendent's recommendation.