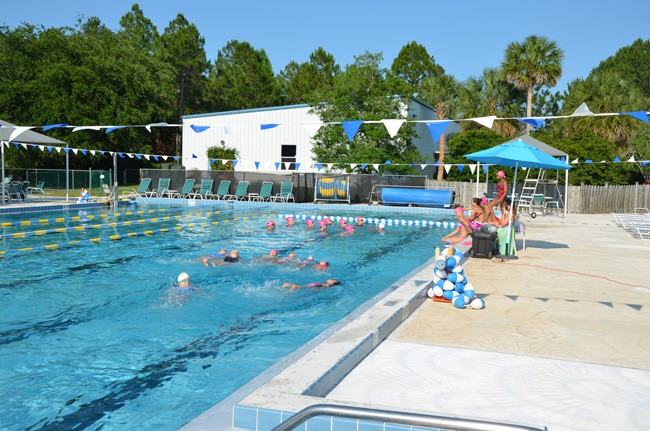 ITT built the Belle Terre Swim and Racquet Club in 1979 during Palm Coast's pre-history, when it was supposed to be the first of many such swimming and fitness venues spread through the city. Like many of ITT's plans, that one was stunted. The club turned out to be the only one built. ITT turned it over to the Flagler County School Board, which for many years used it to great profit. It was, as its officials described it, the only game in town.
It no longer is. Fitness venues have popped up everywhere, some of them offering $10-a-month rates. Membership at the Belle Terre club has plummeted almost by half in just two years, to around 475. The facility shows its age. It needs at least $232,000 in basic maintenance. It keeps its pool's temperature at barely tolerable—and to some of its younger patrons such as Palm Coast's Synchro Belles, intolerable—levels.
And it's losing money. In the first six months of the year the racquet club has run up a $69,000 deficit, an annual loss of $138,000. The club is run by Flagler County schools' Adult and Community Education Department, which by law must be self-funded: it may not run its operations with tax dollars. Adult and community education funds itself through its 39 community education classes, with about 165 students per session. That department had a $320,000 deficit last year, according to school board member Sue Dickinson. It was restructured in hopes of ending the losses. The losses continue. The department, in addition to its racquet club losses, is running a $98,000 deficit this year, for a total projected loss of $236,000.
"OK, that was a little bit of a bummer," School Board Chairwoman Colleen Conklin said after hearing the numbers in what proved to be the evening's understatement.
Adult and Community Education Director Kevin McCarthy submitted the sobering numbers to the school board last week. "When you hear this information I hope that people understand the challenge that we're presented," he said. "We see all the losses. We see a facility that's aging, and we are committed to continuing operations at Belle Terre Swim and Racquet Club like we always have. How do we do that if we continue to lose money?"
---
An unsustainable deficit brought about by lower membership and many more choices in town.
---
Personnel and operations alone add up to close to $200,000, pool and plant maintenance alone at the club adds another $47,000. Electricity for the pool runs about $1,000 a month during the winter months. "I would agree, the pool is uncomfortably cold, and we're going to work on that," McCarthy said. Nevertheless, McCarthy was emphatic: "We are committed to maintaining the current path. We are going to continue to operate Belle Terre Swim and Racquet Club."
How? That's not yet clear. A new facility is not an option: it would cost nearly $1 million, money the district does not have to spend on such a facility. Even modernizing the bathrooms and facilities would cost almost as much. McCarthy and Superintendent Jacob Oliva cited several other possibilities: cutting hours, raising rates, seeking grants, seeking partnerships with Palm Coast and the county as well as private concerns such as businesses or sponsors of the Synchro Belles, whose advocates—like other patrons of the swim club—gave the school board an earful last week as they demanded better service.
But Oliva did not leave the criticism unaddressed and at one point turned the tables back to taxpayers, putting some of the responsibility for the club's decline on them.
"We don't want to put anybody in a position or feel like they're not being heard," Oliva said. "We are reflecting on trying to figure out a sustainable way, a long-term, sustainable plan. Everybody says they want action, they want action now, they want answers. It's very complicated. When you look at where our funding comes in, it's very much dictated on where it goes out. Extra programs such as community education, we do not get those funding—I hear a lot of folks say I pay taxes in the community. The state statutes are very clear on where and how we spend those dollars. The taxes that you pay for enhancing the quality of life in parks and recreation departments do not come to us. So community education and providing these programs has always been something that the school district's been able to do when they've been self-sustaining. Over the last couple of years, they have not been, and it's put the school board and everybody else in a tough predicament."
Oliva continued: "We went to the public two years ago and asked for a half mil to help support and pay for these endeavors, and it was denied. So when people say how come you don't ask for additional help, how come you don't ask for additional support—we did. We had a failed referendum two years ago, and at that point we were not able to because on top of that failed referendum we lost a .25 that helped supplement these programs. Sao we went from .25 to zero two years ago, which is why you started seeing changes happen, because we do not have additional tax dollars to implement and put into this program."
Board member Andy Dance rejected the notion that the Belle Terre Swim and Racquet Club is the only heated pool in town. He noted that Palm Coast's Frieda Zamba pool is, in fact, a heated pool. "The city chose not to heat it any longer," for the same reasons that the school district has been facing, Dance said, or "probably because they know we have a heated one." He suggested that the city has a responsibility in the equation. "Those are the partnerships that we've got to open back up again, and find out where that disconnect is," Dance said.
None of the five board members were at all comfortable with the direction of either the racquet club or community education, financially, but only one—Trevor Tucker—is already at the point where he wants to end both ventures absent radical fee increases.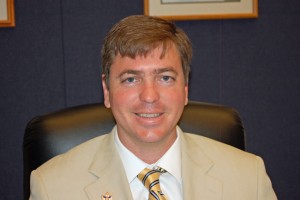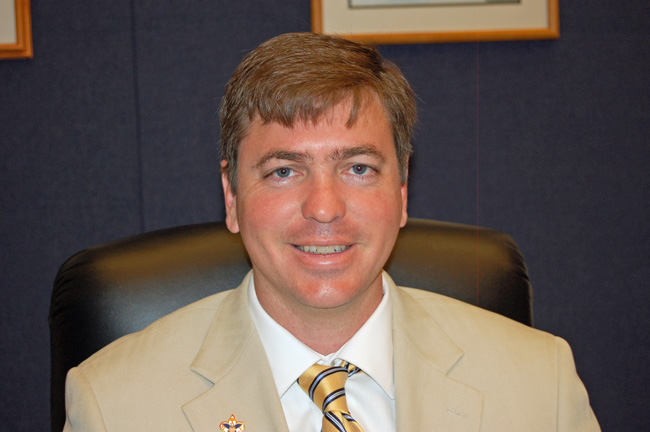 "To me, personally, we need to shut them both down," Tucker said. "We don't have the funds to maintain these things, and no one wants to hear that, but I'm realistic. Either that or we have to double the fees for community education and double the fees for the Belle Terre Swim and Racquet Club membership. One or the other, because we cannot maintain, we cannot lose this money." He pressed his point: "To lose over $200,000 a year, even consider that and then sink more money into it, just is absolutely insane in my opinion, OK? Now, I hope someone has some better ideas, because I don't. I just see that it is declining, membership has been declining. That's me, and I know no one wants to hear that, but to me we should shut those programs down, both of them."
Dickinson wasn't far behind. "If our membership is going down 65 percent, that's huge. That's a huge financial loss for us. How can we sustain that when the membership drops so significantly?" she said, admonishing a member of the public who tried to interrupt her. "If the membership is down, the income isn't there. That's plain and simple.  Sure, when  ITT gave us this pool, oh, it was a wonderful thing. It was such a great gift. What they didn't leave us was the dollars to maintain it over the years." Raising taxes is not an option, Dickinson said, but she suggested that the pool should be Palm Coast's responsibility, based on the parks and recreation impact fees the city collects.
Janet McDonald, the newest member of the board and ostensibly its most conservative, provided the most measured suggestion of the evening. "Before we cut the turkey's head off we should kind of explore this for a little longer, knowing that that is the reality of the situation, and that maybe to get more compelling with our other government partners, the private partnerships, and anyone that wants to put a banner up at the pool for a little advertisement," McDonald said. She described the pool as "a vital community facility, just as vital as our football fields and our basketball courts, and we have to find out some way to make it work."
The board members' discussion was book-ended by dozens of comments from users of the racquet club, including supporters of and participants in the Synchro Belles, whose competitive successes nationally have been almost routine: the group's 40 girls ranked sixth at a national competition in Seattle last year. They train six days a week at the pool.
"I understand the pool is being heated, but it's not being heated to the appropriate temperature," Greg Hinman, a Synchro Belles representative, said. Mary Ellen Cook, an assistant coach for the Synchro Belles and an instructor at Belle Terre Swim and Racquet Club, said she understands that K-12 education is the board's priority, but that physical fitness should be part of that priority. The Synchro Belles' team, she said, grew despite the Great Recession, and should be nurtured as a unique offering in Palm Coast.  "We had people relocate from Miami, Orlando and even California, which is where most Olympians come from, to be part of our program," Cook said.
"All these kids are not sitting in front of the computer, they're not out in the streets doing drugs or whatever," Jeff Sullivan, a lap-swimmer from Palm Coast, said. "This pool is the only game in town, you close this pool and the next pool is clear in St. Augustine that's open in the daytime. I'm a snowbird, I can go to St. Augustine. I'd rather live in Palm Coast."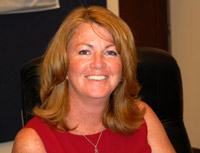 Conklin, the board chairwoman, summed up the matter with a few correctives and cautions. "We are not the only game in town," she said. "There are other opportunities. We could look at a host of reasons why we have had a decline in membership. It could be because other gyms are giving away memberships for hardly anything, it could be because the conditions of the gym and the facilities have declined to a point where people don't—they're leaving to go somewhere else. But the reality of the situation is we have a financial situation in front of us," with board members seeing numbers for the first time that evening, she noted. "Over a $200,000 loss at the end of the year is exceptionally concerning to me, and at a future meeting, I would like to see exactly how we're going to cover that."
Temporary fixes won't work in the long run, she said. "But we've got to come up with a long-term, sustainable solution for this, because what we have in front of us is not going to work long term. This is a band aid on something that is really hemorrhaging."
McCarthy is committed to that solution. "All three of my children learned to swim at Belle Terre Swim and Racquet Club. It's very important to us as a family, and we've been members for many years," he said. "Community education is an opportunity for us to connect with the majority of our Flagler County residents who do not have students in schools. And we need to do that the right way. There's been a lot of uncertainty, a lot of questions and concerns."