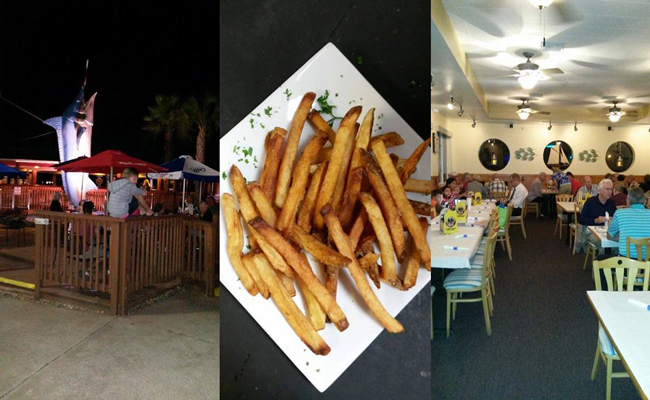 In Flagler Beach's seemingly ever more copious restaurant landscape, there are the regulars, the standards, the pillars without which the city's smorgasbord would not be the same–Blue, Tuscan Grill, Flagler Fish Company, the Beanery (whichever neighborhood it chooses), the Pier Restaurant reincarnated as the Funky Pelican, Turtle Shack, Oceanside Grill and quite a few more.
There are also the sadly have-beens, which come and go with alarming speed–not unusual in the restaurant business–and that need only be eulogized in silence. One exception can be made: Hurricane Patty's, down by Intracoastal's waterside, at the foot of the Flagler Beach bridge. Not because of its demise last January, but because its location, too, has just gone through a reincarnation of its own, thanks to a quartet of owners anyone who knows Flagler Beach restaurants would recognize: Michael and Kathryn Policastro, and Dawn and Miguel Romero, who together own the Tuscan Grille at the south end of town.
Softly open since Oct. 1, Sweet Waters Smokehouse–which can seat 200 inside and outside–has its grand opening Saturday from 11 a.m. to 10 p.m., with a ribbon-cutting that will include a few city officials and all sorts of festival-like extras to keep patrons and their children happy: live music all day, including Tony Neal from 11 a.m. to 2 p.m. and Old Haw Creek from 3 to 7 p.m., a bounce house, cotton candy machine, a magician from noon to 3 p.m., and of course a lot more, not including the food. It is, after all, about the food: those hazardously large portions of brisket, colossal shrimp, loaded potatoes, racks of ribs.
And those fries. Fries that would impress even a Belgian: the fries, like the onion rings, are cooked from scratch. Real potatoes, soaked for hours to drain them of starch. Real onions. Fresh batter. None of the frozen, processed stuff. "It's my uncle's passion," Dawn Romero says of Michael Policastro. "He despizes frozen fires, despises frozen onion rings." Although, amazingly, Romero has seen her share of patrons who actually don't know what to make of fresh-cut fries, being so used to the processed kind. They'll learn. It's not so much an acquired as an inevitable taste: fries properly prepared and cooked are the tendrils of civilization.
But this isn't a restaurant review, much as the food tempts it to be. It's an attempt at a business story about a somewhat unique development in Flagler Beach: a leap of faith by one of the city's most established businesses into a second venture, in a location that has been very challenging to restaurants, not least of all because of its out-of-the-way location (820 Moody Lane), at a time when Flagler Beach appears to be near a glut in restaurants.
But the Tuscan Grille owners have been in the restaurant business for years. They know of many colleagues who own a handful of restaurants. They did not actually seek out the former Hurricane Patty's location. The property owners sought them out. He had various possibilities. But he chose the Tuscan Grille owners for one overriding reason: they're a family, and they run their business as a family. (The Romeros have five children ranging in age from 9 to 19, all of whom, especially 13-year-old Isabella, are an integral part of the operations.)
The family mantle also helped make the case to Flagler Beach's government, when the owners were seeking their outdoor entertainment permit (always an epic battle in Flagler Beach) that Sweet Waters Smokehouse was not intending to be a noisy neighbor. Hurricane Patty's had been a trigger of one of the big battles at city hall over loud and late-night music. That won't be the case with Sweet Waters, Romero said. Though there will be live music Thursday through Sunday–"we try to go with local artists"–the music stops at 9 p.m. It's usually one or two-person bands. As for Karaoke, that stops earlier.
"We're a family here, we're not looking to have a bar open until 2 a.m.," Romero says.
Sweet Waters got its outdoors entertainment permit on Nov. 1. The commission should also been glad to hear that the new business hired some 57 people when it first opened and as it geared up for its grand opening. They're not all still on staff, but many are, a considerable help to the local economy. The staff has been working out the kinks, down to an innovative ordering system that does away with paper pads and waits at the cash register: waiters and waitresses walk around with smart phones, iPods or iPads loaded with a specific app that reduces the process to a few touches and swipes that make it look as if the staff is texting at your table (it isn't). "That's why it took so long to do the opening," Romero says. "That was a hurdle to get through especially with people who are not computer savvy."
For all that, Romero has no illusions. "It's a difficult area to do business in," she says. "You get one shot in this town with impressing people, and even though you're a new business and things take time to come together, you get one shot."