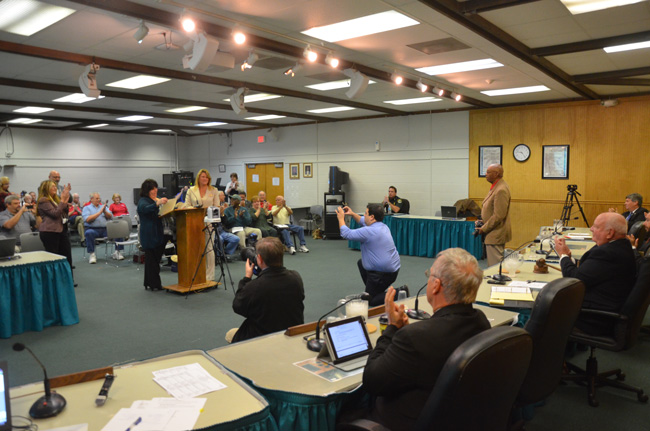 It is probably the least stressful and most ceremonial meeting on any government agency's calendar all year: the investiture of newly elected officials. Two governments had their swearing-in ceremonies within two hours of each other this morning: Palm Coast and the Flagler County Commission. Both governments left their meetings at that, just about, so as not to much up the more celebratory with the mundane just yet. That's that the year's 51 other weeks are for.
The swearing-in ceremonies were a study in contrast, if not a reflection of the election's paradoxes. In Palm Coast, two new, younger faces with no prior political experience and big plans to be very active on the city council, Heidi Shipley and Steven Nobile, have replaced predecessors who represented a more patrician, less engaged approach to city government. Bill Lewis had been in office since 2008 and lost to Nobile. Dave Ferguson was appointed to the seat two years ago to fill out the term vacated by Frank Meeker. Ferguson chose not to run again.
On the county commission, there was no change. Frank Meeker and Nate McLaughlin were re-elected, just as Barbara Revels and George Hanns had been reelected two years earlier, with the only change taking place after Charlie Ericksen defeated Alan Peterson in a close primary in 2012.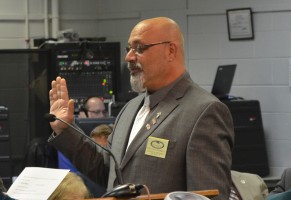 Both Nobile and Shipley during their campaigns spoke of wanting to inject new energy, ideas and ways of doing business at the council—Nobile going so far as to wanting to rethink numerous policies, Shipley speaking of wanting a more hands-on approach to supporting existing businesses (though the council's two senior members, Mayor Jon Netts and Councilman Bill McGuire, who pumps iron for sport, could hardly be considered to lack energy, verve or intellect). Meeker and McLaughlin were all about staying the course, arguing that their experience (and incumbency) was the reason to reject two newcomers to politics (Howard Holley and Denise Calderwood). Voters were willing to go along in their county choices as they were not in their city choices, though Shipley filled an open seat.
The new and not-so-new officials had few words today after their swearing in, conducted in Palm Coast by City Clerk Virginia Smith and at the county by Circuit Judge Dennis Craig.
"I would like to say thank you for everybody that's helped to get me in this position right here, I know I didn't do it alone," Shipley said, "and I appreciate everybody's help and support through this time, and I'm hoping I do a good job and you want me back again."
Nobile first thanked the city "for putting its faith in me, to carry out the duties here, to help advance our city," he said, "and I look forward to working with this panel of great people, great Palm Coasters, to serve great Palm Coasters like yourselves."
Netts ceremonially called the first roll call of the new city council, the council as a whole chose Bill McGuire as vice mayor (to replace Jason DeLorenzo) and the council moved on to distributing committee assignments.
Netts will continue to represent the city at the Flagler League of Cities. Jason DeLorenzo will serve on the River-to-Sea Transportation Planning Organization and the St. Johns Water Management District (which meets in Palatka). Nobile will represent the city at the Chamber of Commerce. Shipley will sit on the Juvenile Justice Council and the Stewart Marchman Center advisory board. McGuire will stay on the county Tourist Development Council.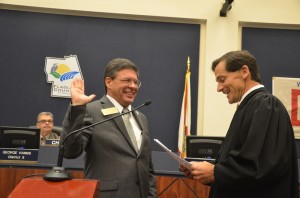 Nobile's and Shipley's election means that for the second time in Palm Coast's history, the council is again all white (the city is 80 percent white, 13 percent black), as it was for two years after Ralph Carter died in 2005 and before Holsey Moorman won election to the council in 2007. It is also getting younger—by almost a decade, compared to the first council 15 years ago, which may itself be a reflection of the city's more engaged younger set.
The average age of the first council was 66 (Mayor Jim Canfield was 70, Councilmen William Venne, 67, Jerome Full, 72, James Holland, 50, and Ralph Carter, 71). The average age of this council is now 58 (Netts and McGuire are 72, Shipley 51, Nobile 53, and Jason DeLorenzo 44).
The city had a couple of presentations at its brief business meeting, including the premier of a promotional video of the city as a place of business and a proclamation of Nov. 25 as Entrepreneur Night in Palm Coast, a tribute to the near institutionalization of the monthly Entrepreneur Night that Office Divvy's Ky Ekinci started in 2011.
In comparison to the city's meeting this morning, the county's was almost informal, and briefer. McLaughlin, Meeker and Craig were old hands at the ceremony, and the only other order of business was the passing of the chairman's gavel from George Hanns to Meeker who, in his seven years on local governments (he was a Palm Coast councilman until 2012), has never had the power to hold a gavel or say "meeting adjourned," as he did today after he was unanimously nominated chairman. Commissioner Charlie Ericksen was also unanimously named vice-chairman, placing him in line to take the helm next year.
Hanns giving up the gavel also means that the closest thing local government has to a master of one-liners will yet again lose center stage, possibly for the last time: Hanns this morning said he was serving his last term. Whether that was in jest or not may have been part of the act.
In early evening, the Flagler County School Board had its swearin-in, which was a mixture of the old and new: Trevor Tucker was sworn in for his second term, Andy Dance for his third, and Janet McDonald, a newcomer, was sworn in to her first. Craig conducted the ceremony.
The board unanimously named Colleen Conklin its new chairperson, replacing Dance, who'd filled the seat for two years, with Tucker as vice-chairman.