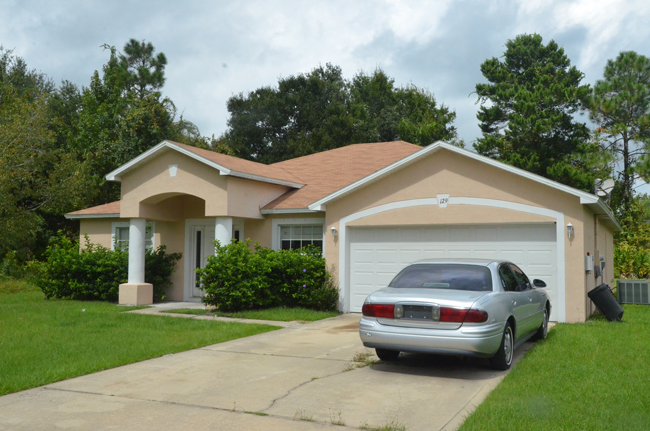 For the second time in four days, the Flagler County Sheriff's Office on Wednesday deployed its SWAT team to serve a search warrant connected to a suspect then charged with drug offenses, executing out a sudden entry into a home and the detention of innocent residents, including children.
On Saturday, the SWAT team entered 6 Raeitan Way in Palm Coast and detained five people as the search was conducted, leading to the arrest of Michael Marsh on charges of manufacturing methamphetamine. Marsh almost immediately bonded out. A 9 a.m. Wednesday, the SWAT team made entry into the house at 129 Pine Grove Drive in Palm Coast "and made the residence safe," according to a police report, while detaining two young children and a middle-aged woman outside, and the children's parents inside.
John L. Johnson, 32, was arrested on minor charges of possessing cocaine, marijuana (under 20 grams), oxycodone and drug paraphernalia. He posted $11,000 bond and was released. The house is a few doors down from the residence of a sheriff's deputy.
Asked why the SWAT team was used to serve the search warrant, Cmdr. Bob Weber, the sheriff's chief spokesman, said: "They do an assessment based on the person's criminal history, and whether there might be a threat based on that matrix that they use. That lets them know whether they should use a full team deployment or a what they refer to as a mini team."
A full team was used in both the Raeitan Way and the Pine Grove cases.
Johnson does not have a violent history, nor a long arrest history. He served a 19-month prison term, from March 21, 2003 to Oct. 23, 2004, for marijuana and cocaine possession and sale. And in May, he was arrested in Flagler on a marijuana possession charge, with intent to distribute, and was released on $2,500 bond. A possible plea is in the works on that charge in an October 7 hearing before Circuit Judge J. David Walsh.
Describing the SWAT team's method when serving a warrant, Weber said, "usually they'll approach the door, they'll announce themselves, at that point they'll make entry." The team does not usually wait for the door to open before going in, busting the door. "Usually with that warrant they have a right to go in right away. And that's for officer safety purposes as well as for the potential destruction of evidence," Weber said.
The spokesman said there's no question that there are instances when occupants of the house, including children, may be frightened by the SWAT team's appearance—the team members are heavily clad in body armor , masks and assault weapons—but at the same time, he said, if there's illegal activity in the house, "that's equally endangering to the children."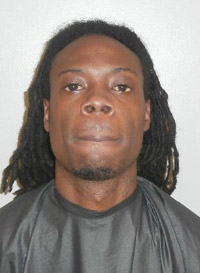 Yet in many cases the suspect arrested following such entries is not so dangerous as to not be released the same day, and allowed to return to the same house, as was Johnson. "That's a situation that's not up to us," Weber said. "If it's a situation where they're entitled to bond, it's up to the court system whether they want to hold an individual or whether they want to release them on bond or on ROR" (or released on the suspect's own recognizance).
Asked why Johnson was not arrested outside the house to avoid the disruption or fright to other individuals, Weber said the warrant was for a search, not an arrest, and that the arrest followed what the search turned up.
An investigator found five Oxycodone pills, two bottles of Hydrocodone (oral solution), a grinder, a hand-rolled cigar containing marijuana, and "a large piece of crack cocaine," according to the arrest report.
Thursday afternoon a car without a license plate was parked in the driveway of the house on Pine Grove. Two wrapped newspapers hadn't yet been picked up from the driveway, nor an empty garbage bin returned to the side of the house. The white front door had scruff marks on it. The ringing of the doorbell triggered a loud response from at least two dogs inside. A middle aged woman the n appeared at the door, which she did not open, speaking only briefly through the glass pane at the side of the door. She declined herself to speak with a reporter, and said Johnson would not talk either.
It isn't clear if children were in the house Thursday afternoon. "It is disturbing to me that these children were living in this home and may have been exposed to the dangers often associated with illegal narcotics use and possession," Sheriff Jim Manfre said in a news release summarizing the arrest. "Our investigators have contacted the Department of Children and Families and advised them of the situation and we have asked them to conduct an investigation to ensure that the children are safe."
SWAT teams' sudden entries into homes can be frightening and destructive to property—which is the tenant's responsibility to repair at his or her own cost—and at times dangerous, though locally Weber said there have been no instances of a SWAT team having to fire its weapons in any encounter.
"These increasingly frequent raids, 40,000 per year by one estimate, are needlessly subjecting nonviolent drug offenders, bystanders, and wrongly targeted civilians to the terror of having their homes invaded while they're sleeping, usually by teams of heavily armed paramilitary units dressed not as police officers but as soldiers," Radley Balko, author of a new book on the militarization of police, wrote in a briefing paper for the Cato Institute, the libertarian think tank. "These raids bring unnecessary violence and provocation to nonviolent drug offenders, many of whom were guilty of only misdemeanors. The raids terrorize innocents when police mistakenly target the wrong residence. And they have resulted in dozens of needless deaths and injuries, not only of drug offenders, but also of police officers, children, bystanders, and innocent suspects."