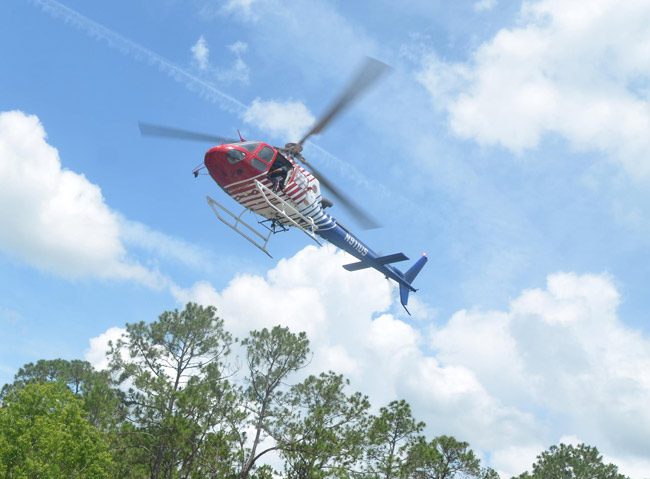 Last Updated: 3:57 p.m.
A call came into the Flagler County Sheriff's 911 center at 7:53 this morning reporting two black men in a backyard, knocking on doors. The call triggered a response by the sheriff's office that included ground units, a K-9 unit, and Flagler County Fire Flight, the emergency helicopter.
The activity was focused on the area near Burning Tree, near Belle Terre Parkway.
By 11 a.m., two teens were in custody, including a Willie Rollins, a 16-year-old Matanzas High School student who had been arrested in Palm Coast just days ago after admitting to burglarizing 20 vehicles in the same B Section, when he told deputies that he wanted to turn his life around. Juveniles' names are not normally named for such arrests, but Rollins is being named because of his confession and pledge to deputies less than two weeks ago.
"In summation," detective Joe Costello wrote in Rollins's arrest report on September 17, "Rollins said he was tired of running and wanted to admit to the crimes committed so he could start on the road to getting an education and his goal of playing football." He even asked a deputy to contact law enforcement in St. Johns County so he could confess to crimes committed there, "taking sole responsibility for his actions and not wanting others not involved to be held accountable." The dean of students at Matanzas said "he would contact each of his student's teachers, hopeful that Willie would continue getting an education and being a positive influence in the community and Matanzas High School going forward." The deputy and the dean explained to Rollins "that it would not be an easy road ahead but that we along with deputies Landi and Champion would would be supportive of his future."
Today, Rollins was re-arrested along with his 18-year-old cousin, Leo Rollins. Leo was charged with grand theft auto, residential burglary, burglary of a conveyance (that is, larceny of a car), resisting arrest without violence, and principal to a burglary. Willie was charged similarly and both may fac e additional charges.
The morning's events led to a car break on Burning Bush Lane and a stolen vehicle reported out of St. Johns County that deputies found at 7:45 a.m.. Inside the vehicle, deputies found a laptop that had been stolen in the car break on Burning Bush, authorities said.
When the search was ongoing this morning, the sheriff's office was asking residents to stay indoors. "They're looking for them right now, it's a safety protection right now for people to stay inside," a spokesperson said at the time, noting that since deputies are working the neighborhood, they would rather have no interference from residents wanting to chat it up–either with the deputies or with the unknown males. The search had caused significant concern among residents about the nature of the incident.
"We do have other calls, we don't know if they're related or not," the spokesperson said this morning. "We are working all of it at the same time."
The older Rollins will be booked at the Flagler County Jail. Willie Rollins will be turned over to the juvenile justice system, either for detention at the system's facility in Daytona Beach or to be returned to his parents.
The sheriff's office is asking residents to call 386/313-4911 to report information on the case.

Note: the earlier headline on this story, originally posted at 10:31 a.m., had been: "Suspicious Activity in Palm Coast's B Section Launches Search and Air Surveillance."