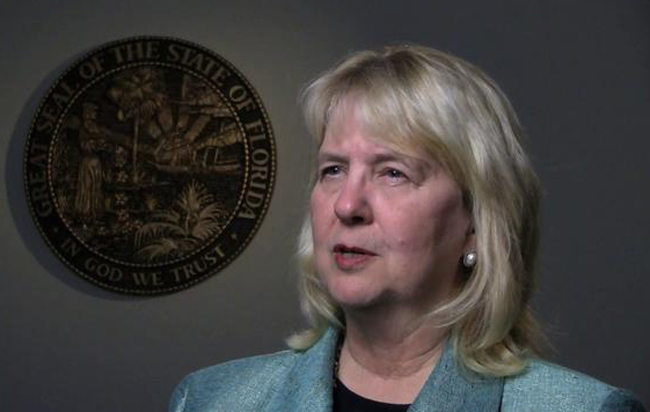 Susan MacManus is probably Florida's most-quoted political scientist. A distinguished professor at the University of South Florida's Department of Government and International Affairs, she's also a featured columnist on the Sayfie Review website and a political analyst for Tampa's WFLA Channel 8.
MacManus earned her master's degree at the University of Michigan and her doctorate at Florida State University. She's authored and co-authored a number of books on politics and, with her mother, Elizabeth, authored two local Florida history books.
MacManus is from a citrus-growing family in Pasco County and has no party affiliation.
The News Service of Florida has five questions for Susan MacManus:
Q: What polls do you consider the most reliable?
MACMANUS: From an academic perspective, we look at two types of polls. We look at the candidate-centered polls, which ultimately are supposed to predict who's going to win a race, and then we also look at policy-centered, which focus more on detailing how the residents feel about a specific issue. And from an academic perspective, it's been the case for some time that Florida, being the purple state that it is, has a lot more horse-race polling than issue polling. That's problematic to those of us who teach Florida politics and want to focus on issues a bit more than just who's winning and who's ahead.
My pet peeve with polls is really small sample sizes. And in Florida, you need sizable sample sizes — I don't like to use any below 800 if you want to break down the results into categories, like race or region of the state or income or education. Because when you have such small sample sizes, they have such large margins of error that when you break down the results, they're really useless. I'm always wanting to know how different demographic groups in our state are weighing in on an issue, and these small sample sizes are really unfair and consumer fraud when people report this kind of results.
From a political scientist's perspective, polls that track voters' opinions on issues over time, thereby permitting trend analysis, are the most helpful. Right now, in terms of publicly available policy-oriented tracking polls, I rely on the annual statewide Nielsen/Leadership Florida Sunshine State Survey. Nationally, the Pew Research Center polls have consistently been quite accurate on both horserace and issue polls. They make their survey instruments and data readily available to the public (and academics) and routinely track issues.
Polling has become big business in the political world, and the competition has enhanced their accuracy somewhat. Truthfully, the best political polls are those done internally for the parties and candidates — polls that the public, including academics, never have access to. The trickiest polling is in non-presidential elections, when turnout is difficult to gauge.
Q: What will be the impact on Florida of the Supreme Court ruling on the Voting Rights Act?
MACMANUS: I would be very surprised if Democrats in Congress failed to introduce some legislation where they create this new formula and these new factors that would trigger pre-clearance requirements. Even if it doesn't pass, it is still going to be a rallying cry for Democrats in key states, including Florida. What would some of those new elements likely be? I would expect voter IDs to be part of it, early voting, registration procedures, and restoration of felons' voting rights.
At a minimum, it surely is going to be used by Democrats to keep the voter suppression debate alive in Florida. I fully expect it will be used as a voter mobilization tool in the 2014 election and will also be part of Democratic legislators' agenda for the spring 2014 session. Voter suppression was very effective in spiking minority turnout in the 2012 presidential race in Florida.
Q: It's very likely a Floridian will be running for president in 2016. How would you rate the chances of Jeb Bush and Marco Rubio?
MACMANUS: Florida political analysts are asked this question all the time. Some of us have even been asked if they would run on the same ticket!
I don't think it's surprising at all that so much attention is being paid to Jeb and Marco, for several reasons. First of all, of course, Florida's had the closest presidential elections over the past decade of any state, and we're a purple state, and Republicans have to win Florida if they're going to win the White House. We know that.
And in terms of them personally, each of them is known nationally, for a lot of different reasons, and is attractive to Republicans. One, of course, is the huge number of electoral votes and the largess of Republican donors to campaigns. Florida is a donor state, both for Democrats and Republicans, and Republicans need Florida money.
Each of them has important Hispanic connections, both in terms of language abilities and personal histories. Each of them loves policy. They're both known fondly as policy wonks by those who like them. And they've each proven that they can win a statewide election in Florida.
Now, that said, the other thing is: Both are young. Both are politically savvy politicians. There are a lot of people who wonder with their youth and acumen in politics, if they would really throw their hats in the ring in 2016 if it doesn't look like it's going to be a good year for the GOP — and it's way too soon to tell that.
But there's not going to be any dissipation of interest in this question from now to 2016.
Q: Talk about next year's gubernatorial election. Gov. Scott is looking stronger, yes?
MACMANUS: (Scott's) polls are going up. That's the horse-race polls, the utility — it makes it easier for him to raise money, which obviously he's doing at the moment. But it also means that we're going to have a close gubernatorial race next year. That's not a surprise.
Florida is always — the closer you get to an election, the more people tend to migrate back to their party homes when Florida is divided. But it's going to be a very expensive and very competitive race, without question. Democrats really feel they can win, and Republicans really want to win again. That's the formula for a close election.
The polls have not really been asking the good questions, I think, so far on the depth of what (people) think about Gov. Crist. The other thing about polls is: Until you're really in the race, officially, a lot of them don't have quite the importance compared to the publicity they generate.
He's very popular. Polls are still showing he has a 10-percent edge on Gov. Scott if the election were held tomorrow, but the election's not tomorrow, and a lot can happen between now and then.
I did attend the Jefferson-Jackson dinner in South Florida as a political analyst for Channel 8 here in Tampa, just to observe, and talked to a lot of people. Of course, these are party activists and party leaders, and it seems there's still a little bit of uncertainty about who the candidate's going to be, but no uncertainty about the willingness of Democrats to work hard and try to win back the governor's chair.
Q: Talk about the changing voter demographics we saw in 2012. Since then, have the Republicans done a good job of responding to young people and Hispanics, the demographics where they seemed to be falling behind?
MACMANUS: Well, they've clearly identified the problem and are still searching for a solution — but realize the importance of doing so. It is interesting that the last two election cycles in Florida, it's younger voters who have been the most solidly Democratic voting bloc. It used to be, years past, it was the seniors in Florida, but that's no longer true. And you have to be aware of the fact that young voters are the most solidly Democratic voting bloc, but a lot of them are registering as NPAs.
And yes, it's true: Exit polls show that in 2012, it was young women of color, particularly African American and Hispanic women, that were the strongest supporters of President Obama. And it's also true that a larger portion of the younger electorate are minorities, which really means that Republicans have got to focus more on reaching out to younger voters, including younger minorities but particularly young female minorities. And I think that there's a tendency, when you look at outreach strategies, to look at either gender or race. But in the case of younger voters, you have to marry both of those, and Republicans really must work hard to be more relevant to those groups.
One of the ways, of course, is to have Republican women running for office. At one time there was parity in the Legislature between the number of Republican women and Democratic women, but over time, that's dissipated. In talking with Republican women, I hear that there needs to be more of a focus on the women's vote. And Republicans did lose some of the suburban women voters last time and didn't get some of these younger women's votes at all.
–Margie Menzel, News Service of Florida