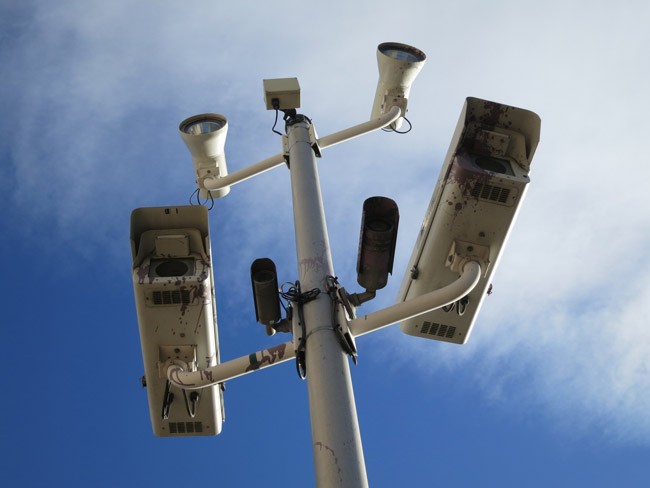 The Florida Supreme Court on Monday declined to hear an appeal on a red-light camera case with a direct bearing on Palm Coast's traffic-enforcement program. Five justices concurred in turning down the appeal, without explanation, as is customary when the court turns down a case.
When the Fourth Circuit Court of Appeal ruled on the case October, it declared a key part of then-existing systems of issuing red-light camera tickets illegal. That ruling, once issued, stood as the law for all of Florida, and forced cities like Palm Coast, which had such illegal structures, to revamp their red-light camera programs and contracts. In Palm Coast, the upshot was that the city reduced its red light cameras from 43 to five, and shortened its contract with American Traffic Solutions, the private company administering the program, by two years. That program ends in 2017, instead of 2019.
Until the court ruling, ATS was issuing the initial Notice of Violation to drivers who had committed infractions, a $158 ticket. If that ticket wasn't paid within 60 days, ATS issued a second ticket, that one a $264 Uniform Traffic Citation, sending the case to the Florida court system for adjudication. The Fourth Circuit ruled that while ATS was allowed to issue the initial Notice of Violation, Florida law forbade it, as a private entity, to issue a Uniform Traffic Citation. By law, UTCs must be issued by a government agency only, the court ruled.
Palm Coast almost immediately suspended that part of the program. It continued to issue Notices of Violation, but stopped ATS from issuing UTCs. Drivers who refused to pay the $158 issued as notices of violation could then let their tickets lapse, never see a UTC, and avoid paying a fine altogether.
The case originated at the City of Hollywood, which was sued by driver Eric Arem. Arem won at the trial level and the appeal level. The Fourth Circuit's decision was never contradicted by another circuit. Arem's attorney used that fact to dispute the Supreme Court's justification to hear the case, since the court generally hears cases to arbitrate conflicting rulings between lower courts. "Since this is a case of first impression regarding the statutory authority granted to a municipality and its agent, a private vendor, regarding red light camera infractions," Louis Arslanian wrote in his brief to the court on behalf of Arem, "the Fourth District's interpretation or conclusion cannot possibly be in conflict with any interpretation by another district court of appeal or this Court." The justices appear to have agreed.
By turning down Hollywood's last appeal, the Supreme Court, in effect, affirms that the Fourth Circuit Court of Appeal remains the law in Florida. It also means that tens of thousands of drivers who were forced to pay UTCs in the past can sue the cities that fined them–and are suing: as part of its amended contract with ATS, Palm Coast will have some of its legal bills in the case paid for by the company. Still, the court's April 13 action is the latest in a series of set-backs for Palm Coast and other cities that have run red-light camera programs. Palm Coast has run one since 2007. The Supreme Court last summer, in a separate case, ruled that cities' red-light camera programs installed before 2010 had broken the law. Those programs, too, triggered a spate of lawsuits. The court had ruled that absent a state law that codified such systems in 2010, cities and counties had no authority to run red-light camera programs.
The Florida League of Cities had signaled to the Supreme Court its intention to file a brief supporting Hollywood (and other cities with traffic camera programs), but never did so before the court declined to hear the case.
As another consequence of the ruling, Palm Coast now must devote more time and manpower to the administration of the red-light camera program, as it is responsible for administering the UTC portion. But as of last week, the Clerk of Court had yet to receive a red-light camera related UTC from Palm Coast.
A bill is making its way through the Florida Legislature to further restrict how cities run their red-light camera programs. The bill originbally would have prohibited the issuance of red-light camera tickets for turns on red. But that part of the bill was scrapped when it ran into opposition in committee. What remains is a relatively enfeebled bill, from its sponsor's perspective (Rep. Bryan Avila, a Hialeah Republican). It would require cities to spend their red-light camera revenue on public safety programs exclusively, and would require cities to send out notices in certified mail. The fate of the bill is uncertain.