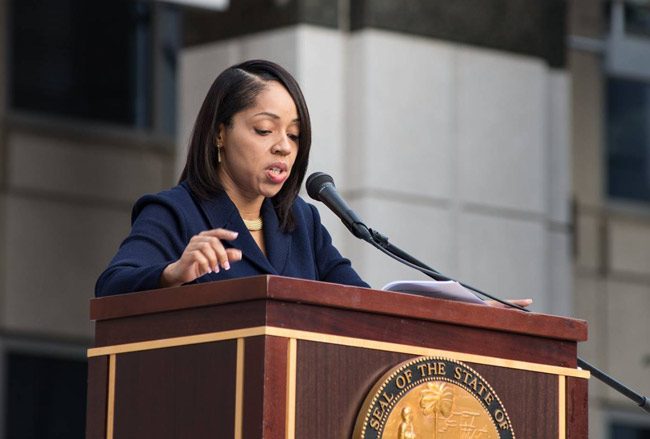 The Florida Supreme Court on Thursday sided with Gov. Rick Scott in a high-profile dispute about whether he exceeded his authority by stripping Orlando-area State Attorney Aramis Ayala of death penalty cases.
In response to the 5-2 court decision, Ayala announced she is creating a "death penalty review panel," with the aim of regaining power over capital cases in the 9th Judicial Circuit, made up of Orange and Osceola counties..
Scott removed Ayala from handling capital cases earlier this year, shortly after she announced her office would not pursue the death penalty for defendants.
Ayala — the state's first black elected state attorney — filed a lawsuit against Scott, accusing the governor of usurping her authority by reassigning the cases, including a high-profile case involving accused cop-killer Markeith Loyd.
Scott handed that case and more than two dozen others — including cases involving the recent shooting deaths of two Kissimmee police officers — to Ocala-area State Attorney Brad King, a veteran prosecutor and outspoken defender of the death penalty.
In Thursday's ruling, a majority of the Supreme Court found that Scott "did not exceed his authority" when he reassigned the cases.
Florida law gives the governor "broad discretion in determining `good and sufficient reason' for assigning a state attorney to another circuit," Justice Alan Lawson wrote in a nine-page opinion joined by Chief Justice Jorge Labarga and justices Charles Canady and Ricky Polston. Justice R. Fred Lewis concurred with the result, though he did not sign on to the majority opinion.
Scott's executive orders reassigning the eligible cases in Ayala's circuit to King "fall well `within the bounds' of the governor's `broad authority,' " Lawson wrote.
Ayala's lawyers argued that state attorneys have prosecutorial discretion to make decisions about seeking the death penalty. Justice Barbara Pariente, in a dissent Thursday joined by Justice Peggy Quince, argued that it is up to Ayala to decide whether to seek the death penalty or not.
State attorneys are tasked with "tough choices" about which cases to prosecute and which sentences to pursue, Pariente wrote.
"When State Attorney Ayala announced that her office would not seek the death penalty in capital prosecutions, she acted well within the bounds of Florida law regarding the death penalty," Pariente wrote. "She did not announce a refusal to prosecute the guilt of defendants charged with first-degree murder. Rather, State Attorney Ayala announced that she would not seek a sentence that produces years of appeals and endless constitutional challenges and implicates decades of significant jurisprudential developments, many of which have emanated over the years from the United States Supreme Court."
Ayala's decision was not based on emotion or personal opposition to the death penalty, and was "well within the scheme created by the Legislature and within the scope of decisions state attorneys make every day on how to allocate their offices' limited resources," Pariente wrote.
But by ruling out the death penalty altogether, "Ayala has exercised no discretion at all," the court majority found.
Ayala's refusal to seek the death penalty "does not reflect an exercise of prosecutorial discretion; it embodies, at best, a misunderstanding of Florida law," Lawson wrote.
The majority opinion also noted that Scott's executive orders do not direct King to seek the death penalty in any of the reassigned cases.
"Rather, consistent with the governor's constitutional duty, effectuated pursuant to his statutory assignment authority, the executive orders ensure the faithful execution of Florida law by guaranteeing that the death penalty — while never mandatory — remains an option in the death-penalty eligible cases in the Ninth Circuit, but leaving it up to King, as the assigned state attorney, to determine whether to seek the death penalty on a case-by-case basis," Lawson wrote.
Scott hailed Thursday's decision, saying in a prepared statement that it is "a great victory for the many victims and families whose lives have been forever changed by ruthless, evil acts of crime."
The cases Scott reassigned included that of Loyd, who allegedly murdered his pregnant ex-girlfriend and Orlando Police Lt. Debra Clayton; Everett Glenn Miller, accused of killing two Kissimmee police officers; and Callene Marcia Barton and Lakesha Chantell Lewis, two women accused of killing 3-year-old Xavier Mokarzel-Satchel.
"Crimes like these are pure evil and deserve the absolute full consideration of punishment — something that State Attorney Ayala completely ruled out. She unilaterally decided to not stand on the side of victims and their families, which is completely sickening," Scott said. "In Florida, we hold criminals fully accountable for the crimes they commit — especially those that attack our law enforcement community and innocent children."
Scott in March swiftly stripped Ayala's office of prosecuting capital cases following a press conference in which Ayala said she would not seek the death penalty.
At the time, Ayala said she based her decision on research showing that the death penalty is not a deterrent to crime, is discriminatory, is costly, leaves the families of victims in limbo for too long and is imposed on innocent people too often.
In a statement issued after Thursday's ruling, Ayala said she respects the Supreme Court decision and appreciates the "clarification," saying the court ordered that "a case-specific determination must be made on first degree murder cases."
"To ensure today's court's decision is heeded, I have organized a Death Penalty Review Panel comprised of seven well-versed and experienced assistant state attorneys. This panel will evaluate each first-degree murder case in the 9th Judicial Circuit," Ayala said. "With implementation of this panel, it is my expectation that going forward all first-degree murder cases that occur in my jurisdiction will remain in my office and be evaluated and prosecuted accordingly."
John Tupps, a Scott spokesman, said the governor's office "has not seen any details on the state attorney's proposal other than a brief statement that was released to the media. The governor will continue to make sure that victims and their families receive the justice they deserve."
–Dara Kam, News Service of Florida