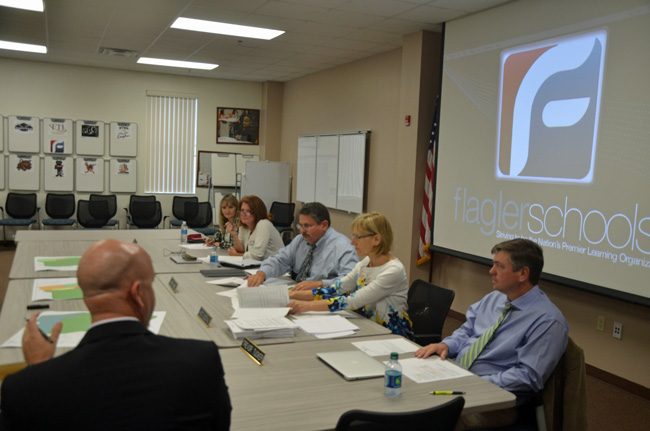 The Flagler County School Board's search for a new superintendent is turning into a poorly scripted season of Survivor in reverse: candidates themselves are turning their back on the district as they conclude they'd rather not work for this board.
The search has been hurried and messy and has coincided with a tense stretch on the board. Relatively few candidates applied. Even fewer made the eligibility list. Several dropped out, including top favorites. On Monday, the search was rocked again as Phyllis Edwards, one of the four finalists who was to be interviewed Thursday, also dropped out. Edwards had long experience in the district and as a superintendent in Georgia.
"I have decided to remove my name from consideration for the position of Superintendent of Schools for Flagler County," Edwards wrote in an email to the consultant the school board hired for the search. "I wish all the best to the remaining candidates."
Reached by phone this morning, Edwards said she preferred not to comment on her decision beyond the letter she had written the Florida School Board Association, three of whose members the school board hired as consultants to shepherd through the hiring process.
Andrea Messina, the lead consultant, called each board member Monday separately to inform them of Edwards's decision. "Andrea said it seemed her candidacy would bring controversy and she thought removing herself would be best for the district," School Board member Colleen Conklin, who had been one of just two board members short-listing Edwards to be interviewed, said. "I'm very disappointed."
Last week, Ronnie Dotson, a superintendent in a Kentucky school district who'd caught the attention of the advisory council the board appointed to sift through applications, as well as the attention of board members, dropped out, citing board dynamics, which he had found off-putting, particularly in regard to the division on the board over Vernon Orndorff's brief candidacy. Orndorff, the current deputy superintendent, had applied and was favored by two board members, who wanted him hired outright, without a national search. But he then withdrew his candidacy, taking a job in Texas, leaving behind what at least appeared to be an unhealed rift on the board.
Edwards today was asked if board dynamics had anything to do with her decision to withdraw. "All people have to do is go and watch if they want to see dynamics," Edwards said, referring to the last few videos of bard meetings and workshops, where board tensions are on full display.
The last workshop was an especially drawn out affair, lasting some five hours and featuring several segments rife with contention, especially between Board Chairman Trevor Tucker on one side and Colleen Conklin on the other, with Andy Dance on occasion attempting to find common ground. Tucker's leadership style has rankled his colleagues. He likes to get business done quickly and efficiently, dispensing with frills, but that style tends to come off as more curt than deliberative, and a lot less relaxed than the board has been used to. The board has been experimenting with a new, abbreviated meeting schedule, which has caused issues of its own. That period of adjustment has unfortunately coincided with the superintendent search, which has not eased matters.
Asked today if there was something the board could learn from the search process, Edwards, who was an assistant superintendent in Flagler a decade and a half ago and spent a dozen years as a successful superintendent in Georgia before moving back to Palm Coast, said: "Honestly don't think I'm the one to speak to that."
Just 41 people had initially applied, but 29 remained after withdrawals and disqualifications–now 28. The three remaining candidates to be interviewed Thursday are James Tager, current principal at Atlantic High School in Port Orange, Jeffrey Umbaugh, an administrator with Clay County Schools, and Gerald Wilson, former Superintendent of Worcester, Md., County Schools.
Monday, the district had issued the three-day schedule, including the interview schedule, with what at the time was to be the four candidates. Tuesday morning, the district issued a revised schedule in a release, the essence of which is as follows.
On Wednesday (April 19) all three candidates will take part in a community "Meet and Greet"
at the Buddy Taylor Middle School cafeteria from 5:30 to 7:30 p.m. After a brief introduction and question and answer session, the public will have the opportunity to meet with each person in a smaller setting.
On Thursday (April 20), the three will be interviewed by the entire School Board. They will also take part in a tour of Flagler County as well as a number of our schools. The interviews will be conducted in Training Room 3 at the Government Services Building. They are open to the public and Flagler Schools will stream the interviews on the District website. The interview schedule is as follows:
Jeffrey Umbaugh, 8 to 9:30 a.m.
Gerald Wilson, 10 to 11:30 a.m.
James Tager, 1:30 to 3 p.m.
The candidates will also attend the annual Senior Scholarship ceremony at Flagler Auditorium that night, starting at 6 p.m.
On Friday (April 21) the three finalists will be interviewed by each individual School Board member in one-on-one sessions. If a member of the public would like to observe an interview session, they are requested to arrive before the interview begins and remain until that particular session concludes. The interviews will take place in the Superintendent's Office and Conference Room, Curriculum Department (all on the third floor of the Government Services Building), Technology Department (second floor) and the Office of Student and Community Engagement (first floor).
The session times are as follows:
Session One 8:15am-9:15am
Session Two 9:30am-10:30am
Session Three 10:45am-11:45am
Lunch 12:00pm-1:00pm
Session Four 1:00pm-2:00pm
Session Five 2:15pm-3:15pm
On May 2, members of the Flagler County School Board will hold a workshop on the superintendent appointment at 9 a.m. in Training Room 3, and a special board meeting that evening at 6 p.m. in board chambers at the Government Services Building where the board will vote to choose the next superintendent.