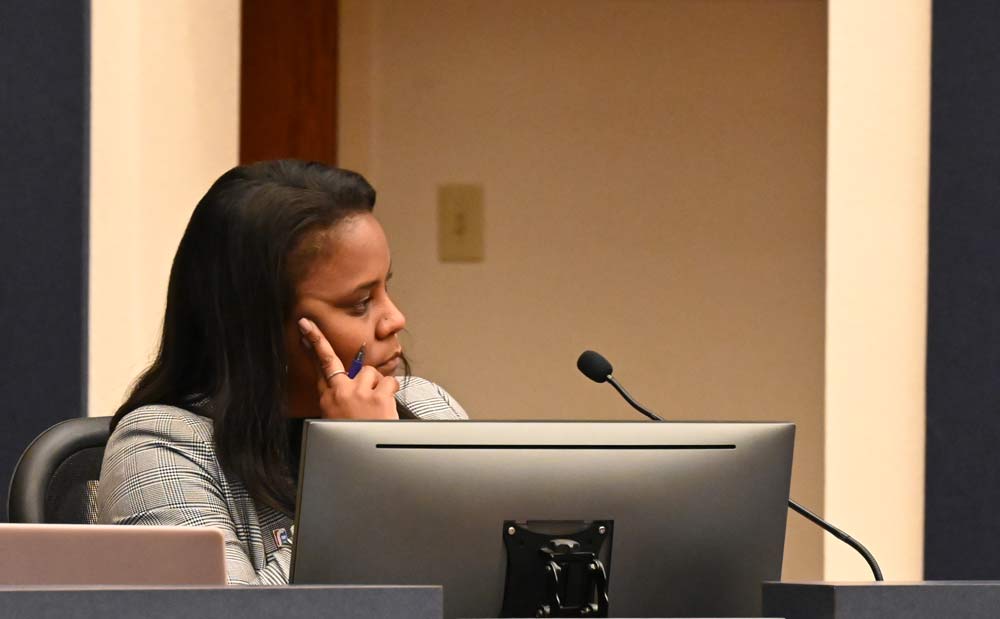 The Flagler County School Board this evening is expected to approve a four-year contract with Superintendent LaShakia Moore, paying her a base salary of $175,000 a year.
The salary is significantly more than the $135,000 base at which her predecessor, Cathy Mittelstadt, started in April 2020, even after adjusting for inflation, which would bring that starting pay to $162,000, though Mittlestadt had more experience in executive ranks.




But it is less, in adjusted numbers, than the starting pay of another superintendent who started with no executive experience when he took the job here in 2005: Bill Delbrugge, who had been the principal at Flagler Palm Coast High School, was awarded a one-year contract as superintendent in May 2005, for $115,000, or $182,000 in inflation-adjusted numbers. (The inflation calculator is that of the Bureau of Labor Statistics.)
Seven months later, he got a four-year extension and a $10,000 raise, bringing his salary to $125,000, or $194,000 in today's dollars. He also had a combined $800-a-month car and miscellaneous expense account, which added $15,000 to his compensation, before other benefits.
Then-Board Member Jim Guines, who had recommended the raise, called the raise "a pittance," saying Delbrugge was "worth a lot of money." Delbrugge would go on to lead the district's most successful stretch in the last two decades, with four straight A ratings. He left in 2010. His success carried over into 2011, but it would be seven years of B's before the district regained an A rating for a year, under Jim Tager in 2019. It has since fallen back to a B.




Moore's executive experience has been brief, but not nil. She was Mittelstadt's deputy superintendent for a year before Mittelstadt's firing, and has been the interim superintendent since. Previously she'd been in charge of the Teaching and learning department at the district, and before that had been the principal at Rymfire Elementary. She is the first Black countywide executive of one of the three larger local governments, and only the third woman to lead Flagler schools. Mittlestadt and Janet Valentine are the others (Valentine succeeded Delbrugge).
When the current school board discussed a salary range for its prospective superintendent in August, when Moore was serving as interim, the board briefly discussed a range of $165,000 to $215,000–the range recommended by the Florida School Board Association, which tends to favor higher salaries–before settling either to $200,000 or $195,000. Board member Sally Hunt had pushed for $215,000. "To me, that's not any candidate who would get 215, it would be an exceptional candidate," she had said.
There was never a suggestion, explicit or implicit, by Hunt or any other board member, that Moore was not an "exceptional candidate." To the contrary: each board member lavished praised on her and on occasion compared her–as did Board member Colleen Conklin, who has been on the board in 2000 and has seen the worst and the best in that position–to Delbrugge.
The board went through Moore's contract at a previous workshop, and its final form, as submitted this evening, was negotiated between Moore and School Board Chair Cheryl Massaro.




In addition to her base salary, Moore will be paid 8 percent in deferred compensation, or $14,000 a year, will have a district vehicle for her own uses anywhere in Florida "while performing her professional duties," including fuel and maintenance, and a $700-a-month expense account, or $8,400, all similar to additions to Mittelstadt's compensation. She will also receive health insurance on the same terms as other district employees, life insurance, and will be classified in the senior management service class of the Florida Retirement System. The district will pay into her retirement fund the equivalent of 2 percent times years of service.
The board may fire Moore without cause in the first year of the contract, but must have at least four of its five votes to do so. The contract also requires Moore to inform the board within three days of applying for or negotiating for a different job–a clause not present in previous contracts.
Palm Coast City Manager Denise Bevan's salary starting in March 2022 was $175,000,plus 17 percent in defined contribution to her retirement ($29,750), a $500-a-month car allowance ($6,000)plus health benefits and an annual cost of living raise.
County Administrator Heidi Petito signed a contract in October 2021 with a starting pay of $179,000, a $500-a-month car allowance, and continued enrollment in the senior management class of the Florida Retirement System (which pays into FRS the equivalent of 2 percent per year of service, applied to the base salary).




At the very same meeting where the school board voted to give Delbrugge a $10,000 raise in January 2007, it voted to hire the Jacksonville law firm of Gobelman, Love, Gavin, Blazs & Wasilenko as its new legal representation, ending 16 years with Palm Coast lawyer Michael Chiumento. The Gavin in the firm's masthead was Kristy Gavin, who would later become the board's in-house attorney, and has remained so since.
But today, that relationship could be ending. The three board members who fired Moore's predecessor–Sally Hunt, Christy Chong and Will Furry–are again orchestrating the firing of Gavin, or possibly her shift to staff attorney. If she were to become staff attorney, she would report only to Moore, and would not have to answer to the board, as she does now. As board attorney, Gavin is one of two employees the board may hire or fire. The other is Moore.

lashakia-moore-contract-2023