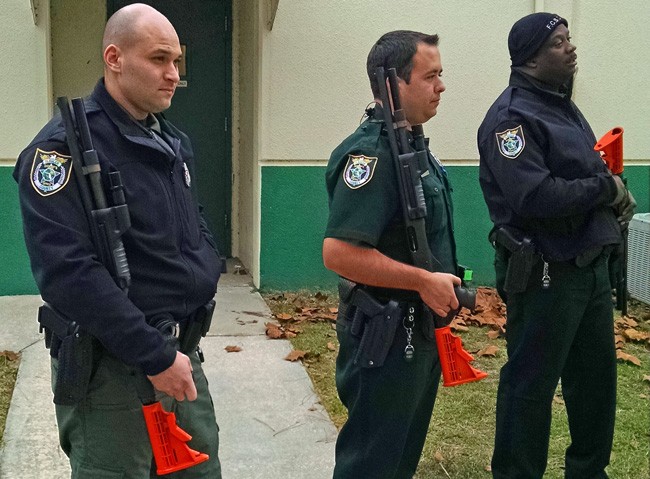 As debates about police tactics in violent encounters with individuals continue, the Flagler County Sheriff's Office has converted 30 shotguns from its existing stock to use as less lethal weapons in such potentially perilous situations.
The conversion did not cost the department significant dollars: $750 to fit the weapons with orange markers, and $3.75 a round.
The Remington 870 shotguns are operational with a 12 gauge round called a "super sock," also known as a bean bag, designed to distract and incapacitate a person, but not inflict penetrating trauma. The round is a fiber reinforced flexible sock filled with pellets. The weapon joins a list of less-lethal weapons and devices approved for use at the Flagler County Sheriff's Office. Those include the familiar Taser guns, pepper spray, "impact weapons" such as batons, 40 mm rubber pellet rounds and chemical munitions–the 40 mm "barricade projectile" grenades, or flash grenades.
Sheriff's deputies received additional specialized training to use the "super sock," and their patrol cars will now be outfitted with the shotguns.
In mid-December, members of the SWAT team fired a "sponge grenade" at an individual who had been threatening to shoot himself with a gun, averting the more lethal result.
"It is important to me to have our deputies trained in every aspect of their jobs, especially the use of less lethal force which could result in a life being saved," Sheriff Jim Manfre said. "Until now, only our SWAT personnel have been provided with this type of weapon, but now our road patrol
deputies will have them."
Not all deputies will have them, though deputies equipped with the shotgun will still also be equipped with a rifle, Paula Priester, a spokeswoman with the Sheriff's Office, said. Deputies who don't have a rifle or a less lethal shotgun will carry a regular shotgun. The two types of shotguns are differentiated from each other by an orange stock.
"The less lethal weapon will reduce harm to the individual including bystanders and will result in a reduction of injury to law enforcement officers," said SWAT Commander Michael Fink. "Just last month the SWAT Team apprehended an armed suicidal subject using a similar type of less lethal force," he said, referring to the incident near Hammock Dunes bridge.
Use of the less lethal weaponry is controlled by a sheriff's office policy, which notes, in part: "Intentionally discharging a Specialty Impact Munitions at a person's head, neck or throat area, is considered a deadly force application." Munition such as the super sock, when properly used, are supposed to be fired from a certain minimum distance, and at parts of the body that would incapacitate the individual, briefly, without causing lasting damage.
The policy also states that "Persons struck by a Specialty Impact munition will be examined by Emergency Medical Services personnel at the scene or as soon as practical," with photographs required to be taken of every area of the body impacted by the munitions. "Any individual who is experiencing or complains of symptoms after use of an impact weapon, or who does not show signs of recovering within 5 to 15 minutes, will be provided immediate follow-up medical attention."
The full policy appears below.


Less Lethal Weapons Policy, Flagler County Sheriff's Office (2014)