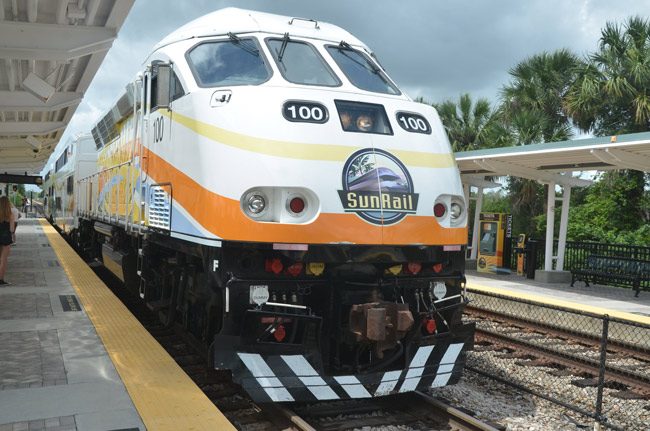 SunRail begins running service on a new schedule beginning Monday, July 23.
The new schedule features more mid-day time slots, as well as running later at night. Service is increasing from the current 18 round trips per day to 20 round trips per day. SunRail currently runs 32-mile daily service, stopping at 12 stations, Monday through Friday, from the DeBary Station in Volusia County to the Sand Lake Road Station south of Orlando. The new schedule is posted at www.sunrail.com.
One-way tickets on SunRail are $2, with $1 additional for every county line you cross.
The new schedule comes in advance of the new southern expansion which begins passenger service on July 30. The expansion adds 17 more miles and four new stations: Meadow Woods in Orange County, as well as stations at Tupperware, downtown Kissimmee and Poinciana in Osceola County. SunRail started service in May 2014.
Trains will travel to the new additional stations next week as part of the break-in period, but no passengers are going to be on board during that portion of the route.
Three Democratic members of Congress representing Central Florida–Darren Soto, Stephanie Murphy and Val Demings– announced today that SunRail is receiving a $16 million grant from the U.S. Department of Transportation to complete the Phase 2 South Project. Funding was included in the Fiscal Year 2017 Omnibus Appropriations Act, enacted into law in May 2017.
"Since arriving in Congress, we've been laser-focused on delivering results for our central Florida community, including funding for Sunrail Phase 2 South," Murphy said. "Orlando is a world-class city and it deserves a world-class transportation system, and commuter rail is a critical component of this. I'm proud of everything our delegation did to help secure this funding and of our work to provide central Florida residents and visitors with efficient, safe, and reliable transit options."
As always, SunRail cautions: Be careful around trains, railroad crossings, and while at station platforms. Be smart. Be safe. There's also this:
Railroad tracks are not photo studios. For your own safety, keep at least 25 feet from the tracks. Remember, trains can approach at anytime from either direction. Be smart. Be safe. #SunRailSafety pic.twitter.com/CsgRrodht0

— SunRail (@RideSunRail) July 5, 2018