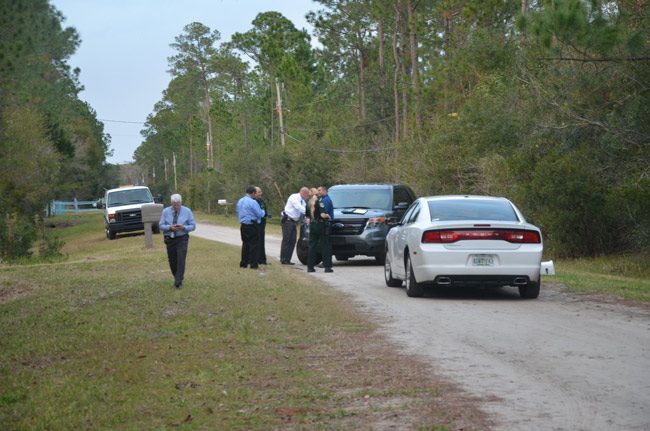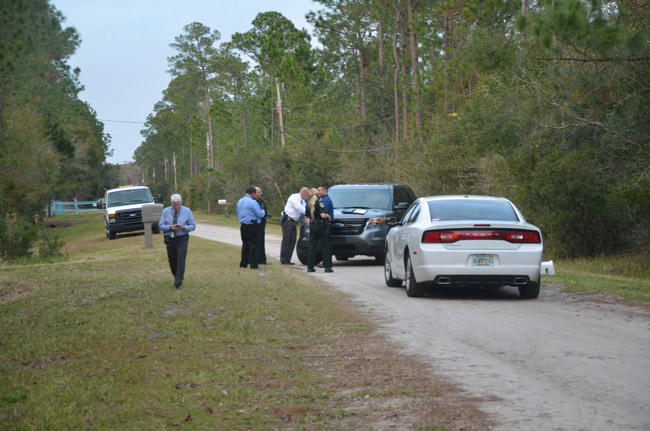 Flagler County law enforcement responded to two unrelated suicides in less than 24 hours Tuesday afternoon and Wednesday morning. The last two days' reports prompted a Flagler County commissioner to promise more attention to mental health issues.
On Tuesday, Steven J. Fortier, a 27-year-old resident of Spruce Street in Bunnell, was found dead at 5060 Walnut Avenue in the Mondex, also known as Daytona North.
A Waste Pro truck driver making his rounds in the area reported to the Flagler County Sheriff's Office that while picking up garbage at the intersection of Walnut and Papaya, he noticed what appeared to be a man hanging from a tree, and was unsure whether it was a mannequin or a person. He'd been at that intersection earlier in the day. He decided to go to the sheriff's office in Bunnell, where he reported what he'd seen because, according to an incident report, it had been "bothering him all day."
Deputies responded to the area at 3 p.m. and confirmed the death of Fortier at 3:02 p.m. "Under him was a ladder that was knocked over. His hands were bound loosely in front on him with blue rope," the incident report stated. Mark Strobridge, the sheriff's office's chief spokesperson, who was at the scene with Sheriff Staly later in the afternoon, said "there appears to be no indication of any type of foul play at this point."
There were two vehicles in the driveway, neither of which belonging to Fortier, who usually drove a 1997 Chevrolet. Deputies found what the incident report describes as "a large dog" in the house on Walnut, but no other residents, and no sign of struggle in the house. "However the dog had begun to rip through trash and other items," the incident report states. Fortier on Dec. 19 had posted on his Facebook page that he had a new dog, whom he called Rocky and whose picture he posted.
"While clearing the residence I observed a note stating the dog's care instructions located above the kitchen island counter in a cabinet. On the counter under the note was a manila envelope that had a name and address and stated 'confidential' on it," the deputy reported. The incident report does not detail the contents of the envelope. Fortier, according to his Facebook page, worked at Oceans Fences and Rail in Bunnell.
The Medical Examiner arrived at the scene around 5:30 p.m.
Police responded to the second suicide this morning at 244 Ocean Palm Drive in Flagler Beach, where 73-year-old William Dessing was reported to have killed himself by gunshot. Dessing was found by his wife, a gun in hand. She told authorities that he'd been in a lot of pain recently with back problems. He was pronounced dead at 8:48 a.m. The Medical Examiner removed the body at 1 p.m.
Staly briefly referred to the suicides this morning, attending his first meeting of the Public Safety Coordinating Council as sheriff. Staly talked about the Crisis Triage and Treatment Unit grant he'd helped secure for Stewart-Marchman-Act Behavioral Healthcare as undersheriff more than two years ago, a grant that allows deputies in Flagler to take individuals who meet the criteria of a Baker Act to a crisis center in Bunnell–the Vince Carter Sanctuary–rather than have to drive them to Volusia County.
A Baker Act is the involuntary confinement of an individual who is showing signs of harming himself or herself, or others. The confinement in a psychiatric unit may last up to three days, for evaluation. The arrangement with the sanctuary location has allowed deputies to reduce the amount of time they spend off road patrol. That grant has just been renewed for five years, a Stewart-Marchman official told the council this morning.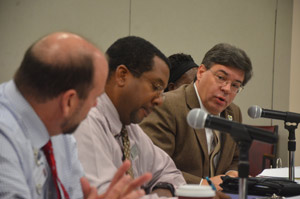 "I'm very thankful that we have new funding for the expanded hours," Staly said. "We're not 100 percent there yet. Yesterday our deputies responded to a suicide in the Mondex and as I was coming in there's a suicide being worked right now. So there's still a lot of work in mental health issues in the community, so we can't let down our guard on this issue."
While the Stewart-Marchman grant helps with the logistics of Baker Acts, it does little to improve actual mental health services for those who need them. Those services are in critically short supply in the county.
"That's something that's been on my mind for some time now," said Nate McLaughlin, referring to mental health services. McLaughlin chairs the county commission as well as the Public Safety Coordinating Council. "I would like to have this community in the future discuss maybe something we can do more meaningful locally, or some kind of resolution going forward to encourage the state and federal authorities to take this a little more seriously and kind of revisit mental health in general."
McLaughlin said personal experiences in his family have informed him about the issue, and the dearth of services. "Although there were some flaws in the system I don't think that's any reason to have abandoned that kind of system that they had." That system, he said, has shifted emphasis from treatment to punishment. "They're in more need of that kind of help rather than some kind of punishment," he said, essentially setting the tone of the discussions he hopes to have through the coordinating council during his chairmanship.
Ivan Cosimi, who heads Stewart-Marchman, spoke of the loss of services. "Really, the whole system, since those early days when it was a comprehensive approach really has been a patchwork of funding," he said. "A little bit here, turn over this rock, here's a little bit of money, and what you have is really like a quilt of different funds."
"I do believe societally it's time to move forward," McLaughlin said, crediting Stewart-Marchman for what it does with what money is available, but urging that "it's something as a society we need to take more seriously."
Suicides in Flagler County have increased from 11 in 2012 to 17 in 2013, 20 in 2014, and 26 in 2015. In 2016, the total fell to 19.