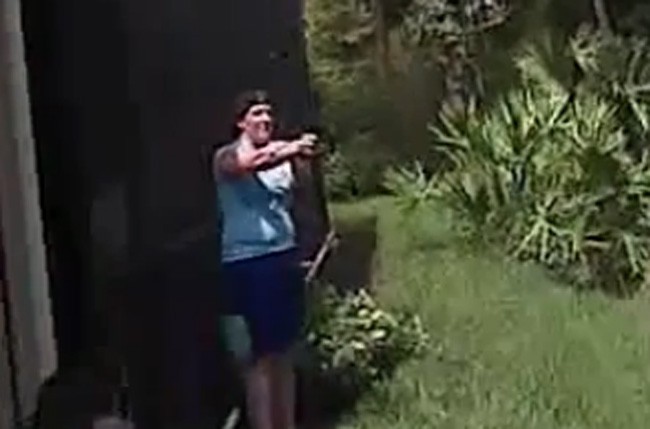 Monday afternoon Flagler County Sheriff's deputies were involved in an alleged suicide-by-cop situation in Palm Coast's P Section when a cryptic 911 call from 8 Pine Brook Drive triggered a response. There they found Stacy Culotta, 36, standing near her pool in her screened-in back porch, with a gun in her hands. It turned out to be a BB gun. But in the moment cops didn't know that, and a tense, seven-minute stand-off ensued as Culotta refused to drop her gun and showed no other sign of compliance, or willingness to resolve the situation. She could at any point have been shot by any one of the three deputies.
She wasn't, even after pointing the gun at one of the deputies. At that point, Sgt. van Buren, a 28-year veteran of the sheriff's office, incapacitated her with a Taser shot from a dozen feet away, and ended the situation.
On request, the sheriff's office released the body camera video van Buren wore during the encounter. Half the 16-minute footage of the encounter is included below, though FlaglerLive requested the full video. "I ended the video after she was arrested and secured. Nothing other than time and a few discussions were recorded from that point forward," a sheriff's spokesman said, noting that the shorter version "expedited" the video release.
The video is striking for the controlled and measured manner in which three deputies approached and negotiated with Culotta, even though she appeared uninterested in negotiations, and eventually were able to safely incapacitate her. It is at least the third such incident in the last two and a half years where Flagler deputies have defused situations involving an individual with a weapon looking possibly to harm self or others.
The video shows two other cops approaching the house with him, from the patio-pool area, when two poodle-like dogs immediately begins yelping incessantly. At first James Crosby and Fiona Ebrill, the two other deputies are, along the screened-in back porch, evaluating the situation without particular alarm: Culotta hasn't shown her weapon yet.
That changes very suddenly (1 minute 25 seconds into the video) when they realize she is holding what appears to be a gun. The two deputies immediately take out their guns and van Buren radios in as he runs toward Ebrill and Crosby, "Bravo 210 Flagler weapon, weapon shown, weapon shown." Ebrill has inched back at an angle from the side of the porch, Crosby is in a ground depression by the side of the house. The deputies are all loudly ordering Culotta to drop the gun.
Culotta is standing in her pool area, facing Crosby head-on from behind the screen, about 10 or 12 feet separating them. She is immobile, as if staring him down, perhaps daring him, both her arms at her side, but one of them holding the weapon. She takes a step or two, the cops keep urging her to put the gun down. They have no reason yet to think it's anything less than a firearm.
Just after the second minute, van Buren suggests it may be a pellet gun, but no one is sure. Crosby takes a higher position behind a tree, explains to Culotta that they just want to talk. "We're here because somebody called 911," van Buren says. "We just need to make sure everybody is OK, all right? So drop it."
Culotta does not comply. The dog keeps yapping. "We're talking to her at the back pool, she's still refusing to drop the weapon," van Buren tells dispatch.
Four minutes in, Culotta puts the dog in the house. It's quieter. "All right, we can talk now," Culotta says. But she still walks back to the center of the pool area, her hands clasped on the weapon against her stomach.
Van Buren is remarkably calm: "All right," he says. "Just put the gun down, OK? So we can relax, put our gun down so we can sit and talk." Culotta claims there's nothing to talk about, that she didn't call 911, that maybe her son had called because he was there a little while ago. When van Buren asks her why she's carrying a gun, she says she always does so. The dispatcher asks how many people are in the house. "Unknown," van Buren replies as he resumes pleading with the woman to put the gun down, now in a conciliatory tone. But Culotta says she's not putting her gun down with weapons aimed at her.
"I'm not aiming at you," van Buren says. "I'm at a low ready. OK? You drop yours, I'll put mine away, I'll come in, we'll talk." The two converse. She tells him there's no one in the house. He tells her deputies can't leave until they are certain there's no one in the house. When he tells her she's going to have to put the gun down, she tells him, "I don't have to do shit. What are you going to do about it, shoot me?"
"That's not what I want to do, OK?" van Buren says. "Obviously something is going on for somebody to call us." She tells him she was just having a drink. She's at her house. He tells her the only threat in play is her gun: all the deputies need to do, he tells her, is be assured the situation is under control, that there's no one in the house injured or hurt, "and everybody can go along, on their way."
At that point, seven minutes into the confrontation, the woman calmly walks out of the screened-in porch area. She appears to be willing to comply with van Buren's request. But she stands there, just outside the door. "Please, put the gun down," van Buren says again, calmly, pleading again and again as she says something then goes quiet, still clutching at the weapon with both hands, at her midsection, and looking tense.
Thirty five seconds pass during that exchange when she suddenly lifts the weapon with both hands, poting it at one of the deputies and says, "you want to point this shit?"
Not a second passes between the time she aims and van Buren fires his Taser, striking her on the left arm and incapacitating her as she goes down in a gallop of "ow"s, and van Buren quickly approaches her and disarms her.
Culotta was charged with aggravated assault on a law enforcement officer and resisting arrest without violence. She remains at the Flagler County jail on $5,500 bond.