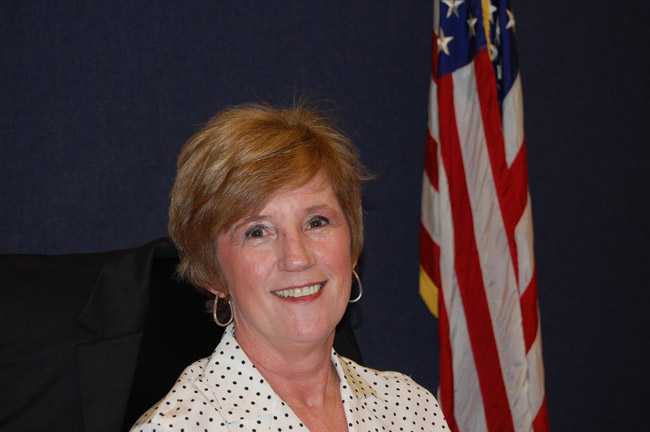 Sue Dickinson is one of four candidates for Flagler County School Board in the Aug. 14 primary election. She is the three-term incumbent, elected in 2000, representing District 5, and currently chairing the school board. She is being challenged by Bill Corkran.
The two school board elections are non-partisan races: all registered voters in Flagler County are eligible to cast a ballot in both races–whether registered Democratic, Republican, Independent or from a minor party.
You may cast a vote in both races regardless of the district, the town or the subdivision you live in. The election on Aug. 14 will decide the winner in both races. Since there are just two candidates in each race, there will be no run-offs, no general election. This is it.
FlaglerLive submitted 14 identical questions to the school board candidates, who replied in writing, with the understanding that some follow-up questions may be asked, and that all exchanges would be on the record. Follow-up questions, when necessary, appear in italics, and may be awaiting answers.

The Questions in Summary: Quick Links

Place and Date of Birth: Syracuse, N.Y., Oct. 23, 1954.
Current job: Currently your school board member for district 4. An L.P.N. working through a home health agency, providing me the availability to perform my duties as a School Board Member.
Political affiliation: Republican.
Net worth: $125,000. Financial disclosure form available here.
Website:
1.     Why are you running for school board, and what makes you think you are the best person for the job?
To continue to provide quality education for all students in a safe place! I have always believed that our children deserve a voice and I have enjoyed and hope to continue to be that voice. My involvement as a School Board Member, a parent, a nurse, and organizing county wide activities over the past 29 years proves my commitment to our children. Through exposure in all of these aspects I am able to make a more informed decision. My passion relies with them. Therefore they are always my primary concern when making decisions. I ask myself, "Is this the right decision for our children?"
My experiences as a Board Member include the highs and the lows. Trying to keep up with the explosive growth of the mid 2000s through today, when we are trying to survive exorbitant financial cuts from both the state and federal governments, define the major issues. Currently our country-wide economic problems will be a challenge for anyone involved in education. Some of our children are coming to school not knowing where their home will be at the end of the day. This causes a serious distraction, making it difficult to educate them. We need to be certain that they feel safe the minute they step onto our buses or walk through the school building doors.
Our overall budget has declined by $10 million over the past four years. I am proud to say that we prepared ourselves for it knowing that it was going to happen. Our children's programs have not been affected by any of these cuts.
I believe that we currently have a very diverse board. I have sat on the Board when the entire board members' backgrounds were education. While we did a good job in making the very good decisions, oftentimes our focus was directed at curriculum more so than the entire system. Today we have members from all walks of life who bring to the table many different views and opinions. We are not focused just on curriculum, but every one of us has a different strength. I am not affiliated with any specific group, therefore all of my decisions are made strictly with the students' best interest in mind.
I believe that with the size of our district we need to have more business oriented members rather than educators.

2.     Describe the scope of your job as school board member as you understand it: what's your primary responsibility? What's in your power to influence on a day-to-day basis? What is not in your power to do?
As a school board member I have three main responsibilities: To set policy, to be responsible for the maintenance of the budget and to hire-fire the Superintendent. I have no say over the day to day operation unless it is set in policy. Therefore unless there is a policy, I have no power. If asked, I can offer my opinion but otherwise it is the responsibility of the superintendent and his or her staff.
During my last 12 years, if there was something that the board felt that was needed and it was possible for us to do, a policy was put in place.
Can you site an example of a policy put in place that you supported and made a distinct difference in the quality of education?
Prior to the end of Evie Shellenberger's last term we implemented a policy to protect our Service Learning Programs citing the success for the students participating in these programs.

3.     Name your three specific priorities you intend to achieve as a school board members within the scope of the doable-not pie-in-the-sky stuff, not generalities. That is, three priorities you'll be able to say, four years down the line, that you've achieved.
With academic achievement being assumed a priority, I will continue to strive for the best possible safety of both our students and staff. Since my election we have fenced in all campuses, required photo ID for all students, staff and volunteers and require finger printing of all volunteers. I will try to continue to identify particular groups of students with educational needs (both high achievers and low achievers) and try to offer special circumstances to help them become successful, for example, Phoenix Academy. I will look to strengthen our county in-service offerings, utilizing our own educators to share their specialties with other teachers during our in-service days to help in cutting the cost of bringing in trainers from other places.
Phoenix Academy is almost a charter school within the district, tailored to address a specific, small student body as it moves with the same teachers grade after grade. Are you suggesting that you would support the creation of a second, similarly experimental, charter-type school, controlled by the district?
Thus far the data provided for this program has been positive for the population that this program serves. Therefore I would support the addition of similar programs for students with differentiated needs for additional help to become successful especially with the new mandates handed down by our state legislators, provided we could do so within our budgetary constraints.

4. Budget cuts are now a routine part of board members' duties. Assuming that salary cuts are off the table, but eliminating positions aren't, name three specific programs, curriculum areas or activities you'd cut. Please be specific, citing actual programs or areas you'd cut before others.
First I would look at teachers on assignment. We have looked at and cut those positions in the past but it appears that we are back to having a few. As previously stated I would look to use our own teachers/staff for in-service training. We have a lot of great things happening in our district that need to be shared across the county. I would stop all out of county travel, unless covered by a particular program or grant. Again it appears that we are getting away from previously controlled travel. Any travel out of the district would be approved by the board prior to the travel happening. Coaching positions will remain attached to the teaching position. If the teacher decides that he or she no longer is interested in coaching then the teaching/coaching position will become vacant. Therefore that person will need to move to a vacant opening. Therefore once tenured the coach will not be able to quit coaching thereby tying up the teaching position leaving the students without an available coach. I am aware that this is part of the contract and would need to be negotiated.

5.      The IB program at FPC is the district's most academically rigorous and accomplished program, serving a small but high-performing class of students beginning with the pre-IB program in 9th grade. What is your opinion of the program, how committed are you to its continuation, and would you support its expansion, or an expansion of a similarly themed feeder program, at Buddy Taylor Middle School, as is being considered currently?
I was a member of the board that voted to bring IB to the Flagler School System. I believe strongly in it is importance. Yes it serves a small high performing group of students but it is a program that is recognized globally. Our District went through a rigorous application process and was accepted into the program. If we were to discontinue this program it would be difficult if not impossible for us to be accepted back. I would however question and look into the necessity of its own administrator and look to the possibility of that position taking on some of the teaching responsibilities helping to contain its cost. I would love to see a feeder program but because these students are tracked from the 3rd grade I think that there might me a more cost effective way of doing that and having it be successful.
Note: The current IB coordinator does, in fact, divide his duties between administering the system and teaching, as well as advising students.

6. Superintendent Janet Valentine will retire during your four-year tenure, making her replacement one of your top responsibilities. Explain how you'd go about replacing her: would you favor an internal candidate ahead of an external one? Would you conduct a national search? Also, explain your assessment of Jacob Oliva, now the deputy superintendent, and whether you see him as the next superintendent.
Mr. Oliva has just been promoted to the position of Deputy Superintendent. As previously stated my job is only to hire/fire the superintendent. I strongly supported Mr. Oliva's promotion as I felt he was the person for the position. He has the qualities necessary and the drive to not only learn his new position but he also brings to the position many great qualities. Do I think that he would be a candidate for the Superintendent position in two years? Yes I most certainly do. Having said that though I was in support of a national search the year that Mrs. Valentine was promoted. I am only one of five votes and was out-numbered. I do understand that it takes a lot of money to do a national search. It has been sometime since we have done a national search but I believe that if the funds are available then we owe it to the tax payers and our students to have the best candidate in the superintendent position. Mr. Oliva in my opinion would certainly be in the running for the position and my experience with this in the past has shown that the best candidates do rise to the top.
During your tenure you've overseen the appointments of three superintendents–one from a national search (Robert Corley), two from within the system (Bill Delbrugge and Janet Valentine). Corley's tenure was difficult and ended with his resignation in the face of an unhappy, divided board. Delbrugge's and Valentine's tenures have been stable, reflecting the more cohesive, collegial board you referred to above. How does that experience still argue for a national search?
While you state that Dr. Corley's tenure ended with a divided board it also ended with ALL of our employees' salaries being increased to be in a competitive range with our surrounding counties while also increasing our fund balance to a comfortable state. I believe this was due to his business perspective. Not always are we in a position to be able to promote within because of other needs as stated above.

7.      What place should standardized testing have in schools, and how accurate of a representation of a student's abilities does it provide?
I believe it is very unfair for us to use any one test to evaluate anyone, students, teachers and or administrators. Not every child tests the same way, therefore the use of one standardized test is not sufficient in testing for an individual child's academic growth.
There are too many variables with environment, intelligence levels and previous academic experiences to use one test as a measure of student achievement. The number of transient students also provides the district with inaccurate scoring. If a student registers the week before the test is given, that student is tested just like those that have been with us for years. The topics that our children are being asked to write on we don't even teach, i.e. Quilting. (Some of our children don't even know what a quilt is but they were expected to write about it). So again I ask how we can hold our educators responsible when the test itself does not hold any substance?
As far as its accurate representation I think that this year's grading systems proves just how inaccurate this test is. When the districts grades had to be changed and then weeks later we are informed that two of our schools were not graded properly, those actions speak volumes within themselves.
I do believe that our students, teachers, and administrators should be held accountable but in a much different way.

8.      Sum up your position on sex education: is abstinence-only education scientifically sound? Is it sufficient? Would you support an expansion of sex education, as was considered last year, to include broader information about and access to contraception?
I would like to believe that sex education should be taught in the home with the parents being ultimately responsible. Because of my past experiences as a school nurse I have to say that this is not happening. Therefore I do not agree that abstinence only education is scientifically sound at all. We need to come into the 21st century and understand all of the areas that our young people are experimenting in. So in this area I believe that "it takes a Village to raise a child" safely. It was a very distressing day when our state legislators made it a law that we as a school system could not provide our young adults with their options on getting medical help, education or assistance if needed. I could share many disheartening stories of what has happened to our young people because they could not reach out to someone they trusted for help.
9.      The Legislature just passed a law enabling school boards to grant students permission to conduct prayers or their variants, such as "inspirational messages," at public events. But the burden is on you as a school board member to enact a policy allowing it—or to leave the matter silent, as it is now. Understanding that private and personal prayer has never been forbidden in schools and may not be, do you think public prayer should be permissible? What will you do regarding the new law?
In past years our students had "meetings at the pole" prior to the start of the school day. I do not remember ever having any problems with this action. Therefore I could support actions similar to this although I do think that it might be a difficult task to incorporate a policy controlling unacceptable actions.

10.      Who on the board currently is the board member most closely aligned with your idea of a school board member and why?
If I did not say myself then I am not sure how else to answer this. It has been said to me many times that it is appreciated that when I take a stand on an issue I do not sway away from it and that I keep myself in the scope of my job responsibilities and description. I hope that my past 12 years have shown my passion and commitment to my position. I have taken as many educational opportunities that have been offered to me to make me understand and execute my responsibilities.

11.  If you had a choice of running the school district with a teacher union or without one, what would that choice be, and why?
Unions and employers do not always go hand in hand. That could be a good thing or a bad thing. While I was a school board employee I was not a member and the reason being the non-instructional employee union was strictly for the bus drivers. Now I know the question is directed at the teachers union. I have supported the union to the best of my ability since being a board member. This past year we had an issue where the union wanted the board to approve a Memorandum of Understanding that our attorney explained to us was illegal. Therefore the board denied the MOU. This raised a lot of conflict between us and the union which my opponent has stated is one of the reasons he is running (because of the rift between the School Board and the FCEA, referring to the News Journal article of the beginning of April).
Your colleague Colleen Conklin also opposed the MOU, but was endorsed by the union, so the checkered history only begs the question: is your preference to be with or without a union?
Until this election year I have had the Union support. My opponent being a member of their negotiating team has changed that endorsement process. I have never had negative relations with the Union and hope to continue a collaborative relationship in the future.

12. Understanding that charter schools have been the only schools to experience substantial growth in Flagler County, how do you see charter schools fitting in public-school equation, and how successful has that fit been in Flagler, with heritage's closure and Palm Harbor Academy getting an F this year?
Parents deserve a choice when it comes to their childs education.
Our board voted to deny the Charter application for Summit Academy and Corner Stone Elementary which was the first application for Flagler County. They appealed our decision and the State Board of Education accepted their application, which opened our first Charter. I was very skeptical right from the very beginning. I was not confident in the application or the plan as presented. Over the years it was proven to us that their priority did not appear to be our students' education. As a Board we gave their administration and parents many opportunities to conform to the Charter as was presented. Our recommendations were not adhered to so when they received their "F" two years in a row we were able to abolish the Charter. It is my understanding that this denial of Charter is under appeal.
The Flagler County School Board does not have any jurisdiction over any Charter. Charter schools do not have to operate by the same rules as traditional public schools. If they have a child that is unruly they simply remove the child from their school.
As far as Palm Harbor receiving an "F" grade for this past year, it puts them in the same position as Heritage – If they should receive another F in the next three years then we as a board have the right to abolish their Charter thereby closing the school. We do have a very successful Charter School – Imagine. They truly have the student's education as a priority. They have expanded their offering through the 8th grade and have done a great job. I am ultimately responsible for the education for all children in Flagler County and can support any Charter that holds our students education to the high expectations that we do.

13.  Is the notion of zero tolerance as a disciplinary approach effective?
I do believe in zero tolerance. Our students and parents are provided with the School Code at the beginning of every year which puts into black and white what behavior is or isn't acceptable. I have been an advocate for "Safe Schools" for the past 12 years. In order for our students to feel safe in our schools we have to follow the expectations as presented to them. Once you venture away from the requirements and students see this, you have lost control. I reiterate my firm beliefs in "Safe Schools."

14.   What is your position on sheriff's deputies in schools-in elementary, middle and high schools, and what weaponry should these deputies be allowed to carry in schools?
In past years we had a School Resource Officer (SRO) in every school. The cost of these positions were paid for primarily by the Sheriff's department. At the Elementary level our SROs presented alcohol and drug prevention education as well as anti-bullying classes. I was very vocal when the cuts began and when the sheriff was no longer willing to pay for these positions. So we as a school system found the dollars necessary to cover their salaries with some assistance from the Sheriff, but that is when we lost the SROs at the Elementary levels. There seems to be some better collaboration with the Sheriff, The City of Palm Coast and the School District to keep these positions at the Middle and Highs school levels.
As far ar the equipment that they should carry: Our officers are all trained in the proper use of all of the equipment that they carry. So I have no problem with them carrying their guns, mace, tasers etc. If our officer at Matanza's High School would have been carrying a taser last school year we would not have had the injuries that happened when a major fight broke out. Once again I will state my stand on Safety in our schools.

15. What is your understanding and personal opinion of the Sunshine Law, and how will you ensure that you are always operating in the Sunshine?
There are only two situations that we are able to have an Executive Session (a meeting that is not open to the public): during contract negotiations, and student discipline. Other than that all of our conversations on any issue that we might at some time in the future vote on must be discussed in an advertised public meeting. No conversations should be happening pertinent to government business at any other time. That does not prevent us from having personal conversations amongst each other.

16. You'll be making roughly $31,000 a year as a school board member. What proportion of your income does that represent, including all salaries, retirement income, annuities etc.? Former school board member Jim Guines argues that school board members should not be paid. Do you agree? Should salaries be reduced?
All Constitutional Officers' salaries are set by the State. I believe our salaries are $30,000 a year. This represents approximately half of my annual income before taxes, insurance, etc. Throughout the year there are many very costly events that we are expected to attend and in the past offering of student scholarships. These dollars do not come out of the district budget. They come from our personal checking accounts. I am not in the position to be receiving any income from any retirement or annuities at this time.
Should our salaries be reduced? Our school board has not accepted the recommended raise over approximately the past 5 years.