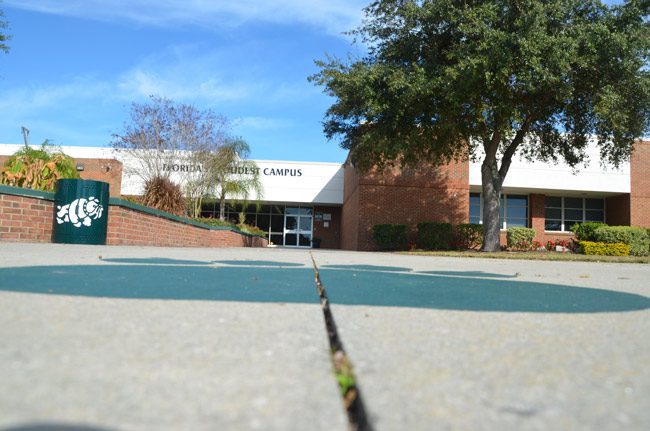 Warning: this story includes quotes of explicit, racially insensitive language.
Monday's incident that led to the investigation and removal of two Flagler Palm Coast High School students over online threats was a lot more grave than district or law enforcement officials revealed at the time: the threats, ostensibly made in a joking context, were laced in the vilest racist and violent language by the two students against their 46-year-old language arts teacher, who is black–and who had to get an extra sheriff's watch on her home.
"My nigger teacher," one of the two 16-year-old students wrote during second period Monday, "is pissing me off," adding, "Im in a bad mood already. I swear im gonna stomp on her fucking face and smash her weave into the ground," according to an incident report obtained by FlaglerLive.
The other 16 year old–one is a girl, the other a boy, both are white and from Palm Coast–responded with "LMFAOOOOOO," and writes: "Im about t stomp out of this class, Like fucking throw the desk at her and leave."
"Kill her," the other one writes.
"I will," adding: "I won't get in trouble, you know why?"
"Cuz niggers don't have rights," the other one writes. They go on to ask each other when they're going to "kill her," and one of them writes of knowing the teacher's address. They set a time: 1:35 a.m. "Okay okay good. We have a time set." One of them writes: "WERE GONNA GET AWAY WITH MURDUR TONIGHT."
"Thye gonna give you a medal for killing a nigge," one writes.
"Well its not really murder. Were doing the world an amazing thing."
The incident report adds: "The chat continues as [one of the students] continues to tell racist jokes" (sic.).
The Flagler County Sheriff's Office investigated the threats on Monday and concluded that "there is a joking manner to the conversation," according to the report. "The threats made in the conversation do not appear to be credible. There will be no charges filed at this time."
"I cannot believe that they passed this off as a joke," Linda Sharpe-Matthews, president of the Flagler branch of the NAACP, said this morning, incensed, "that anybody who'd read the hateful things that were on this, plotting, how they were going to do it, throwing a desk at her, it's a hate threat, and absolutely credible, and these students should be punished. They should at least be suspended from the school, they should be removed from the facility, at the very least. This is no joke. I don't see how anyone could interpret this as a joke. And the language that was used–absolutely not."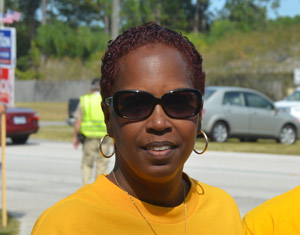 Matthews added: "My position is that it should not be tolerated, it should not be treated as a joke, it's a very serious matter, and for it to be treated otherwise shows a total disregard for racial sensitivity, and the teacher should take it as a threat, a credible threat, and I am concerned about her safety."
The students were, in fact, removed from campus and absent an override from the school board, are not likely to return there. "We're looking at a suspension and at an alternate placement," FPC Principal Bob Wallace said this afternoon. He called the language the students used "disgusting, and said the school was handling the case "appropriately."
Late this afternoon, a sheriff's official said that concluding that there is to be no charges at this time "was kind of premature."
"The sheriff is extremely appalled at the behavior of these individuals," Chief Mark Strobridge said, "and he certainly wants to make sure that there's no stone unturned in looking at this from a criminal aspect as well. Somebody being a racist in and of itself is not a crime, but if there is criminal activity there, those inflammatory statements and such could change the nature of the case." The case remains assigned to an investigator (in this case, George Hristakopoulos).
One of the students, the girl, told detectives that "the conversation was a joke and [she] she no intentions of harming anyone," according to the sheriff's report, and that she did not actually know the teacher's address. She said she was mad at the teacher because she was not being allowed to make up some work. The boy echoed the girl's statement and said, according to the report, that "they we joking and if anyone asked any student they would understand it was a joke." The boy "stated that the way he spoke with on the computer is the way that students speak to each other." The report makes no reference to either student's awareness of the violence and bigotry of the language used.
"I didn't take that as anything joking at all, myself," Wallace said, "and what I'm seeing over the years is that students through social media and technology are losing their filter, meaning they can hide behind that screen, that monitor, that piece of technology, and say and put out there things they normally wouldn't say or think about doing, because they feel immune, because they're not face to face with anybody, and it's not just this instance but other instances like this, and it's disturbing."
The two students were chatting on chatting utility through the school-issued computers. A teacher somehow noticed the line about "MURDUR," and referred the sighting to Dean Erin Davis, who then had the chat logs examined through the district's technology staff. The analysis revealed the rest of the chat.
---
An initial investigation downplays bigoted threats as jokingly made.
---
On Monday, District Spokesman Jason Wheeler said that even though the sheriff was not pursuing charges, the district would be conducting its own investigation to determine the fate of the two students, taking various factors into account.
District Board attorney Kristy Gavin was aware of the case but not involved. "I'm certainly available if they need guidance and assistance but I'm not involved at this point," Gavin said. "We try and keep things without it being elevated up, we try to keep things at school-based level or department level. We attempt to provide the training to the administrators so that they're comfortable in making decisions without having to involve me on every situation." She said the student Code of Conduct and district policies would be controlling, though both address the current issue only tangentially and generally.
The closest application of the code to the present case is its cyberstalking provision: "Cyberstalking as defined in s. 784.048(1)(d), F. S., means to engage in a course of conduct to communicate, or cause to be communicated, words, images, or language by or through the use of electronic mail or electronic communication directed at a specific person, causing substantial emotional distress to that person and serving no legitimate purpose." The two students were referring to a specific person, but not directing their language at that person. The code also refers to "Use of technology/computer resources in an unacceptable manner, but without meaning to harm others" (though the examples the code provides hew more toward accessing unauthorized websites than exchanging slurs and threatening statements about a third party) and the vaguer "Non-threatening activity that is not appropriate in a school setting."

"If a conversation is happening and a statement is said and it is known to not be serious, that's one thing," Gavin said, "but at the same time if it's a slur, it doesn't matter what you're getting at, still can't do it. It's not an easy area, it's a gray area and you have to take it on a case by case basis in looking at it."
The a "matrix" applies in deciding what penalty the student may be exposed to, Gavin said, with previous behavior taken into account.
Addressing the matter later this afternoon, Wallace said that he'd been told the sheriff's investigation was still ongoing, and that it was taking place independently of the school's. But as far as the students were concerned, the recommendation will be that they be enrolled in Rise Up, a home-instruction program, and that they not return to FPC. It'll then be up to the district to place them elsewhere once their suspension runs out. No student may be expelled for more than a school year.
That students claimed they were chatting with each other as they normally would speak with each other suggests that racist slurs may be bandied about with a carelessness or contempt disproportionate to the gravity of the slurs. But officials from the NAACP's Matthews to Gavin to both FPC's current and former principals say there is no racial problem at the school.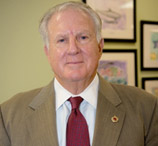 "In the short time that I've been here, I would have to say no," Wallace, who took over for Dusty Sims just as school was starting this fall, said. "I think I've seen everyone here seem to get along, and there's, again, it's a very short snapshot, but I'm very proud of how our kids interact with each other and with their instructors as well."
Sims–who took a job with the state Department of Education, but who still lives in the county–echoed his successor. He worked at FPC for 15 years. He said what attracted him to the school was its "melting pot" atmosphere, the ability of its immense student body (whose 2,600 students are close in number to the total population of Bunnell) to mix students from the West side with Palm Coast urbanites, Flagler Beach and everything in between. There's been issues, Sims said, recalling problems with the Confederate flag in a truck's bed a few years ago, racial language used here and there, but the problems have been isolated. "They all just got along and it works," he said of the student body. "It's always been really positive."
Matthews herself concurs, being more surprised–and shocked–by Monday's incident, and bothered by the sheriff's muted response, than worried about anything systemic. She said racial problems date back several years to the early days of Matanzas High School, where the student body was initially predominantly white.
FPC, despite its size, she said, and because of its greater diversity, has had it calmer. "I'm really surprised that as diverse as FPC has become, this is still going on," Matthews said. "This isn't just throwing around the N word, this is just hateful. It's not the lyrics in a rap song. This is hateful. This is students who'll be sitting around a classroom with a teacher of color or students of color. This is how they feel, they put it in writing, and that's learned behavior, they have to feel that it's OK and they're going to get away with it, and they are. This is why I don't understand why the sheriff's department doesn't take it seriously. Well, I understand why the sheriff's department doesn't take it seriously, because they're not diverse and they're not tolerant, either."
The NAACP and the sheriff's office have had their issues in recent years. Hearing Matthews' comments, Strobridge put it this way: "From Sheriff Staly on down through the Flagler County Sheriff's Office, we all are responsible to all the citizens of this community, and every crime is reviewed as a serious nature regardless who the person is, what they believe, or the color of their skin."
Wallace flatly rejected the notion of Monday's incident as "kids will be kids," giving no room to the notion that the incident could be rationalized, and said "it's disappointing we have this spike."
There are 16 black teachers and six black staff members at FPC out of a total of 185, an 11 percent ratio that matches precisely that of Flagler County. The ratio would be lower if non-faculty members are excluded. District-wide, just 3 percent of teachers are black. The district-wide proportion of black employees rises to 11 percent when service employees are included.

FlaglerLive is part of ProPublica's Documenting Hate network.