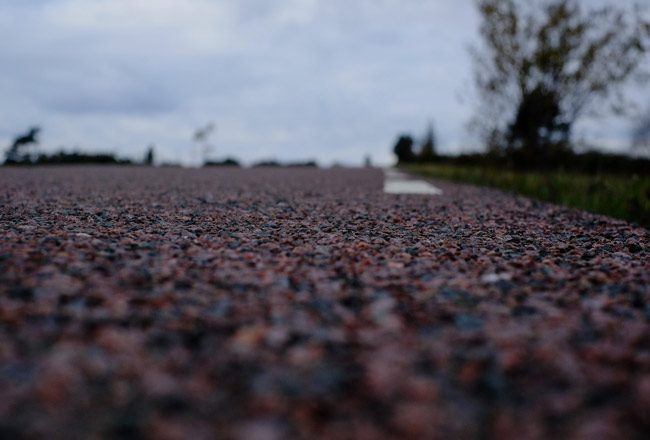 One of Palm Coast's most successful programs in the past decade and more has been its road-maintenance. A sales surtax helped pay for a 10-year, 50-miles-a-year resurfacing plan that ended in 2012. The city has been resurfacing smaller segments since, based on what's most needed. In early June the council approved a $1.5 million plan to resurface 13 miles of streets that need it most through the city, a plan that also included surfacing a controversial foot path through the F Section.
That's been the city's only approach when it comes to street maintenance: resurfacing or nothing. "Well," Howard Luxhoj told the Palm Coast City Council Tuesday evening, "that's kind of the 1965 method of doing. It's a great method, but unfortunately it's very expensive. It really is a beautiful surface when it's finished, but it's very costly." In actual dollars, it costs about $50,000 per lane mile, or $100,000 per mile for a typical two-lane Palm Coast street.
There are alternatives, among them asphalt "rejuvenation," at $6,000 per mile, which applies a coating of oils that soaks through the asphalt, replacing lost oils, making the asphalt more flexible again and less prone to cracking. There's "microsurfacing," a relatively new process invented in 1980, which inexpensively applies a new protective coat of blended asphalt and fine gravel to a road surface, sealing cracks and extending a road surface's lifespan by several years. Microsurfacing is estimated to cost $25,000 a mile.
Many cities use the less expensive methods. Palm Coast never has. It may soon, though before such savings, the city will have to front more money to a consultant to figure out how and where to do it. The Palm Coast City Council Tuesday evening voted 4-0 to approve a $210,000 contract with Luxhoj's Transmap Corp., a consultant that will analyze the city's streets and come up with a "master plan" (a fancy way of referring to a report) on what to do next to the city's 1,186 lane- miles of roadway.
Hiring the consultant "puts us into more modern times in determining what streets need to be paid, what's the best maintenance item or process for those," City Manager Jim Landon said. He did not explain why that had not been done before or why the city was not equipped to do the job it was turning over to a consultant—a decision the council was not involved in until Tuesday evening.
---
"This will allow us to figure out what actually needs to be done."
---
"This will allow us to figure out what actually needs to be done," Sean Castello, the city's traffic engineer, said. "Unfortunately, this type of work is very specialized." He said cities of Palm Coast's size have staff dedicated to pavement maintenance. "We don't have that. So right now we're not entirely going blind but we're having to use our best judgment to see what really needs to be fixed, where if you get folks like Howard and Transmap, they actually know this stuff, they actually know what they're doing."
In the first phase, the consultant will provide maps, a five to 10-year master plan and a "report book," plus web-based access to its work, and a "crack intelligence report"—in essence, an overview of road conditions. Phase two "deliverables" repeat most of those of phase one, with some variation applying to sidewalks and pathways, though "roadway assets" and "pathway assets" are different ways of describing what would be in the master plan. There would also be more maps, more reports, more web-based access to data.
For that, phase one—the street survey and master plan–would cost $165,000. Phase two, which would provide a survey of striping conditions and an inventory of sidewalks, would add $46,000. Total cost: $211,000.
Luxhoj, Transmap's CEO, more clearly explained the actual work his company will provide: "We go out with the technology and we make measurements. We run this fancy van with lasers and cameras, lasers measure the depth and the width and the length of all the cracks. All that data goes into an Army Corps of Engineer tool that 625 cities across the US use called Micropaver, and Micropaver takes all that data in, it takes all of the traffic data, it will take in what the average daily traffic is, it will take in—is it a collector road, what's the condition, how was the road built, what's the surface type, is it a concrete road, is it an asphalt road, what's the base, that kind of stuff. All that information goes into this big software tool that is open source, that's run by Army Corps of Engineers." It then spits out a work plan. "Micropaver will say, well, tell us what you like, what is acceptable to you and your constituents, and then you start making decisions based on what is really going on with the road."
"What this is going to do, just to summarize," Council member Steven Nobile said, "it's not going to change the budget, we're still going to spend the same amount of dollars, but it's going to be better targeted at streets that require more, and hopefully help us to get more out of our buck."
A few people spoke to the council before its vote, among them former Mayor Jon Netts (who may be mulling another run for office). "I heard some terms of art, micros-resurfacing and rejuvenators," he said. "I just want to caution council that early on in our road program we tried something called chip seal. If there was something that we did that the public didn't like, that was it. The damage that we did to driveways, private driveways and so on and so forth was immeasurable. Let's be certain as we look at these options what we're choosing is not something that's going to bring the public out with pitchforks and torches. No chip seal, please."
There appear to be no chip sealing in Palm Coast's future.

Palm Coast's Pavement Management Presentation