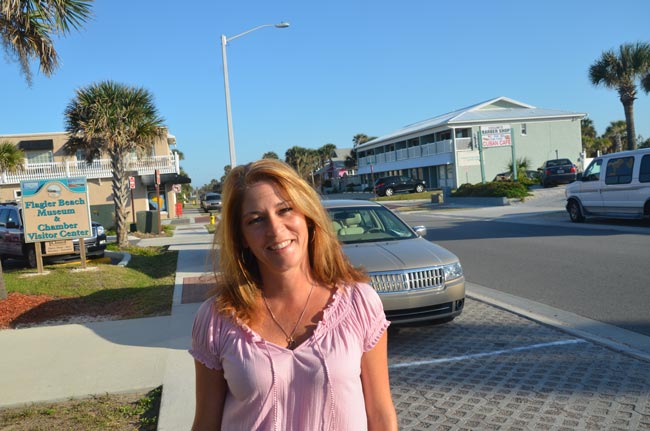 Roving vendors on wheels in Flagler Beach may soon be regulated by new city rules, although "soon" is, as always, a debatable term when timetables of the Flagler Beach City Commission are in play.
Commissioners agreed unanimously Thursday evening to have their city manager and city attorney draft either a new ordinance or new licensing rules that would define where, how and how often roving vendors would be allowed to operate in the city–and which type would be banned. Thursday's decision reverses what amounted to a  non-decision two months ago that, after one commissioner's attempt to start regulating vendors, foundered in the face of intense opposition. That opposition was largely absent Thursday. (Most of the people in the audience had turned up for a later issue: bonfires on the beach.)
You can buy ice cream from roving ice cream trucks in Flagler Beach these days, as you can in the rest of the county and its other cities. Sandy Kinney and her ice cream truck make the rounds from time to time. She also sells at Flagler Beach's special events such as First Fridays. It doesn't make local ice cream shops happy: they've invested in their locations, paid their business licensing fees and developed their clientele, which they see undermined by a roving ice cream truck. But many other businesses saw no issue with the roving truck, seeing it as part of the local business fabric that adds overall activity rather than subtracts from it.
Back in February The Flagler Beach City Commission attempted to regulate roving vendors, with Kinney's  ice cream truck as the focus (or pretext). Commission Chairman Jane Mealy supported an amendment to a city ordinance that would have forbidden roving trucks from operating in the city's right-of-ways.
Kinney  organized a very effective campaign that defeated the move for additional regulation, essentially leaving city code as it is: silent on the matter of roving food vendors. But Mealy predicted the matter would be back for discussion.
On Thursday, it was. City Commissioner Steve Settle brought it back in the form of a new proposal: roving vendors would be allowed everywhere except along State Road A1A and in the area of the city known as its CRA—its Community Redevelopment Agency, which is another term for its downtown area, where the city has focused investment to beautify and revive it.
"This is purely public safety," Settle says. "The idea is not to have mobile vendors stopping along those types of roadways," he said, so there'd be no risk to foot traffic.
Some commissioners bought into the idea, but only as far as State Road A1A was concerned—not downtown, where, Commissioner Kim Carney said, "I would think that that's the most desirable area for any type of vending." Linda Provencher, the mayor, didn't like the specificity of Settle's approach. And Mealy stood by what she'd said in February, opposing the notion of roving vendors not quite on safety grounds.
"I just don't think this is something that's for Flagler Beach," Mealy said, citing the risk of opening the way for all sorts of mobile vendors to start streaming into the city. Vendors are popular in big cities, she said. They'll be trickling down into smaller cities. "I don't think that was the vision of what Flagler Beach was supposed to look like."  She added:  "I just want to make it clear it's not just about the ice cream truck."
This time there were far fewer people in the audience: almost half the room was empty, as opposed to the February meeting when the room was full. Last time the public was not allowed to speak, because the commission was not voting on the matter—or, rather, did not vote. But the floor was opened for comment this time, including to Kinney.
"I have had no safety issue, I've been all over the city, and I personally would not go on A1A and I would not go on 100, because it's not safe." But, she said, she has many customers in the downtown area, and would not want to lose them. A few other people spoke, mostly in support of keeping matters as they are. One person suggested a middle ground, but without specifics.
"I'm in favor of vendors," Commissioner Joy McGrew said, but she was willing to look at a possible ordinance regulating food trucks. Commissioner Marshall Shupe doesn't oppose ice cream trucks and their like, but he's categorically opposed to letting vendors hawking such things as watches stop in town, open their trunk and sell.
"A lot of the concerns that occurred could be somewhat addressed through the licensing," Drew Smith, the city's attorney, said by way of suggestions after the commissioners had had their say. The amount of time trucks set up in a single spot could be limited. Tonnage could be regulated. Even safety could be a legitimate reason to regulate the trucks, because, Smith said, "it's the possibility of having a whole bunch of vendors in the city" that's being addressed.
Settle floated a proposal: have the city manager come up with a  permitting or licensing structure that would regulate the activities the commission was discussing–"what kind of food truck would be allowed," Settle explained, "what kind of licensing would be allowed, to give us a discussion piece that we could tear apart." That's what the commission agreed to.
It doesn't mean the regulations will be approved, of course: such things move at a very slow pace in Flagler Beach. But it appears clear that for now, the commission is ready to move from no regulation to some regulation of roving vendors.