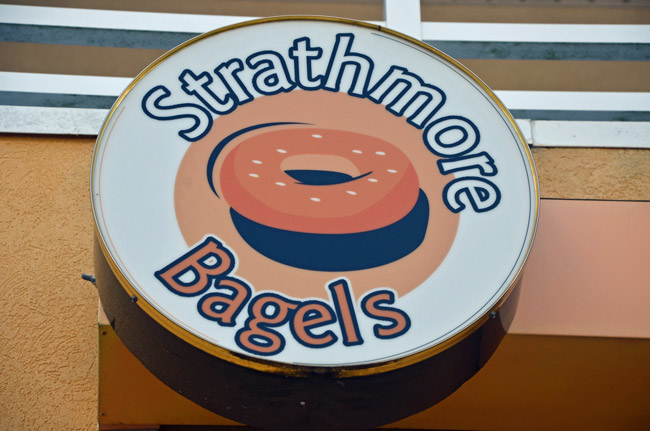 As patrons of Strathmore Deli tugged on the shuttered doors of the popular restaurant at Parkway Plaza in Palm Coast less than three weeks before Christmas, the story from its owners was that keeping the place open had become too difficult: overhead was too high, and customers too few, even though, to anyone familiar with Strathmore (later renamed Best Bagels and Deli), the restaurant looked like one of the busiest in town.
The reality appears more complicated than Karyn and Alan Phillips portrayed it.
Although they shut their doors at the end of business on Sunday, Dec. 5, and stunned many of their 22 employees when they told them only then that would not reopen again, their landlord, Palm Coast properties, had served them on Nov. 22 with a three-day notice of rent default. They were two months behind, owing $13,618, and into their third month of non-payment. On Dec. 15, they were served with an eviction notice, and by then owed $19,823.
It's gotten worse for Alan Phillips. In January 2007 he took out a $250,500 loan at 7.74 percent interest. Last week, Wells Fargo (as successor to Wachovia bank, the note's holder) sued Phillips for non-payment on $146,500, including interest, according to court documents.
The property is managed by Commercial World Real Estate, which has indicated that the restaurant may open again soon, under the ownership of Ed and Grace Tutak, both of whom are originally from New York. The Tuaks have worked in Flagler County schools.
Court papers on Strathmore Deli indicate that the original 10-year lease was signed in December 2006, with two 5-year renewal options. The initial base rent was to be $7,470. There would be an additional sales tax and CAM charges—so-called "common area maintenance" charges that landlords and mall owners charge their renters to manage and maintain the property. Several subsequent amendments to the lease lowered the base rent to $4,177, so that the total monthly cost, including tax and cam charge, came out to $6,608. The last amendment went back to June 2011.
The restaurant was large enough to seat 100, and according to Alan Philips served about 300 people a day—not enough to sustain the operation, he said in December. After closing Strathmore, the Phillipses opened Best Bagels and Deli Too on Grenada Boulevard in Ormond Beach, in their son's name, still catering and supplying daily batches of bagels to, as they have in the past, Sub Base and Bagel Place in the Staples shopping center. The original deli's closing has been a boon to Scoops Café at on Palm Coast Parkway.
Court papers point to additional issues in the past for Phillips. An employee, Ashley Panis, sued him in January 2009 over overtime wages she said had not been paid. The suit was settled in October that  year, with Phillips required to pay $7,500 (Panis was to get $1,925 and her Hollywood, Fla.-based attorneys at Card & Glenn $5,575). The money was due in November. When it wasn't forthcoming, Panis sued for breach of contract in January 2010. The following month, Sid Nowell, who had represented Phillips, withdrew as his attorney. Phillips claimed in a letter to the circuit court that he'd only delayed paying because he objected to the disparity in what he owed Panis as opposed to what her attorneys were claiming. But the court had taken that into account and noted in the settlement agreement that the fees were not "unreasonable." The firm also reduced its fee by about 35 percent.
Phillips "My only dispute in this entire case was the amount of the legal fees," Phillips wrote the court in late March 2010. "After interviewing several attorneys I was advised that my opportunity to contest these fees was only when the judge was reviewing this evidence. It seems I lost my right to question these excessive fees. As difficult [as] this was to accept for a small struggling family owned business, I mailed a check on March 15th in the amount of $5,575, which was cashed on March 17, 2010."
Phillips was also sued for breach of contract by G&K Services, the industrial uniform company, in November 2008, near Strathmore's second anniversary. He'd signed an 84-month contract with the company for aprons and towels, which the company services, laundering the material and delivering it. The origin of the dispute isn't clear, although Phillips amended the length of the contract to 36 months, which incurred a fee. He'd been unhappy with the company.
"Right from the beginning I had many problems with G&K Services," he wrote the court in December 2008. "We were basically left with no service. We were in such dire need of product that we had to launder the towels and aprons ourselves." So he contracted with another service "out of desperation." In the letter, Phillips said he'd once paid the $892 in dispute, but the check was never cashed. He said he was reissuing the check. The case was dismissed in August 2010.