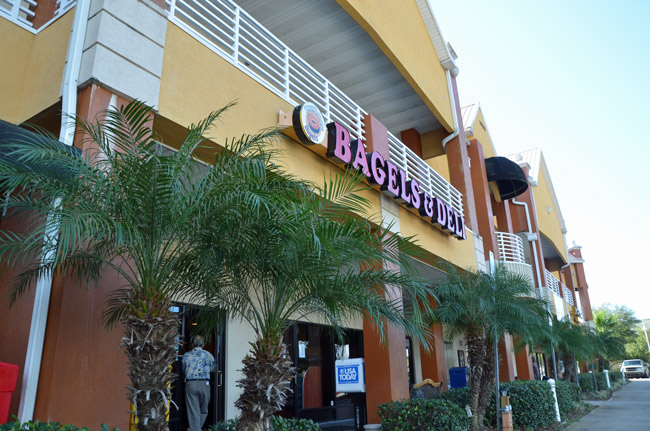 All morning and lunchtime yesterday and today people have been walking up to the doors at Palm Coast's Strathmore Deli—also known as Best Bagels & Deli, though that name never quite caught on—only to see a one-page notice, in caps, pasted three times over on the glass storefront: "WE HAVE MOVED OUR LOCATION TO ORMOND BEACH IN THE PUBLIX SHOPPING CENTER ON THE CORNER OF W. GRANADA BLVD. & WILLIAMSON BLVD. PLEASE VISIT US THERE FOR THE SAME GOOD FOOD. WE ARE SORRY FOR ANY INCONVENIENCE AND WANT TO THANK EACH AND EVERY ONE OF YOU FOR YOUR LOYALTY AND PATRONALGE."
The restaurant, big enough to seat 100 people, was open and doing its usual brisk business Sunday. Then, quite abruptly, it was over: some of its 22 employees had known that the place was shutting down. Some had not. They were told. And four years after Strathmore opened its doors, becoming something of an institution for local and far-flung patrons, it was gone. The owners were there Monday and Tuesday to tell customers in person, as often as possible, about the closure.
For Karyn and Alan Phillips, the deli's owners, closing and moving the business has been "traumatic" and "a heartbreak," in Karyn's words, but made inevitable by the high overhead and a clientele that still wasn't big enough to support the operation, especially in light of the area's depressed economy and recent lunch competition from the newly opened Olive Garden, which Alan says has resulted in a drop of up to 20 to 25 percent in business this year compared to last.
For other businesses in Parkway Plaza, the small strip-mall where Strathmore was the anchor, the restaurant's departure is a blow being felt especially by a place like The Sweets Boutique, which the mother-daughter team of Ginnie Mercer and Rachel Ross opened just five weeks ago. "We came here knowing all the traffic they pulled in," Mercer said, standing at the door of her business that, in some 20 minutes this morning, wasn't pulled open by a single person—unlike days when Strathmore was open, and when its patrons, whether waiting for a table or walking by, would easily drop in at the Boutique. "Would a store open up in the Target shopping center if Target weren't there? So I'm not sure what I'd have done in retrospect if I'd known. It's just disappointing. So we've got to figure out a new way of generating traffic in here."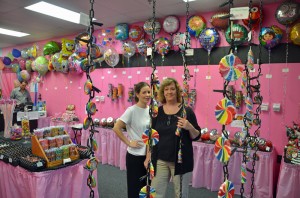 And for Palm Coast, Strathmore's disappearance is yet another blow to an employment and commercial base struggling to recover from the 2008 crash. Without an anchor, the health of Parkway Plaza's future is tenuous, especially with a new commercial development built literally across the street, along Cypress Point Parkway. The Plaza's empty storefronts will add to those at City Marketplace, also within walking distance, at Roma Court, at St. Joe Plaza, and at Palm Harbor (where another long-time presence, Discount Liquor Emporium, is closing its doors). It's not that new businesses aren't trying to make a go of it: they are. The Sweets Boutique is an example. But keeping the doors open is the challenge.
"If you lose 10-15 percent of your base and you're in a marginal situation, that can push you over the edge," Alan Philips said this morning. A significant share of his clientele was from out of the county, he said—St. Augustine, Jacksonville, Orlando, Ormond Beach, despite a population base of 75,000 in Palm Coast alone. But between the increasing costs of gas and food, plus Olive Garden, he had no choice. "How can I raise prices in Palm Coast with everything going on?" he says. "Frankly, who is succeeding in Palm Coast? Palm Coast is an economically depressed area right now. I don't think anybody can dispute that." He adds: "I'm not leaving Palm Coast because I want to."
The New York-style deli had a somewhat pricey menu but an almost universally good reputation for varied and excellent food in generous portions, catering, private parties and even the occasional wedding. The serving staff was brisk and numerous, the atmosphere inviting and reflective of the Phillips's combination of affable and outgoing. Karyn has been involved in numerous community organizations—she serves on the board of the Palm Coast Repertory Theatre, she started the local chapter of Toastmasters, she is involved in the United Way and Chicks with Cans, the food-raising powerhouse for the poor, and has ensured that the deli has maintained a open pipeline to local food pantries. But a few months ago she had a heart scare, spent four days in the hospital and was later diagnosed with takosubo, also known as broken-heart syndrome, a stress-related condition that replicates the symptoms of a heart attack.
"There comes a time, especially after my little scare, where you've got to change your life around, and it's funny at Toastmasters I've given speeches on that. Don't start living when it's too late," she said. So closing was a necessity. "It's very traumatic for us and very upsetting, and we should have done it two years ago."
Traumatic for unexpected reasons. Some of the employees were invited to work at the Ormond Beach location, but some were not. The Ormond Beach store is not a sit-down restaurant. It's smaller. It employs less than half the staff that Strathmore did. And the handling of the closure of the restaurant may not have been handled in the most diplomatic way possible, triggering anger, altercations and threats. The Phillipses have been called at home and threatened, anti-Semitic slurs have been leveled at Alan, rumors have flown about the reasons behind the business' closure—that it wasn't paying its bills, that gambling was involved, and so on. Alan doesn't hide the fact that he's a tournament poker player, good enough, his wife said, that his tournament winnings have enabled the couple to pay bills rather than the other way around. Asked if the restaurant was current on its rent, Alan declined to say, saying it's not anyone's business to get into the business of the restaurant. Karyn said there were "issues" with the landlord, but would not elaborate.
Late Sunday evening, after the business had closed for good, three ex-employees showed up in the parking lot, angry. The transcript of the 911 call describes a scene where the ex-employees threatened those still at the restaurant and "that they wished RP dead." RP is short for "reporting party." In this case, it refers to Alan, who called 911. "Employees know where he lives and where his other business is," the 911 dispatcher reported. The investigating deputy summed up the incident this way: Philips "Advised that he closed the business down without notice and terminated all the employees. The three ex-employees listed in the case came to the business while he was taking the supplies out and began calling him names and expressing their dislike toward him. They did not threaten to do physical harm, just expressed how they felt by using profanity."
To Alan Phillips, that and other incidents, including the threatening call at home, have left him shaking his head and repeating that the business could not go on operating on 300 customers a day with the overhead it had. "If they want to enjoy my food," Alan said, "let them come to my son's place in Ormond Beach." (The new business, which opened just a few days ago, is in his son's name.)
Same with Karyn. "Here we were thinking about our employees, our customers, our community, and we were always last on that totem pole." No more, she said: she wants to have time for a little living. And there's always the deli in Ormond. "We did everything in our power but the well ran dry."