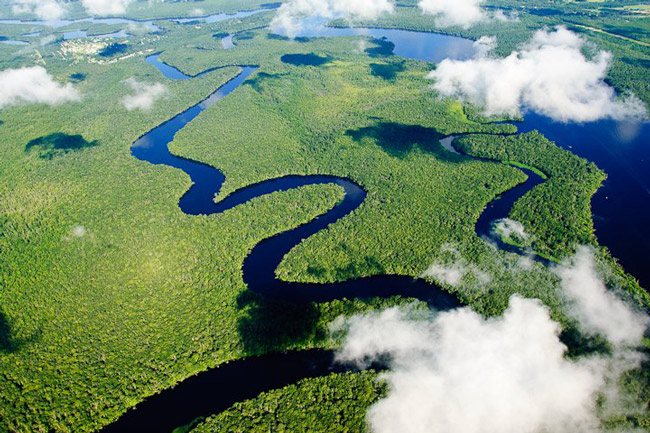 The St. Johns River Water Management District Governing Board approved a tentative budget Tuesday that reduces the property tax rate  while continuing to fund initiatives to protect the region's springs and the Indian River Lagoon.
All property owners in Flagler County, including all its cities, pay the water management district's tax. Flagler is one of 18 counties in the St. Johns district.
The tentative 0.3283 millage rate (or 32.8 cents per $1,000 in taxable value) is about a 1 percent decrease from the current year's millage rate and would result in $80.6 million in property tax revenue for the district. The total $135.5 million proposed budget is slated to be funded with the property tax revenue, plus state, federal and other sources (including timber sales, cattle leases, interest earnings, permit fees and fund balances).
For Flagler County residents, the tax rate means that a property owner with a $150,000 house and a $50,000 homestead exemption will have a $33 bill from the district. The tax bill is included as a line-item among all other municipal, school and county taxes. The owner of a $200,000 house with a $50,000 homestead exemption would pay $49.25.
"This proposed budget ensures that our priority water resource protection projects are sufficiently funded," said Board Chairman Lad Daniels. "By focusing our work on core missions and strategic priorities and leveraging our resources through partnerships, we are able to reduce the burden on taxpayers and continue to enhance our effectiveness."
The proposed budget includes at least $13.3 million in cooperative funding for 22 reclaimed water and water conservation projects, springshed nutrient-reduction projects, and enhancements to wastewater treatment and water distribution systems with local governments and other entities.
Some of the major projects to be funded in the budget will focus on springs protection, the North Florida Water Supply Partnership, the Central Florida Water Initiative, and minimum flows and levels prevention and recovery. The tentative budget also includes funding for:
Construction of the Fellsmere Water Management Area and the second phase of the Canal 1 Rediversion Project in Brevard and Indian River counties, which are among the final components of the Upper St. Johns River Basin Project.
Projects to reduce nutrient pollution in Lake Apopka in Orange and Lake counties and Lake George in Putnam and Volusia counties and downstream water bodies by removing "rough fish" species, primarily gizzard shad.
On-farm and regional water management cost-share projects that reduce nutrient discharges to the St. Johns River, improve water conservation, and result in more efficient farmmanagement in the Tri-County Agricultural Area of Flagler, Putnam and St. Johns counties.
Expanding data collection to support priority District initiatives.
The Board approved a ranking of applications that provides funding for 22 projects with local governments and other entities in fiscal year 2013-2014, which begins Oct. 1. The projects will be located in nine counties — Alachua, Clay, Duval, Flagler, Lake, Marion, Orange, Seminole and Volusia. The 22 projects represent a total of $59 million in construction costs among all of the partners.
"We chose projects for funding that have the highest economic and water resource benefits," Daniels said. "The cooperative funding that the Board approved will save millions of gallons of groundwater a day, protect and restore springs, and support other critical District initiatives."
The District received 42 cooperative funding project applications during the submittal period that ended May 1. The 22 projects slated for funding emerged as priority projects following an intensive and objective evaluation of each application.
Public hearings on the tentative budget will be held at 5:05 p.m. on Sept. 10 and 24. Final budget adoption will occur at the Sept. 24 meeting at the district's Palatka headquarters at 4049 Reid Street.