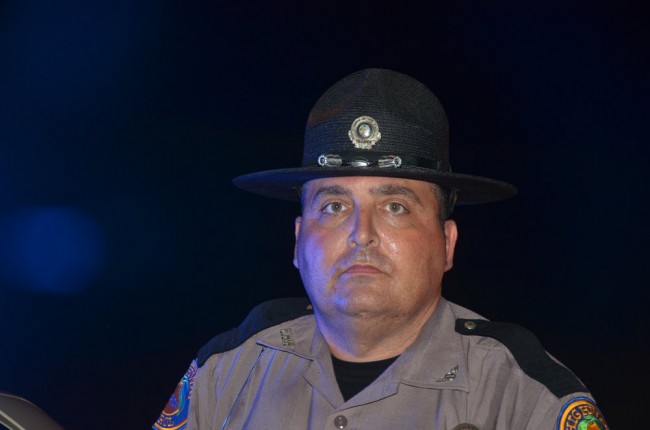 The Florida Highway Patrol's Cpl. Steven Howard doesn't often smile. He's a homicide investigator, which means he sees the consequences and investigates the causes of some of the most violent road accidents on what are considered to be some of the nation's most dangerous roads. At wreck scene—Howard is part of the FHP squad assigned to Flagler and St. Johns counties—he is all business: meticulous, thorough, impatient with anyone and anything that doesn't have to do directly with the job at hand. His seriousness hides a wry sense of humor, not uncommon among homicide investigators who have seen it all.
On Wednesday, Howard, a 13-year veteran with FHP, had plenty of reasons to smile. He saved a 59-year-old woman's life on the side of I-95, just north of the Palm Coast Parkway exit.
"I don't call it exciting," he said later in the afternoon, characteristically downplaying the incident. "I just call it doing my job."
This morning FHP troopers were asked to patrol I-95 not to write tickets, but to be on the look-out for drivers in distress, or needing any sort of help, because of the weather. "They said we needed extra patrols out on the highway," Howard said.
At 10:30 a.m. Howard was driving his cruiser northbound. He had just passed the Palm Coast Parkway exit, and was around mile marker 293, when he noticed a Grand Marquis in the grass, as if edging toward the wood-line in a strangely controlled maneuver. Something was amiss. Howard pulled over.
"When I walked up to the car," he said, "I saw a woman in there. She seemed like she was sleeping, so I started knocking on the window. There was no response."
The woman, Linda Lacorte of New Smyrna Beach, was not sleeping. But she was not well. Looking in from another angle, Howard could see her eyes rolled back. She was sweating profusely. The side of her mouth was drooping. He thought she was having a stroke. "Then she got into a seizure, a really violent seizure," he said.
And the Grand Marquis' doors were locked.
Howard retrieved his PR-24 baton. "I'm going to burst out the window and I'm yelling at her and yelling," Howard said, describing how he was banging the baton against the window briefly, trying to catch Lacorte's attention. "Based on the severity of what I was observing, I don't know how bad it was going to get," Howard said. But somehow,  "she's able to look at me and finally open the door."
The intensity of Lacorte's seizure lessened and she tried to speak, but her words were slurred and the side of her moth distorted. "She thought that my banging on the window was someone who had crashed into her. She was that confused," Howard said. Meanwhile he'd called a rescue unit and had contact with Randall Naugher, another FHP investigator also assigned to Flagler and St. Johns. Naugher was further south, but he saw the Flagler County Fire Rescue unit rush north on I-95 and was able to let Howard know the unit was on its way. He too soon got to the scene.
"It makes me feel good when you help people—and they're alive," Naugher, who sees his share of mayhem on the roads, said.
The rescue unit got to the scene within 10 minutes. Lacorte was taken to Flagler Hospital in St. Augustine, and was being taken to get scanned when Howard arrived there. Her condition was not known this afternoon.
Howard did not seek out the attention today: a reporter asked a colleague to reach him for an interview.
"We don't always go out just to write tickets," Howard said. "We do when we feel it's necessary, but that's not our sole function, and today is a perfect example."