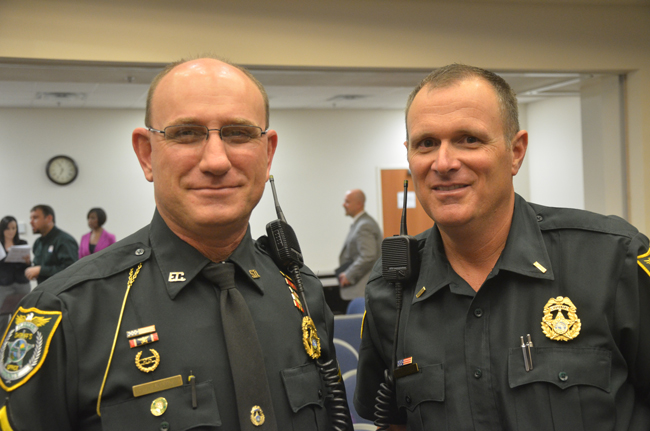 When Steve Cole was appointed supervisor of the Flagler County Sheriff's Office's corps of school resource deputies in January, Sheriff Jim Manfre expected that group of cops to almost double in size. The school district wanted to return school cops to elementary schools by this month. But to pay for the expansion, the district had pegged the pledge to the success of a school-tax referendum in May. That referendum failed. The expansion had to be shelved.
Along the way, and for unrelated reasons, Jack Bisland, head of the sheriff's investigative division, resigned his $83,000-a-year position after just six months on the job, choosing to return to the State Attorney's office and resume his former job there as an investigator.
On Friday, the sheriff's office announced that Cole, formerly a lieutenant and now a commander, would be the new head of the investigative division, overseeing 16 investigators and 11 other people, including six school deputies, whose day-to-day duties will be overseen by Cpl. Don Apperson. (The school cops are part of the same division).
"Commander Cole is a veteran law enforcement officer who has built his career in Flagler County," Manfre said in a release. "He has shown his commitment to this community and he is extremely qualified for this post."
The division's major-case investigators have been busy this year with the homicides of four individuals on Manfre's watch, two of them unsolved.
The position of lieutenant in the investigation division, previously held by Cole, is being eliminated. Two other management positions are also slated to be eliminated in the next few months. "These moves are an effort to reduce the top heavy management of this agency and reduce our operating costs," Manfre said. The division is adding a civilian crime scene technician. Among the 16 investigators reporting to Cole, seven work in property crime, five work major cases and four work narcotics.
Cole joined the sheriff's office as a road patrol deputy in 1994 and has since served in almost every division of the agency, including many years as an investigator and supervisor in the investigative division, where he became a corporal, focusing on gangs, crimes against children, homicides and lesser crimes. In 2007, he was promoted to sergeant while directing the investigations division. In November 2011, he was promoted to Lieutenant and served as a Watch Commander for the Road Patrol Division until January 2013 when he was assigned to the investigations division and appointed supervisor of the School Resource Division and Special Victims Section. (His as a lieutenant was $77,000. His new salary will be $83,000.)
While in the ISD, Cole headed up two long term Racketeering Investigations that included the dismantling of a local "Blood" street gang and a career criminal burglary ring, the sheriff's office noted in a release. He was recognized for his work by the State Attorney's Office and the Office of Statewide Prosecution. These racketeering cases are the only such investigations that the Flagler sheriff's office has conducted in the history of the agency. Cole is also the only member of the FCSO to hold a "Top Secret" clearance from the FBI.
He is a graduate of Flagler College where he obtained his Bachelor's Degree in Public Administration before continuing on to obtain his Master's Degree in Public Administration with a Concentration in Public Safety Management from Walden University. Cole is an adjunct professor at St. Johns River College.