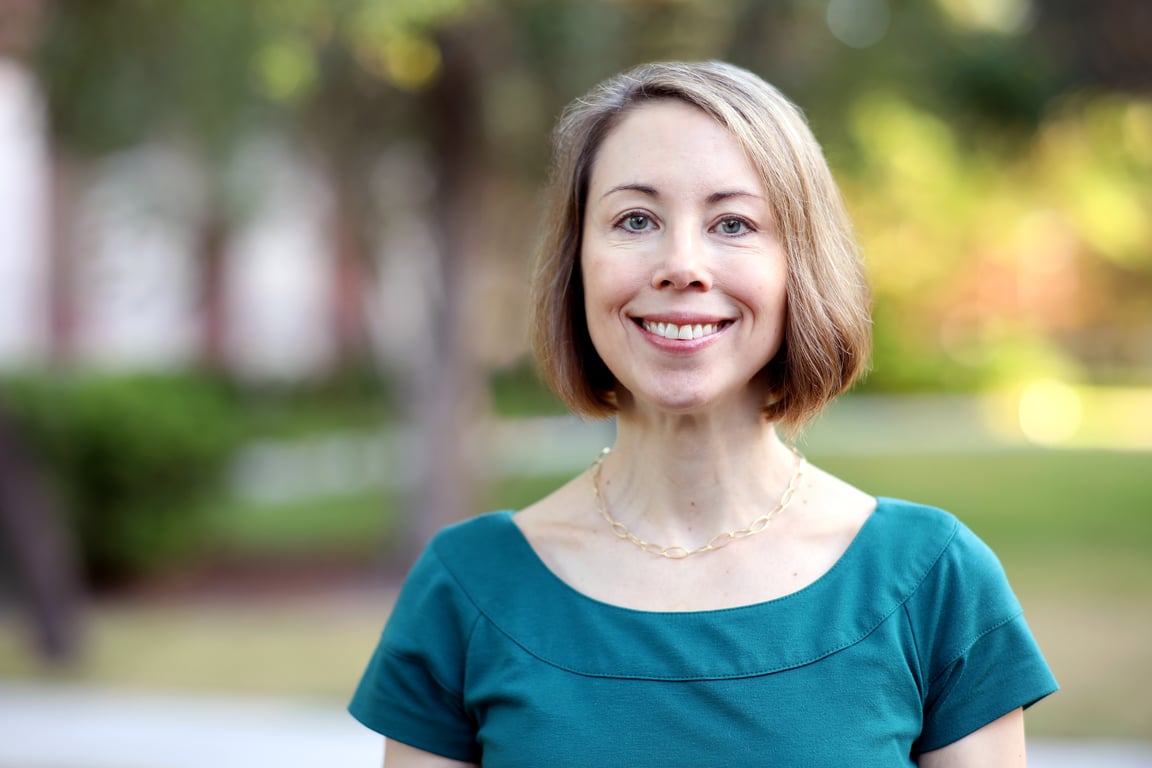 Stetson President Christopher F. Roellke, PhD, announced that Elizabeth Skomp, PhD, will serve as the university's next provost and vice president of Academic Affairs.
Since joining Stetson in 2019, Skomp has served as the dean of the College of Arts and Sciences, and professor of World Languages and Cultures (Russian). Prior to that, she was the associate dean for Faculty Development and Inclusion, and professor of Russian at the University of the South (Sewanee).




"Stetson is so fortunate to have secured Dr. Elizabeth Skomp for this vital leadership role," Roellke said. "Dr. Skomp is a champion of a broad liberal arts education and is also highly skilled in addressing the myriad of challenges and opportunities contained within the higher education landscape."
Skomp was selected following a thorough and comprehensive internal search that began last year after Noel Painter, PhD, announced he would step down as provost and executive vice president on June 30. Painter will take a much-deserved sabbatical after his seven years of exceptional service as provost and then return to the faculty in the School of Music, where he has served as an award-winning teacher and scholar. 
Skomp will begin her new role as the university's chief academic officer on July 1.  An interim dean of the College of Arts and Sciences will be appointed shortly, and a national search for Skomp's successor will launch in Fall 2023.
"During my four years at Stetson, the evident commitment to creating transformative learning experiences for our students has impressed me time and again, and Stetson's mission to provide a 'creative community where learning and values meet' has resonated deeply with me since I first began to engage with the university," Skomp said.
"As we prepare to enter the institution's next chapter, I am eager to lead the university's academic endeavors in partnership with deans, faculty, staff and other invested members of our community," she added.  
p



   
During her time as dean, Skomp has played a key leadership role in a number of important university initiatives, including:
• Advancing the university's Health and Science Initiative. She co-chaired the planning process for the Cici & Hyatt Brown Hall for Health & Innovation and the renovation of Sage Hall Science Center; expanded the Office of Pre-Health Advising; and secured funding for a full-time health professions advisor.
• Collaborating on senior university diversity, equity and inclusion leadership teams; and implementing inclusive hiring practices in the College of Arts and Sciences.
• Launching the LaValle Scholar-Artist program and LaValle Experiential Learning Fund for students in the Creative Arts, following the receipt of the Antoinette LaValle bequest.
Skomp holds a BA from Indiana University and a PhD from the University of London, which she attended as a British Marshall Scholar. She previously taught at Williams College, DePauw University and the University of St. Andrews in Scotland. She is the past president of the Southern Conference on Slavic Studies. Her 2015 book, "Ludmila Ulitskaya and the Art of Tolerance," stands out among numerous research grants, published articles and reviews, and conference presentations. 
"A devoted teacher-scholar, Dr. Skomp is widely respected and admired, not only here at Stetson, but throughout our field," President Roellke added. "I am so eager to work with Elizabeth as we collectively seek to secure Stetson's future and to promote the very best forms of education for our students."
https://imagedelivery.net/QSrXjsPfCmk0ply-MyMxBA/1539c281-8f7a-4ee2-933b-57904b450200/public