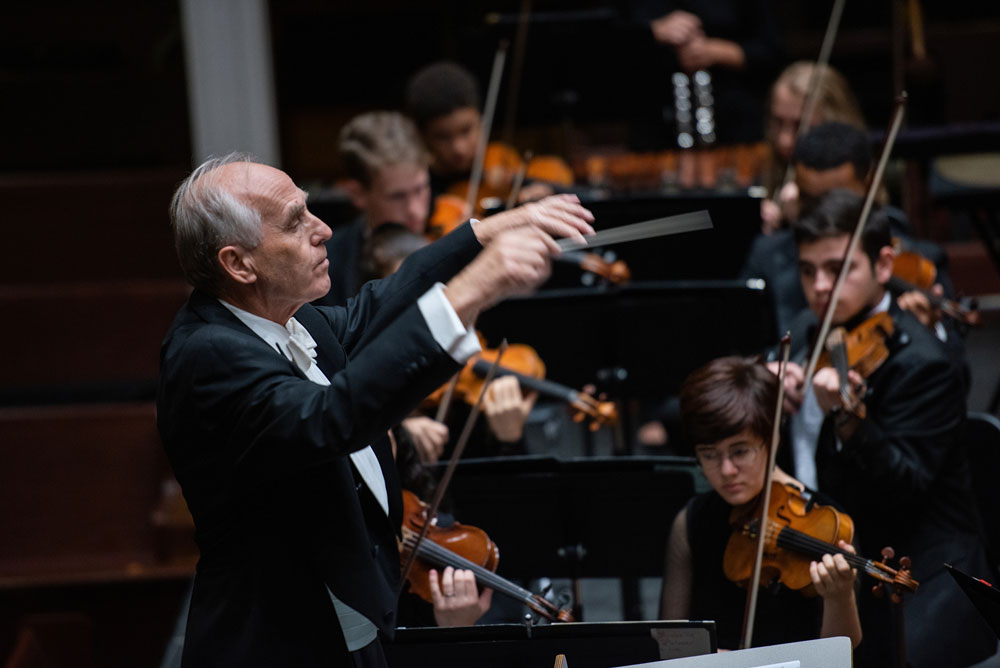 Stetson University's Symphony Orchestra will bring the holiday magic to downtown Mount Dora on Saturday, Dec. 2, providing a spirited musical performance as concertgoers enjoy the town's dazzling seasonal light display.
The concert, entitled "Holiday Symphony," will begin at 4:30 p.m. in the city's Donnelly Park. During the second half of the performance, the park and the historic downtown will come alive with a festive display of more than two million colorful lights. "It should be quite spectacular," says Stetson's Director of Orchestras Anthony Hose.




The Symphony Orchestra will perform under an open-air tent in the park and play Schumann's "Symphony No. 4," along with the perennial holiday favorite, Tchaikovsky's "Nutcracker Suite." Stetson's Voice Professor Karen Coker-Merritt will perform "Rejoice Greatly, O Daughter of Zion" from Handel's "Messiah."
Tickets to the Dec. 2 concert are free, but attendees are encouraged to bring an unwrapped toy for a Toys for Tots drive.
Concertgoers can bring chairs, blankets and, if desired, picnics. WKMG Channel 6 will livestream the event at: https://www.clickorlando.com/watch-live/. Donnelly Park is located at 530 N. Donnelly St. in Mount Dora. For more information, visit the City of Mount Dora's website.
Nearly 70 Stetson students play in the university's Symphony Orchestra and have performed for the Orlando Opera Company, while some members have played with the Orlando Symphony Orchestra, the Jacksonville Symphony and other Florida orchestras.
The orchestra has toured Europe and performed last spring in Italy. The orchestra's repertoire includes major symphonies by such composers as Brahms, Beethoven, Dvořák, Haydn, Mozart, Schubert and Copland.
Conductor Anthony Hose began playing piano at age 3 and gave his first recital at age 6. He studied at the Royal College of Music in London, continuing conducting studies at the Salzburg Mozarteum and with Rafael Kubelik in Munich and Geneva. Hose has worked with orchestras and opera companies around the world, and has conducted more than 250 performances for the Welsh National Opera. He was a professor at the Royal College of Music and Royal Academy of Music in London before taking up the position of Director of Orchestras at Stetson University.