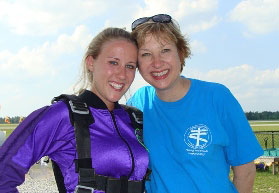 [Update: Read the Sept. 2 story of the cause of Forte's death.]
Two weeks ago Stetson university sent out a press release proudly announcing that Monique Forte, a professor of management at the university since 1994, had won the school's 2010 McEniry Award for Excellence in Teaching. A few days later, Forte was jumping out of a plane, sky-diving with six Stetson students celebrating their graduation. Forte was to be the C.R. Lindback Professor of Business Administration this fall, an endowed chair.
On May 22, the university announced that Forte, 43, died at her home in DeLand overnight. An autopsy was scheduled for May 24. The Orlando Sentinel on Monday quoted Forte's husband, Chad C. Bleuel, as attributing Forte's death to respiratory failure.
"She was a very close friend and colleague to me personally and to many of our faculty, staff and students, and she will be very, very much missed," said Dr. Stuart Michelson, dean of the School of Business Administration. Michelson sky-dived with Forte and the students earlier this month. "She was an outstanding teacher and scholar. She had close relationships with her students and mentored many of them."
Forte taught management courses at the DeLand campus and at the Stetson University Center at Celebration near Disney. She was also affiliated with Stetson's Family Enterprise program.
Skydiving with her students was just one emblem of her dedication—and popularity. Adjectives that came to mind when students were asked to describe her included "challenging," "vibrant," "fun," "sincere," "enthusiastic," "motivating" and "awesome." She was known to be readily available to students as an adviser, mentor and friend, said Dr. Noel Painter, the 2009 McEniry Award winner.
"In her 16th year at Stetson, the 2010 McEniry recipient has proven herself to be an integral part of Stetson University, a team player, a great colleague, a mentor to students, and most importantly, an excellent teacher," Painter said at the time of Forte's award. "As one student writes, 'She asks the students to give 100 percent, but also gives 100 percent herself.'"
She served as chair of the Department of Management in the School of Business Administration from 2000 through 2005. She earned her BBA and her MBA from the University of Georgia, and her Ph.D. in Strategic Management from Florida State University.
Forte's research interests included applications of psychological type, organizational politics, experiential learning, strategic change and family enterprise. Working with Stetson colleagues Drs. Bob Boozer and Nick Maddox, she contributed to academic conferences and had published articles in the Journal of Psychological Type, the Journal of Management Education, and the Strategic Management Journal. "You couldn't help but get captured and captivated by Monique's energy, intelligence, optimism and spirit," said Stetson President Dr. Wendy B. Libby. "She was always ready to take on a new task or challenge with gusto. Our university community has lost a scholar and teacher, leader and friend."
Forte is survived by her husband, Chad Bleuel, and her mother, Ramona Forte, both of DeLand. She was pre-deceased by her father, Malcolm Forte Jr. Monique Forte grew up in Columbus, Ga. Service information is not yet available.