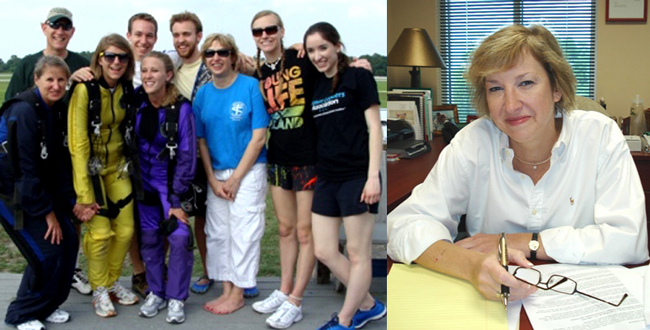 Two weeks after being awarded Stetson University's annual excellence in teaching award (and jumping out of a plane with a group of sky-diving students on dares), Monique Forte, a 43-year-old professor of business administration and one of the university's most beloved and respected mentors, died at her home in DeLand. Her death, early the morning of May 22, was attributed to respiratory failure at the time.
An autopsy report released by the Volusia County Medical Examiner's office on Sept. 1 ascribed Forte's death to a ruptured aorta resulting from cocaine abuse. A Volusia County Sheriff's Office investigation revealed that Forte had been addicted to cocaine going back to the late 1980s, when a friend tried to intervene to get her help. In the days leading up to her death, she had been under growing pressure, stressing over the demands of an accreditation report she was working on for the university and with caring for her ailing mother, who had recently moved to DeLand.
Forte spent her last wakeful hours the evening of May 21 with a friend, Ellen Baldwin, who had been Forte's student, teaching assistant and graduate assistant over the years. Baldwin described to investigators that she saw Forte consume cocaine that evening and have two vodka and cranberry drinks at around 6 p.m. At 9 p.m., Forte started having trouble breathing and was vomiting. But she would not go to the hospital. Forte was suspicious of doctors. She then went to her bad to lie down. Half an hour later, Baldwin, worried for her mentor, called Stuart Michelson, dean of the School of Business Administration at Stetson, to tell him that Forte's workload  "was killing her," according to a sheriff's report relating Baldwin's interview with an investigator.
Forte had no medical issues, Chad Bleuel, Forte's husband, told a deputy early the next morning, but she worked in a "highly stressful environment, drank alcohol often and was a heavy smoker (one pack a day)." During the night, Bleuel noticed that his wife, who usually snored audibly, stopped doing so around 2:30 a.m., and was breathing "unusually." At 4:20, after hearing her gasping, Bleuel found Forte unresponsive, called 911, and administered CPR. By the time Forte was taken to Florida Hospital DeLand, she had stopped breathing, and was pronounced dead at 5:28 the morning of May 22. Hospital staff indicated the presence of cocaine in Forte's system. The sheriff's office termed Forte's death suspicious. An investigator's walkthrough showed nothing at Forte's clean and well-maintained home at 63 Fernwood Trail was found to be suspicious.
Two days later, the medical examiner told the sheriff's investigator that a pattern of hemorrhaging along Forte's leg and in her abdomen "could be related to an apparent aortal rupture," what turned out to be the actual cause of her death.
The autopsy concluded that her system showed the presence of cocaine, several painkillers, two narcotics, and the anti-depressant Zoloft. Her heart was enlarged to 500 grams (the normal heart weight for someone Forte's size would be between 184 and 395 grams). But the medical examiner saw no sign of foul play in Forte's death. The sheriff's office closed its investigation on Aug. 24.
Forte had served as chair of the Department of Management in the School of Business Administration from 2000 through 2005. She earned her BBA and her MBA from the University of Georgia, and her Ph.D. in Strategic Management from Florida State University.
"I miss you Boo!" her husband wrote on Forte's Memory Book, established by the university in her name. The July 5 entry is the last in the book. "This was a tough weekend…I miss you and your wonderful father so much…I hope you have found each other."
"You were an incredible teacher, and a great friend," Tara Chafin wrote on June 13, reflecting the way many of Forte's students saw her as a mentor and champion. "I enjoyed spending time with you in your office chatting about everything (usually my hatred of finance) and your mentorship." Amy Barton wrote: "There are few teachers that you remember for years to come, few that touch your life in ways that stay with you, and she was one of them."
"In class," Christopher Alcantara wrote on June 3, "she captivated students with her energy, sense of humor, and charm. She was always willing to give a helping hand to anyone that needed it. Her relationship with students went beyond the common, 'here's my lecture… good bye' relationship; she was a friend to us all. She embodied what is truly great about Stetson University and she will be greatly missed. Rest In Peace Monique Forte." And from Jennifer Isenberg on May 28: "As this page loaded, my Pandora started playing 'Imagine' by John Lennon. How very fitting. I have truly enjoyed working with you the past three years and I truly wish we had many more to share together. You were always a pleasure to talk with and I often left our conversations wearing a smile. Your spirit lifted the spirit of the entire b-school. A loss has been felt by so many – a true testament to your dedication and passion for your life's work. God bless you and your family."

Forte and Her Students Skydive: